INTRODUCTION

The Canon EOS 5D Mark III digital camera is a DSLR model that was released in 2012. It is an option that will certainly do well for a variety of needs. These include the desire to take high-quality environmental scene shots. It is especially useful for how it has many basic controls and setup features to help make it operate as well as possible.
This camera is a key part of the EOS series of DSLR cameras. It is designed for professional use in many in that it focuses on a highly robust sensor that generates only the most deeply detailed and specific images possible. The camera will be suitable for those who are looking to take professional shots that might expand in size with some large display functions utilized on their bodies.
SENSOR RESOLUTION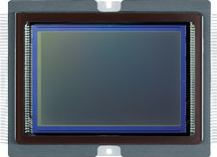 The sensor on the Canon EOS 5D Mark III is a 22.3-megapixel full-frame CMOS unit. It is a full frame sensor that quickly takes photos of all kinds and is 24 x 36mm in size. It captures 5784x3861 images and has a photodiode structure with a better conversion rate. It creates a more sensitive sensor that works with higher ISO totals and still has less noise than many other comparable cameras.
It also scans signals enough to where it can generate more shots in a single second It can take six shots in a second and even convert them into RAW or JPEG files depending on what the user prefers.
BUILD AND HANDLING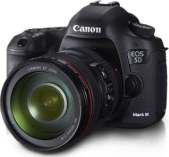 The body uses a plastic polymer with some steel supports all around. It is curved on both of its ends to create an easier grip that should work well for typical users. It is also sealed well to where it can function underwater for short periods of time without risking any further damages to the camera.
The shutter feature is especially durable. It can last for an estimated 150,000 cycles.
It all comes with an 860g weight that is easy to carry around. Its weight measurement is based on what it is like when the battery is added.
CONTROLS

A small digital screen can be found on the top part of the camera. It lists information on the ISO setting, the flash controls, the white balance and much more. It can control nine different white balance functions and also has an automatic feature for when specific controls have to be made. The TTL secondary image autofocus mode uses 61 points on the lens and can automatically select from the proper sections to create sharper images.
It can also support an extensive variety of ISO settings from 50 to 20000. It based on the quality of the lens being used.
PERFORMANCE
The sensor offers a 3:2 aspect ratio and uses RGB primary filters to keep the light in check as it moves into the camera. It even has a self-cleaning feature that identifies when dust might be on the lens.
The 3.2-inch LCD monitor on the back of the camera especially does well with identifying what's on the sensor. It covers about 100 percent of the viewing image and can be adjusted in terms of its brightness of what's on the screen.
It uses Canon EF lenses of all sorts. These are available with many viewing angles and zoom options depending on the user's needs. The basic lens has a 77mm filter and a 4.3x optical zoom feature.
IMAGE QUALITY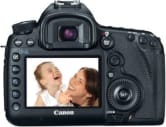 The single-plate CMOS sensor works with a 22.3-megapixel setup to create detailed images. It can even take videos of 1920x1080 in resolution. The digital noise reduction feature controls the interference that might experience when trying to take a picture. It created a better total image when generated properly and created right.
BATTERY LIFE
The LP-E6 battery works with an AC adapter kit and works for 950 shots when the LCD screen is off. It runs at 200 shots on a charge when the LCD screen is active. This rechargeable battery will take a few hours for the user to charge up but it can be removed from the camera and replaced with a fresh one if needed right away.
It only takes 0.1 seconds for the battery to get the camera to start up. It can also automatically shut off the camera after a minute or longer depending on the camera's setting.
A USB 2.0 link can be used to charge up the battery if needed. That same link can also be used when looking to connect the camera to a computer or compatible television set to review its images.
PROS AND CONS
Here are a few essential positive and negative points to see when looking at what makes the Canon EOS 5D Mark III a camera to look for. These aspects relate predominantly to how well the camera takes pictures as well as to its battery.
WHAT WE LIKED
The camera will take shots that are ideal for use on large posters.
The image stabilizer keeps the sensor from generating a shaky image when installed carefully.
The autofocus feature works with an extensive variety of points to create a better shot.
The camera battery is easy to add and remove. It also uses a simple charging feature.
WHAT CAN BE IMPROVED
The battery will run out of power much faster if the LCD screen is being used.
The shooting speed is not as strong as it is on other models.
The lens can develop dust rather quickly although it does have an automatic cleaning system.
The built-in flash feature can be adjusted but it might be a little too bright for most users depending on what one wants to get from it.
The Canon EOS 5D Mark III will be great for people to use when finding ways to shoot the best possible images. This option works for people who want to take clear and clean shots of all kinds. It is easy to use and has plenty of control features to adjust the many ways how the camera will work.