INTRODUCTION

The all new Canon EOS 80D is a successor/replacement to the 70D which was launched way back in 2013. This new camera lies between the likes of Canon's SLR: the 7D Mark II and the 760D. The camera is the best fit for the people who want to shoot a range of subjects in a variety of conditions, and want their camera to have an extensive set of features with more than enough control options. If they aren't in need of a fully professional level camera but require a feature-rich camera, Canon EOS 80D is their best bet. Let us dive deeper into details about the camera –
SENSOR RESOLUTION

Canon has used a new 24 megapixel sensor in 80D, which may sound similar to 750D and 760D that are also equipped with 24 MP sensor. Both the cameras are low-level ones, and they have Hybrid AF III, not the Dual Pixel CMOS AF sensor which is present in 80D. The combination of 24 MP sensor and the Digic 6 processor brings a range of ISO 100 – 16,000, which has a maximum expansion limit of ISO 25,600.
BUILD AND HANDLING

The control set is very similar to that of 70D, as the Canon has decided not to mess up with the control layout which was met with general approval. It may not be as big as the 5D Mark III, but there is enough space to accommodate the fingers when your index finger is poised over the shutter release. The people with big hands may face a bit of a problem, but if they slip their little finger beneath the grip, it will be comfortable for them. There is a 3 inch, 1,040,000 dot Clear View II screen at the back. The touch control on the screen works very well on this camera.
CONTROLS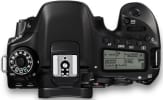 Most of the buttons are located on the right-hand side, both at the top and at the back of the camera. All these buttons are within reach of the camera holder. There are several buttons and dials available, but you will surely find the touch control very intuitive to use. Canon has provided touch control over main and Quick Menus, which not every manufacturer does. It speeds up the use. The Quick Menu provides a quick route to a few commonly used features, but unlike 1DX Mark II it isn't customisable.
PERFORMANCE
Canon used to use the 16 megapixel sensors in their APS-C format cameras, but since the launch of 750D and 760D, they have started to use 24 megapixel sensors. The 24.2 MP sensor of 80D brings up over 25% increase in the pixel count than it is in 70D. The increased pixel count enable this camera to take one step up in the matter of detail resolution for most of the sensitivity range, and that too without any increase in the noise level.
IMAGE QUALITY

ISO 100 to ISO 400 images look practically identical, with vibrant, pleasing colours and with lots of fine detail. When you take prints at a large size of 30 x 40 inches, there is a minor pixelation and that too upon close inspection. ISO 800 prints look much better, but there is a subtle increase in shadow noise and it keeps on increasing as we go up the ISO's.
BATTERY LIFE
The camera uses LP-E6N Li-ion battery pack, which we have also seen in 7D Mark II. According to Canon, the battery lasts for 1390 shots, when taken without the flash.
PROS AND CONS
WHAT WE LIKED
24MP Sensor
Fast AF system
WHAT CAN BE IMPROVED
APS-C format
Non-customisable Quick Menu