INTRODUCTION

Canon has been very behind in the mirrorless cameras. They came up with their first such model in 2013 when they launched EOS M. They had three years to work on it, and now they have launched the EOS M10 which is an entry level model only with a few modest grains, but this one is priced like a mid-ranged. The autofocus of this camera is quite sluggish and is way behind the like of Olympus PEN E-PL6 mirrorless cameras. At first look, Canon's EOS M10 doesn't look very impressive, but there could be more than that in it. Let's take a deeper look at it, and find out.
SENSOR RESOLUTION

The Canon EOS M10 has an 18 megapixel APS-C CMOS sensor, which you can also find on EOS M and EOS M2. The camera uses Canon's faster and advanced Hybrid CMIS AF II system, which provides this camera with a total of 49 AF points.
BUILD AND HANDLING

The physical look of this camera can be said as the perfect blend of EOS M and the Powershot G7 X, which is pleasing to the eye. The camera is very lightweight and compact. It has a full 180 degree tilting touchscreen panel, which is 3.0 inch in size LCD monitor. It features a 1.04 million dot resolution, which is very similar to that of G7 X. There is no viewfinder, but the touchscreen makes it very easy to take pictures with just a touch.
CONTROLS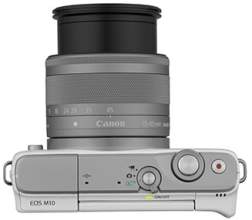 About the controls of the camera, It has very minimal control options. The touchscreen takes care of most of them. As there is a touchscreen, it saves up space which physical control dials and many buttons eat up. There is just a 4-way button on the back, along with control cluster button and the menu and playback buttons. On the left side, there is a flash release button, and on the right side, there is a Mobile Device Connect button. The touchscreen can be used to click images as well using tap to focus and tap to shutter. You can also find a high-speed USB 2.0 port which can be used to connect the camera to a computer or a printer as well. You can also connect a Mini HDMI port for playback on TV. There is no external mic jack which was seen earlier in M and M2.
PERFORMANCE
The performance is the main part of any device's review, and the M10 fails to impress us in this department. The camera is not as impressive as it should be. The autofocus system of the camera takes a longer 0.2 seconds to lock and fire, while shooting even in bright lights, and when the lighting is low, it takes frustrating 1.2 seconds. You can take continuous images with the camera at 4.6 fps which is a fairly good burst rate. The camera comes bundled with some extra lenses. EF-M 15-45mm f/3.5-6.3 IS STM zoom lens captures images which are soft at edges and the distortion is noticeable at wide. It is good, but not good enough.
IMAGE QUALITY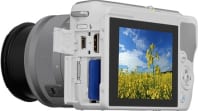 The camera produces noise free images from ISO 100 to all the way up to ISO 1600. The first noise appears at ISO 3200. On faster settings of ISO 6400 and 1280, there is relatively little noise, which can be used for images on small prints.
BATTERY LIFE
The camera uses LP-E12 Li-ion battery which takes 255 shots per charge. In-camera charging is not supported, so a dedicated LC-E12 battery charger is also provided with this camera.
PROS AND CONS
WHAT WE LIKED
Sleek design
A touchscreen panel
WHAT CAN BE IMPROVED
Sluggish autofocus system
Noisy images