INTRODUCTION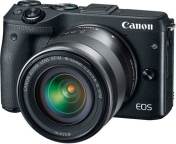 Designed as a slim option, the Canon EOS M3 is a camera design for casual users and for those who want to get their photos online. This camera has a Wi-Fi link to help it send photos to different devices that are also on a Wi-Fi network. It also uses a powerful sensor that generates detailed images that can certainly stand out no matter what the is the users shooting location.
It uses a 24.2-megapixel CMOS sensor and a DIGIC 6 processor to create powerful images. It all works with a variety of zoom functions and ensures the best possible shots in a small body.
SENSOR RESOLUTION

The CMOS sensor on the Canon EOS M3 camera is a 24.2-megapixel sensor. This APS-C sensor creates images that are reliable and can be expanded in size. The sensor also generates less noise and can take images in even the dimmest conditions as it shoots things from ISO 100 to 12800 with the option to expand it to 25600.
The DIGIC 6 processor adds to the power of the shot. It speeds up how the camera shoots images and works with MP4 compression support among many other options. The image stabilization feature supported by this especially helps to keep the images crisp and easy to see.
BUILD AND HANDLING

The build on the Canon EOS M3 is designed to create a smaller body when compared with other DSLR cameras. It is about 319g or 11.3 ounces in size. It goes up to 366g when the SD card and battery pack for the camera are added.
The camera's molded body has a slight grip on the side like what most other cameras from Canon have to offer. This choice especially does well to create a better control setup.
CONTROLS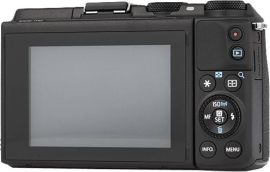 The controls on the camera work with a retractable LCD screen on the back part. It works with basic functions on the top including metering, white balance and AF controls.
There are eight white balance settings to choose from with an automatic control setup available with the image sensor. It uses careful correction system to create better-looking images. The autofocus control works with 49 points and can be adjusted with a manual option. The user will have to use the proper dial to control the focus on this option.
The controls can also be used to manage the 18-55mm lens. It helps to control how well it zooms into different scenes. The control scheme may be different in another type of lens is added here.
PERFORMANCE
The shutter uses a mechanical arrangement and works with a minimal lagging time. It works with 1/4000 to 30-second shutter options that may be controlled on one's camera as desired.
The flash uses a folding pop-up body that runs rather quickly. It covers 18mm focal length when getting spaces to light up and be easier to use.
It all works with a TFT LCD screen that is three inches in size. It offers a full amount of coverage to show exactly what one is looking to shoot when trying to get a great image running. The vari-angle touch screen feature especially does well with generating only the best possible shots around.
A Wi-Fi support feature is also included here. This is used to set up different solutions to send photos to smartphones and other mobile devices. It can work especially well when it comes to sending the photos online or find information on various photos as they are taken.
IMAGE QUALITY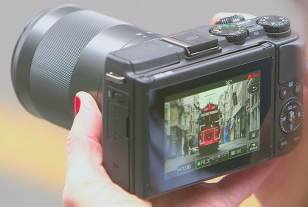 The 24.2-megapixel images that can be generated by the Canon EOS M3 are among the most detailed and beautiful shots for people to check out. It is a great choice for all sorts of requirements as the user can quickly expand the image to fit onto a canvas or poster among other larger images.
The support for a variety of ISO settings especially makes this camera a great choice. It particularly does well for many requirements thanks to how well it can handle a good shot. It all works with 10 percent partial metering or 2 percent spot metering or even with a center weighted average to create a stronger shot if used carefully enough.
The quality of videos that are shot with this camera is especially worth noticing. It can shoot 1920x1080 images at about 30fps. This does well to record many shots to create a brighter and more attractive image.
BATTERY LIFE
The battery here is an LP-E17 unit. It works with an AC adapter that is included to help charge up the battery. It takes about a second to start up the camera and also about four hours for the camera battery to be charged up. The battery can be removed as necessary.
PROS AND CONS
There are a few different pros and cons to see when looking at the Canon EOS M3. These are all good choices that offer a variety of solutions for people to look forward to using.
WHAT WE LIKED
The design of the camera creates a powerful look that is easy to hold onto.
The battery will last for a while and does not take far too much to set up.
The various different zoom options are especially easy to manage and can get the user closer to many short subjects.
The processor generates the most impressive shots to create some strong tones all over.
WHAT CAN BE IMPROVED
The lens takes a bit to be adjusted.
The screen feature can take up quite a bit of battery power.
The autofocus feature, although it is detailed and easy to use, can be complicated or tough to handle.
Users will have to spend a bit of time just to get different controls on the video screen adjusted.
People who want a simple camera that is robust and portable will certainly love using the Canon EOS M3. This camera helps with shooting a great image that is beautiful and attractive. It makes for a strong option that people are bound to be excited about.