INTRODUCTION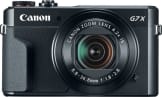 The all new Canon G7 X Mark II is a compact camera from Canon's premium range. The camera is intended to attract people who are interested in a camera which offers a great level of control, along with brilliant image quality, but it should also fit right in the pocket. Many DSLR or CSC owner photographers can also use this camera as a travel compact. As the name suggests, this camera is the successor of G7X, with some useful updates, although Mark II retains the same sensor and lens as that of G7X. Let us take a look at Canon's G7X Mark II, and see what does it has to offer for making your life more memorable.
SENSOR RESOLUTION

As it is mentioned above, the sensor and lens of Mark II are the same which were used in its predecessor. It has a 20.1 megapixel 1" – type CMOS sensor. The lens is a 4.2x optical zoom lens, which is equivalent to 24–100 mm.
BUILD AND HANDLING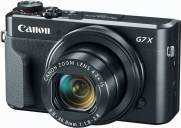 The G7 X Mark II is very similar in body and shape to that of Canon's another premium camera G9X which is offering such astonishing features in a pocket-friendly body. Although the Canon G9X is smaller in size, with G7 X Mark II, you get a tilting screen along with a longer lens on a bigger body. You won't find a viewfinder and a fully articulating screen, though, which is understood because to keep the size small. The overall design is pretty sleek, and it also has a useful grip at the front which helps the camera to sit comfortably in hand.
CONTROLS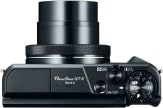 On the top, there is a dial which you can use to move among different exposure modes. Just below it, you will find an exposure compensation dial which can be easily reached using your thumb. All the buttons are grouped on the right side. Just like the G7 X Mark I, there is a ring around the lens which can be used to change settings. You can also turn off the dial sound using a switch which is situated just under the lens dial, although the clicking sound provides confirmation of changes in settings, if you are taking photos in a quiet situation or recording videos, then this switch can be very useful.
PERFORMANCE
The focusing capability of G7 X Mark II is quite pleasing. The camera locks onto the objects very quickly and takes just a little time only when the lighting is low. However, the focus isn't good with small objects. You can select macro focusing, but it still isn't much helping. With the Digic 7 processor, the operation time of the camera is impressively quick. Within a second of starting the camera, it is ready to take a shot. Shot to shot timing is also pretty quick.
IMAGE QUALITY

The G7 X Mark II follows the same path of its predecessor in image quality, which was a very good performer. The metering system of the camera produces well-exposed images under different types of shooting conditions. You won't have to touch the exposure compensation dial again and again. The JPEGs come out bright and full of colours, along with a good degree of realism. There is an automatic white balance as well, which helps in producing accurate colours.
BATTERY LIFE
You can take about 265 shots or 355 shots using ECO mode with this camera. The camera uses NB-13L battery pack.
PROS AND CONS
WHAT WE LIKED
Very good image quality
Improved high ISO performance
8fps burst mode
WHAT CAN BE IMPROVED
No Viewfinder
No 4K video