INTRODUCTION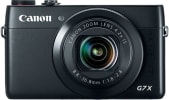 The PowerShot G7X of Canon is a compact digital camera with a large sensor that provides high sensitivity and along with the powerful processor produces excellent images with sharp details and impressive clarity. Canon Powershot G7x offers an ISO range up to 12,800 and several camera modes to enhance your photography experience. It looks great and feels light in the hands. Canon Powershot G7x offers a 3 inch LCD screen with touch panel, which lets users control everything with ease. It equips Wi-Fi and provides NFC support too so that users can take pictures remotely and share them on social networks faster. Let's have a look at the key components of this camera and see what makes it unique.
SENSOR RESOLUTION

The large 1.0-inch CMOS sensor has been used in the PowerShot G7 X which grabs more light in a short time and maintains the perfect balance between High quality of the image and high sensitivity. The Sensor collects light without the overflow to avoid blown-out highlights. The camera sensor offers 20.2 Megapixel resolution and provides ultra-fine image quality at high ISO speed up to 12,800 with sharp details. A like most of the EOS DSLR cameras the output of the sensor is processed by a 12-bit converter which results in natural gradations and lifelike colours.
BUILD AND HANDLING

The PowerShot G7 X has a compact metal body, and due to the sleek design, it can be handled easily with one hand. The dimensions of the camera are 103 x 60 x 40 mm and it weighs 304 g including battery. The camera has control dial throughout the lens, Exposure Compensation at the top and the rear dial on the back side. The camera offers a high-resolution 3.0 inch capacitive LCD touchscreen which can turn over 180 degrees.
The PowerShot G7 X provides support for Near Field Communication (NFC) which helps users to connect their Android Devices with the camera through the Camera Connect app and shoot remotely or share images quickly. The camera is also with equipped inbuilt Wi-Fi technology, which lets users share still images and videos on their social networks and even take a print out directly. The camera provides SD card storage.
CONTROLS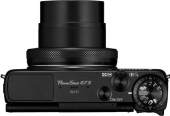 For White Balance, the PowerShot G7 X camera includes multiple options such as Auto, Cloudy, Day Light, Fluorescent, Underwater, Multi-area White Balance, etc. The camera offers a neutral density (ND) filter which reduces incoming light to the sensor and let users set a wide aperture and long exposure to enable exceptional effects. Users can capture images in RAW Mode and later on edit them with bundled software with ease to showcase their creativity.
In High Dynamic Range shooting mode, the camera captures three separate exposures normal, underexposed and overexposed and combines them into a single image which results in detailed images with highlights. The camera offers four sub-mode Art Standard, Art Bold Art Vivid and Art Embossed on the top of Natural. There is no tripod required to use the HDR mode.
PERFORMANCE
The PowerShot G7 X is powered by the latest DIGIC 6 Image Processor, which enables high-speed continuous shooting of stills in various modes such as TV, M, Advance Star, etc. and provides maximum resolution. It also lets users shoot video in MP4 format which can be played on mobiles and occupy less space in the memory card. The processor offers an advance, focusing tool by supporting MF Peaking function.
The ISO range of the camera is from 125 to 12800 that is fast and powerful processor coupled with High-Sensitivity CMOS sensor, provides remarkable details with less noise in low light condition. The lens offers f/1.8 (W)-f/2.8 (T) 9-blade circular aperture to ensure brightness up to maximum level. It provides 4.2x Optical Zoom to focus on the subject and blur the background effect and minimum focus range of 5cm for excellent macro shooting.
IMAGE QUALITY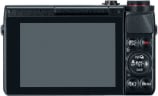 The tilting LCD can be flipped up to 180 degrees and makes it simple to achieve a wide array of camera angles. It enables camera settings, shutter release and focus on the touchscreen and offers 1,040,000screen dots for crisp and clear display. The powerful processor does shooting and image processing in tandem and also enables high-speed continuous shooting at impressive 6.5 frames per second in Auto, P, TV, Av and M Modes. The camera packs 31 focus points across the image plane to provide high-speed auto focus. It allows users to focus on small subjects seamlessly and also sports Touch AF and 1-point.
BATTERY LIFE
The PowerShot G7 X comes with an NB-13Le battery pack which provides the shooting capacity of around 210 shots and with ECO Mode offers 310 shots. The battery also provides the playback time of up to 4 hours. Users get a CB-2LH Battery Charger to source power along with the camera.
PROS AND CONS
WHAT WE LIKED
Big Sensor
Advance processor
Touchscreen LCD
Wi-Fi and NFC
Excellent image quality in low light conditions.
WHAT CAN BE IMPROVED
Camera ergonomics may not suit everyone
Battery back is not too impressive