INTRODUCTION

Smartphones of Fujifilm's X series have been known for their quality cameras. 'Easy-to-use' has always been their characteristic trademark. Fujifilm X Pro 2 is a new flagship model in this series, which surpasses their previous flagship model Fujifilm X-T1, and is an upgrade to the long awaited X Pro 1. X Pro 1 was Fujifilm's very first compact system camera, and needless to say, it was highly successful. Let's take a look at Fujifilm X Pro 2, and see what it has to offer –
SENSOR RESOLUTION

Fujifilm X Pro 2 has a 24 MP sensor at the heart and is sized at 23.6 mm x 15.6 mm (APS – C). It is capable of recording videos at 1080p. You can record videos at frame rate from 24 to 60 fps, and also manual exposure control is available. The aspect ratio is 1.5:1 and the crop factor is 1.53x.
BUILD AND HANDLING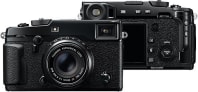 At first glance, you will find many similarities between the design of X Pro 1 and X Pro 2. Both of the models feature the same big rangefinder, which is all cased around rock solid magnesium alloy casing. Even the buttons and dials look very similar. X series cameras from Fujifilm can be all described as retro, but X Pro 2 goes a little further. The camera weighs 495 gm, which is quite heavy and bulky for a CSC. Being a little heavy on the side, it actually helps in handling and provides a lot of space for all types of controls.
CONTROLS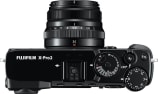 Although it looks very similar to its predecessor, there are still a few changes in its controls. There is a mini joystick which is dedicated to move the autofocus point. The navigation pad is left for other functions. There are increased number of controls, and they are much easier and quicker to access. Remaining buttons are easily accessible with the right hand, and the user can handle the lens with the left hand.
PERFORMANCE
The camera is quite comfortable in hand, but when you start taking pictures with it, soon it becomes frustrating with the EVF, which is quite bright at times and sometimes is very dim. It is kind of just like the LEICA. Fujifilm has given more attention towards its design, rather than concerning about its performance and image quality.
IMAGE QUALITY

The skin tones on the images are good as expected. Fuji is known for giving great skin tones over a wide range of conditions. You can also set the saturation over a wide range, which gives bright colours in JPEG images. There is one problem though. The sensor is optimized for people, but it is not built for things or places. While taking pictures of places or things, the colour suffers a lot. They aren't bright and sometimes they are far from true.
BATTERY LIFE
The battery is covered with a plastic door, and under it is the NP – W126 rechargable Li-ion battery. It weighs 47 gm, and on a full charge you can take 250 shots with the EVF, 350 shots with the optical finder or you can record 110 minutes of videos without using face detection. You cannot see battery percentage in the viewfinder, just the bar can be viewed. The percentage is only visible on the rear LCD. You will have to take the battery out to charge it through a separate charger, meaning you cannot use the camera while it's on charge.
PROS AND CONS
WHAT WE LIKED
All metal construction
Almost all the buttons are on the right.
WHAT CAN BE IMPROVED
Crummy electronic viewfinder, which is sharp but EVF is usually too bright or too dim.