INTRODUCTION

Here in this article, we are going to inform our viewers about the two variants of GoPro Hero4, Black & Silver edition. They are manufactured by American company GoPro which is well known for its action cameras. These two models are successors of previous generation Hero3 and exceed from not just their predecessor, but also from their current competitors due to powerful components and high-quality performance. The Hero 4 Black can capture 4K Ultra HD video at 30fps and record amazing slow motion footage at up to 240 frames per second. Hero 4 Silver shoots 1080p60, 720p120 video and 12MP photos at a surprising 30 frames per second.
Both variants are light-weighted and easy to use. The devices are shockproof, dustproof and waterproof to the depth of 4o meters. Both models support Wi-Fi and Bluetooth so that user can take shots remotely. They have much more exciting features which make them ultimate life-capture solutions for beginners as well professionals, let's have a look at their specifications one by one. Sensor Resolution
SENSOR RESOLUTION
Both variants have used the powerful CMOS Sensor, which has the size of 6.17-4.55 mm. We all know that the sensor size determines how much light will be used to create an image, so, that is the reason why a bigger sensor produces better images. Though, with the combination of 12MP resolution and 6.17-4.55 mm size, we can expect detailed & sharp images.
BUILD AND HANDLING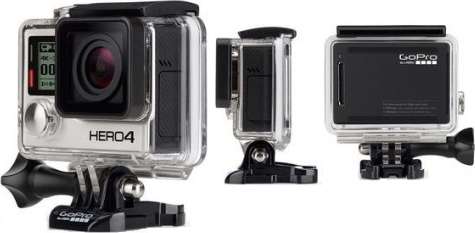 The design remains same as Hero 3 in silver with an expanded battery, and it weighs 84 grams. Dimensions of the camera are 41 x 59 x 29.6 mm (height x width x depth). It has a responsive touchscreen display with top-notch screen quality and vivid colours. It works as a live viewfinder and allows changes on the screen.
The high-end black variant doesn't have a built-in touch display which is surprising. Though, users can utilize the screen of their smartphone or tablet for live view. There is also an option to attach GoPro LCD Touch BacPac on the back side to frame a shot or to make changes via touch screen. Dimensions and weight of both variants are almost same but black is a bit heavier and weighs 88 grams. There is no difference in the other functions too.
CONTROLS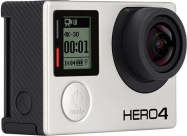 The controls are almost same in both variants as there is no major difference except the touch screen display which is available in the silver model only. The indicator lights are located on the left side of the LCD, and the power button is on the front. The shutter is at the top and works as a navigation key along with a setup button (which is located on the side) and the power button. Mini USB, Micro-SD slot, and HDMI ports are covered with a compartment. They have a new dedicated button that enables quick access to adjust camera settings. In new models, the menus are more simplified and make the navigation process more instinctive.
PERFORMANCE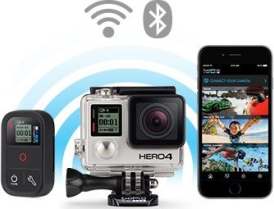 Hero 4 Black has a powerful processor which lets the user shoot 4K at 30p, 2.7K mode at 60p and 120 frames at 1080p smoothly. It can capture stunning footages with super slow motion at 240 frames per second. Due to its new processor, it provides high frame rate with cinema quality capture. It is one the best action camera and shoot continuously for 30 minutes. The black variant can record a video at 60Mb/s, which is comparatively better than the upper limit of silver which is 45Mb/s.
Hero 4 Silver can capture high-quality 1080p60 and 720p120 videos with touch screen display. It can capture 12MP stills at 30 frames per second, which is amazing. You can create and share short clips due to Built-in video trimming 1. You can also mark key movements and find them later with the help of highlight Tag.
HERO4 Silver includes an enhanced sensor for better video quality. You can capture outstanding 1080p60 video with stunning sharpness. You can record smooth slow-motion footage using high frame rate 960p100, High-resolution, and 720p120 video. It offers ultra-high-resolution 4K and 2.7K video with cinema-quality capture.
IMAGE QUALITY

Both variants have some innovative features to deliver immersive images. The Hero 4 black & silver both are capable of taking 12MP photos at an intense 30 frames per second and allows user to capture every movement with convenience. It is perfect for single photos and also lets the user set the time interval from 0.5 seconds to 60 seconds by choosing a time lapse mode and capture mounted shots even if the shutter is out of reach.
There is one more quality which is common in both of them. The Auto Low Light mode, which can change the framerate according to the lightning conditions. Now, you have no need to adjust the camera settings while moving from indoors to outdoors or shooting continuously at day and night. The ISO range is between 400 - 6400 on both black and silver models and they also have customizable settings for ISO Limit as well as other things like colour White Balance, exposure, and sharpness.
BATTERY LIFE
The Hero 4 black and silver variants source power from a 1160 mAh rechargeable lithium-ion battery of 3.8V and 4.4 Wh. The company claims that the battery should last approx. 1 hour 33 minutes while shooting videos of 1080p at 30 frames per second and lesser while shooting 4k at 30fps. It seems that the silver variant drains battery quickly so if you are planning to shoot for the entire day at outdoors, it is advisable to keep more batteries in spare.
PROS AND CONS
WHAT WE LIKED
The Go Pro Hero Black offers great video resolution in 4K at 30fps or 1080p at 120fps.
It provides a wide range of shooting options.
A variety of mounting options from GoPro as well as third-party manufacturers are available.
Wide ISO range and functionality to adjust the settings as per the lighting condition lets the user take detailed, immersive photos in low lighting without any hassle.
WHAT CAN BE IMPROVED
Battery drains quickly in both variants and using batteries of the old version is not possible.
There is no touch screen display in the Hero 4 black variant.
Although performance wise Black is better, it costs more than silver, so few users may not appreciate that.