INTRODUCTION

The Superior Auto Focus system means the camera can automatically locate, identify and lock-on subject, along with tracking objects perfectly, and the Nikon D5, which is the successor to Nikon's D4S, is equipped with all the features. The camera is capable of tracking and capturing objects with the all new superior Auto Focus system at 12 FPS. It is one of the best Auto Focus systems we have ever used for moving targets, and it works in any lighting condition. The Nikon D5 also has the best high ISO performance, as well as its Auto White Balance is extraordinary in any light. Let us dig deeper and see what else this camera has to offer –
SENSOR RESOLUTION

The Nikon D5 has AF motor, along with an aperture feeler for manual focusing. You can use any Nikon lens on this camera that has been manufactured since 1977. The camera uses 35.9 x 23.9 mm CMOS, with an ultrasonic cleaner. The camera is equipped with a 20.8-megapixel sensor. The camera's top sensitivity setting is a little over three million or 3,280,000.
BUILD AND HANDLING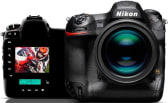 If you own or have used Nikon D4S previously, you will feel pretty familiar with the control layout of D5. The front and rear grips are designed ergonomically which makes it more comfortable to use the camera for a long period. The camera has a metal body, along with the extensive weather sealing, meaning you can use this camera in toughest of conditions safely. The camera has a 3.2 inch 2,359,000 dot screen, which is touch sensitive, but it still isn't much effective using the touch control. You can only zoom in and scroll through the images with touch.
CONTROLS

Familiar control set doesn't mean it's perfect. The mini-joystick which is used to set the Auto Focus point feels a little awkward when the camera is held using vertical grip, and it becomes harder to reach with your thumb. Three buttons are surrounding the horizontal shutter button, but there is only one near the vertical one. The vertical controls should have been same as the horizontal grip.
PERFORMANCE
As the D4S had a strong reputation for its autofocus system performance, the D5 takes it a step further and gets a 102 increase in AF points. With useful 153 point and the Auto-area Auto Focus modes, still, there is an increased chance of camera locking on the wrong target in busy surroundings, especially in low lighting conditions and low contrast situations.
IMAGE QUALITY

With a 20 megapixel sensor, the D5 gives quite a competition to D750 which has a 24 megapixel sensor. D5 matches and sometimes beats in the sensitivity range department of D750. The D5 produces much better images at ISO 409,600 than D4's maximum extension value. Although, the images are a little noisy, there is very less banding visible. D5's maximum sensitivity setting i.e. ISO 3,280,000, results in pretty bad image quality. In dark lighting conditions, where high ISO setting is required, there is very little detail in the images. When no noise reduction is applied, the raw files are seen to have a lot of Chroma noise, with a check pattern of banding which is visible at normal viewing sizes.
BATTERY LIFE
The battery gives about 3000 shots on a single charge, at 12 fps. And if you take a look at each shot on the screen after clicking it, then the battery will give around 1000 shots.
PROS AND CONS
WHAT WE LIKED
High Spec AF system
Durable build
WHAT CAN BE IMPROVED
4K recording up to 3 minutes.