INTRODUCTION

Nikon D5200, which was one of the best cameras, was known for its 39 point autofocus sensor. Nikon D5300 is the successor of D5200, and they aren't much apart. Though it has shed about 25 gm of weight here and there, along with a few millimeters as well. The all new Nikon D5300 has a 3.2 inch 1036 x 800 pixels dot screen, which is a little larger and sharper than the earlier D5200 one. It does seem just like the older model, but it has a lot more to offer. Let's take a deeper look at it -
SENSOR RESOLUTION

It is one of the least expensive cameras which is yet to use a sensor without an optical pass filter. The Nikon D5300 deliver sharper images the most of the cameras in its class. It has a 24 megapixel sensor, with 3x zoom. As the sensor lacks an anti-aliasing filter, the images retain excellent sharpness level even when noise rises. JPEGs taken by the camera looks very clean up through ISO 800, and they are quite good even at ISO 1600.
BUILD AND HANDLING
There are a few tweaks in the design here and there in comparison to its predecessor, but it's still a comfortable and logically laid out camera. The all new D5300 is lighter and smaller, with some extra room for grip. Its dimensions are 4.9 x 3.9 x 3.0 inches and it weighs only 1.03 gm, including batteries and kit lens.
CONTROLS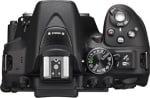 On the top right, there is a mode dial with the usual set of manual, automatic and semi manual modes, with a Live view switch extending from it. Behind the combo shutter, there are the movie record button, exposure compensation buttons and info button. The back controls are typical arranged. Information edit button shows the interactive information display which can be used to adjust shooting settings.
PERFORMANCE
The autofocus system on D5300 is the same as its predecessor, but this camera bumps up to the next gen. of image processing chips over the last year's model. And the results are better much better. It only takes 0.3 seconds for D5300 to turn on, focus and take a shot. Also, the time taken by it to refocus and shoot is only 0.6 seconds. And not to forget, this performance is under good, as well as bad light. Low light autofocus is one of the most remarkable upgrades over its predecessor. Back to back two JPEGs run 0.3 second, which while taking raw pictures increases slightly to 0.3 second and when the flash it is still good at 0.7 second. But the continuous shooting performance isn't much different than the D5200, i.e. 5.1 fps for unlimited JPEGs and raw burst is six frames for 4.7 fps, which is still a little disappointing.
IMAGE QUALITY

This camera delivers excellent photo quality. Although it doesn't feature the broadest tonal range, but it produces quite sharp pictures with some excellent color reproduction and awesome JPEG images, even in low lighting. The images are evidently better than its predecessor at every ISO, but it seems this could be as they are sharper and not because they are less noisy.
BATTERY LIFE
The D5300 has a better battery life than that of D5200. It has a newer and different battery. On a single charge, it can take up to 700 shots.
PROS AND CONS
WHAT WE LIKED
Excellent Photo quality
Speedy performance
Good choice for general purpose DSLR.
WHAT CAN BE IMPROVED
Default settings could have been better
Live View is really slow to use