INTRODUCTION

The Nikon D7200 has a powerful sensor and includes an effective series of controls to make photography easy. This DSLR camera was introduced in the middle of 2015. It is a low-light model that is specially created with NFC and Wi-Fi support in mind.
Nikon introduced this camera as its first DSLR model that have NFC and Wi-Fi support. It can link up to a smartphone or tablet, so the user can peruse images on one of these devices after the camera takes them.
These features make this a popular camera option among those who are looking for an option of sharing or social use in mind. The camera, especially does well for those who are looking for a choice of easy to set up and use.
SENSOR RESOLUTION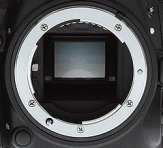 The Nikon D7200 has a 24.2-megapixel sensor. It is practically identical to what the Nikon D5200, a lower-level model, has to offer. It also uses the same EXPEED 4 image processing system and NIKKOR lenses to handle the data and organize it properly to create a crisp and appealing image.
It offers support for many ISO levels up to 25600. The camera can even be expanded even further to provide some stronger support features as required. It can support BW1 and BW2 settings of up to 102,400. It helps with establishing monochromatic photos that are detailed and offer a great look in many lighting situations. It creates a better look in any particular situation, although, a flash feature may be attached to the top if necessary.
BUILD AND HANDLING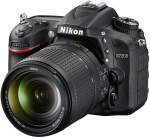 The carbon fiber body of the Nikon D7200 makes a comfortable and easy to handle body that all users will certainly be fond of. This body offers an excellent grip that is easy to bring around and provides a good organization that isn't too hard for people to carry around. The shape of the camera is also consistent with that of many other DSLR camera from Nikon.
It is a little heavier than many other cameras in that it is about 23.81 ounces in weight. Still, it works in many conditions and can take photos from 32 to 104 degrees Fahrenheit.
CONTROLS

The control features of the Nikon D7200 word hard to create a better experience for those looking to take the best possible photos. The D7200 uses a control scheme on the top to adjust the AF system. It works with up to 51 focus points at a time. Fifteen cross-type sensors may also be triggered for a proper center balance.
The video shooting controls are organized in the rear part of the camera. It allows the user to shoot pictures at 6pfps or to take 100 continuous shots for JPEG images. The controls work with HD quality video. The 1080p support on this camera feature allows for detailed videos that will look impressive.
A separate control allows the user to adjust the shutter speed up to 1/8000 of a second, a point half as much as what the D5200 offers. The user can control different shutter release modes to create a dense shot if used right.
PERFORMANCE
The Nikon D7200 has an excellent viewfinder on the back. The digital viewfinder offers 100 percent coverage in most cases. It goes down to 97 percent when a 1.3x zoom feature is used on the screen. This magnification feature may be used to identify how well shots may be taken.
The sensor did well with displaying an accurate image in the viewfinder. The user will have to be careful when getting this feature to work, as it can be easy for the image to be hard to read if, the viewfinder is not used properly.
IMAGE QUALITY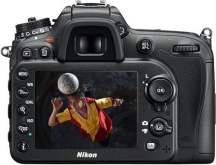 The 24.2-megapixel sensor for the Nikon D7200 creates an impressive image that works with limited noise issues. The long exposure noise reduction feature identifies the images are going to the sensor to ensure that nothing will interfere with the quality of the image. It creates a better total appearance when used right.
The NIKKOR lenses that are used here are designed to create clear and easy to adjust images. When used right, it creates a better total appearance that will work well with the processor to create detailed images.
BATTERY LIFE
The battery for the Nikon D7200 is an EN-EL15 lithium-ion model. It can work with 1,110 shots on a single charge. It can also shoot about 80 minutes of HD video footage. The total amount of power will vary based on how the Wi-Fi and NFC features are used. An MH-25a quick charger may be added to power up the camera battery quickly.
PROS AND CONS
People who are interested in suing the Nikon D7200 should look at a few points about what makes it work. Here are a few pros and cons to look into.
WHAT WE LIKED
The Wi-Fi and NFC connections are very easy to configure through the viewfinder control screen.
The video files that can be recorded here are amazingly detailed and easy to share or display on a local phone or tablet.
The sensor creates a detailed image every time.
The powerful ISO range of this camera can be expanded even further when the right attachments are included.
WHAT CAN BE IMPROVED
It takes a bit for the camera's AF features to load up. It takes even more time when a larger number of focusing points are included when making it run.
The battery can drain quickly if the Wi-Fi functionality is active.
The screen on the back is fixed.
The attachments for the camera to expand its ISO functions are tough to get on at times.
All those, who is looking for a camera that is simple and powerful and connects to online functions quite well, need to see the Nikon D7200 once. This camera is a popular model from one of the top names in the industry for all to take a closer look at.