INTRODUCTION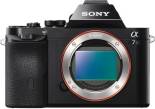 The Sony Alpha A7S, a small size full-frame camera was launched in July 2014. It exceeds in terms of performance and functionality from its predecessors Sony Alpha A7 and A7R. The camera is cable of shooting bright pictures at a very low light situation due to its ultra-sensitive ISO range which can be expanded up to 409,600. The combination of BIONZ X processor and CMOS sensor makes it a highly recommendable for still photography and shooting in various situations.
By introducing this camera, Sony has targeted those professional photographers who shoot mostly in outdoors and spend more on a night vision camera. By default, the sensitivity range of Sony A7S is from ISO 100 to 102,400. Its unique sensor architecture with huge pixels is capable of adjusting the dynamic range itself as per the ambient.
Without further adieu, please have a look at Sony Alpha A7S specifications, features, and other important aspects that will help you to take the decision in a much better manner.
SENSOR RESOLUTION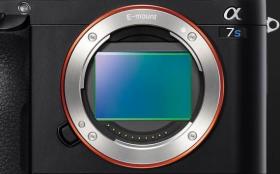 The Exmor technology of full frame CMOS image sensors supports high-speed Auto Focus. The combination of colour filter mosaic over the pixel sensor to separate colour information and Gapless On-Chip Lens Design enhances the light gathering ability with less noise and higher sensitivity. The 25-point contrast detection autofocusing system includes a wide range of distinct points to obtain focus in low sensitivity up to -4 EV.
BUILD AND HANDLING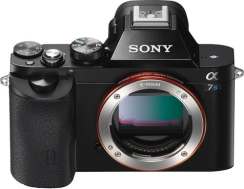 It has a magnesium alloy shell which makes it water and dust resistant. The body of Sony Alpha A7S looks very similar to A7 and also uses the same battery for source power. Its Dimensions are 127 X 94.49 X 48.26 mm, and weight is 489.04 grams, so users might find it a bit heavier.
The camera comes with a large 3 inch rear LCD display along with 12.4 MP resolution. It has an inbuilt Flash and 0.5-inch XGA OLED Electronic Viewfinder with 2359 dots which provides crisp images and is essential for a clear view in low-light condition. 4X digital zoom lets users enlarge any part of the photo without loosing the image quality. It has the option to connect Wi-Fi and NFC so that you can send pictures to your mobile using the Sony's app.
CONTROLS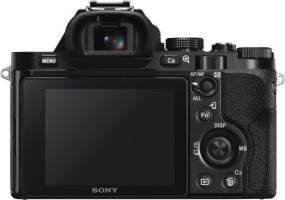 Here we are going to give information about some features that can be used to change and adjust the effects.
The camera offers picture effect modes such as toy camera, black in white and colour posterization, retro, miniature, watercolour and more.
Scene selection modes include Macro, Landscape, Portrait, Night Portrait, Sunset, Night Scene, Anti Motion Blur and Hand-held Twilight.
Style settings include Standard, Neutral, Vivid, Deep, Light, Clear, Portrait, Landscape, Sunset, Night Scene, Autumn Leaves, Black & White, and Sepia. You can adjust the contrast, sharpness, and saturation.
Picture Profile parameters include Black Level, Colour Level, Colour Mode, Colour Depth, Colour Phase, Detail, Reset, Copy, etc.
2x Clear Zoom can be used to double the image size, 1.5x, 2x Smart zoom and 4x digital zoom are available for more magnification.
PERFORMANCE
The Alpha A7S shows improvement in operations and deliver outstanding performance. It doesn't have touch screen which is present in many compact cameras, but it doesn't seem to be necessary too. The camera doesn't include hybrid autofocus system which was present in A7 but has fast Auto Focus system which is quicker and works well with still objects. 2.5 frames per second shooting rate while continuous Auto Focus increases the accuracy level. It also includes a tilt mechanism to capture moving object with ease.
The BIONZ X engine enables fast processing of detail pictures with less noise. The camera is really good for making videos as it achieves 4K full pixel readout. It also supports HDMI output signals 24fps, 30fps, 60fps, and 60i. The APS-C mode enables 120fps of shooting at 720p.
IMAGE QUALITY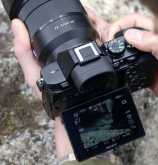 It can be considered as one the best still camera in terms of image quality. In spite of 12 MP resolution, images look awesome due to high ISO senility as it ranges from ISO 50 to ISO 409,600. The camera provides a wide dynamic range of clear pictures in extreme dark with improved sources for extending lighting which was almost impossible earlier.
Another thing that proves it better than other cameras is less noise in high ISO range. If you go beyond ISO 3200 with any other camera then there would be a prominent noise and details in the shadow will be missing but here you won't experience anything like that. The bigger 35mm lens along with exceptional E-mount interchangeable lens system provides sharp focus and while shooting at a f/2.8 aperture.
BATTERY LIFE
Sony Alpha A7S is packed with Li-ion battery of 1080 mAh capacity, which can shoot more than one hour of video. Although the battery life is improved compared to A7, it is still advisable to keep another battery in spare as this camera is more useful for video shooting and users may find a single battery insufficient. Standard connectivity options are such as USB and Wi-Fi, both of them support camera apps. Wi-Fi enables users to share their images on social networks. Near Field Communication connects mobile devices without any complexity and display images of the camera on their screen; it can also be used to control the camera shutter remotely.
PROS AND CONS
WHAT WE LIKED
The camera offers high dynamic range imaging.
Detailed images with low noise in the higher ISO range.
It has excellent light gathering properties.
Makes 4K recording better with full pixel readout.
The camera has an option to connect other devices through Wi-Fi and NFC.
WHAT CAN BE IMPROVED
You need an external recorder to shoot 4K videos.
Start-up is slow and takes much time.
Image quality drops in Silent Shooting mode.
Sony is a reliable brand that company's innovation and hard work reflect on its products. There are 3 versions available in the market of A series, but this camera not just overshadow the other two, but also the other compact cameras of this range because of its versatile imaging capability. Since its launch in 2014 till now, it has gained popularity day by day and has become one of the most favourable camera of its time.