INTRODUCTION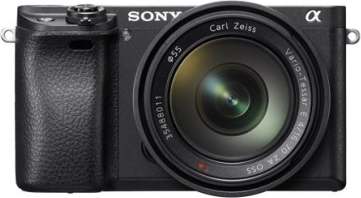 The Sony Alpha ILCE 6300 is the successor of A6000 which was the most popular camera in 2014. Since its launch, A6300 has also overshadowed all of its competitors in the market. The camera is packed with amazing features and offer high image quality. It offers a wide dynamic range of imaging and takes beautiful and clear images in dark. Its ISO range can be expanded up to 51,200 which makes it far better than other cameras of similar price range.
High-speed sensors along with powerful processor provide fast processing and detailed imaging with less noise. The camera takes your video shooting experience to another level and offers extra-ordinary resolution and realism in 4K videos as well as slow motion footages. The camera has a strong exterior and easy to use functions. The battery life is also better than the previous A6000 and lasts longer. Capturing both still and motion objects is a piece of cake with this camera. In short, this camera is highly preferable for those who need a bit extra.
SENSOR RESOLUTION

The Exmor CMOS sensor along with BIONZ X ensures fast image processing and let users take a squint less, high-quality images. The combination of BIONZ X image processor and the image sensor delivers detailed and crisp images/movies with minimal noise at higher ISO range. Highly sensible image sensor provides better resolution with more efficiency.
It can expand the sensitivity range up to unbelievable ISO 51,200 with lesser noise. They have developed a new design with processing circuitry lower copper wiring layer to collect more light. The APS-C Sensor (23.5 - 15.6 mm size) allows more light and along with the sensor resolution of 24.2 MP offers clear and detailed pictures.
BUILD AND HANDLING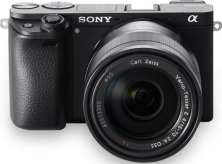 The Sony Alpha ILCE 6300 has a stunning design and a robust body because it is totally constructed of magnesium alloy and looks quite similar to the previous model. There is no major change in the controls as well, and all buttons are located at the same place which is good for those who has used its predecessor because they will easily get a hang of the new one. It has big 3.13x zoom kit lens along with many high-end components so feels a bit heavier. The camera is dust and moisture resistant, but cannot handle water splash, so it is advisable to keep it covered during the rain.
The camera weighs 404 grams alone and 520 grams with battery and kit lens along with other accessories. Dimensions of the camera are 120 X 66.9 X 48.8 mm so it's bigger in size, but stills provide a solid grip. The camera offers many exciting features such as 8X digital zoom, inbuilt flash and USB. 3 inch LCD and electronic viewfinder to project images in a mini display. The camera is Wi-Fi enabled so that the user can control the camera remotely and share stills and videos on social networks after capturing them.
CONTROLS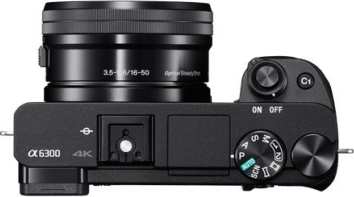 As far as the controls are concerned, most of them are located at the same position where they were in the previous model. There are only a few changes have been made like, the dial mode at the top deck has a single Auto position and doesn't show iAuto and iAuto+ (Superior) much more and both are grouped under one option. Now there is much space available for the memory recall mode which allows capturing of an image after recalling used modes and camera settings.
They have replaced the auto exposure button with a new central button on the rear side. It has a power button and shutter at the top in front of mode dial, so there is no change. The electronic viewfinder along with the rubber ring is located at the top left corner of the LCD screen. Flash is not exactly at the center, but a bit towards the right with the menu. Rest all the functions like the button that toggle the focus between AF/MF, ring to adjust ISO, etc. are also featured on the right side of the LCD.
PERFORMANCE
Making a professional movie or shooting videos is fun with The Sony Alpha ILCE 6300 as it includes a variety of video functions and achieves ultimate resolution in 4K recording due to Full pixel readout with no pixel binning and compress 6K equalling data in 4K. The Hybrid Auto Focus speed for movies of this camera is almost double than its predecessor; that's why it can record sharp and detailed 4K videos smoothly.
You can make your movie footage more expressive as it offers a wide dynamic range of shooting in post production. The new SLog 3 gamma setting offers 14-stop latitude. The camera can shoot up to 120 frames per seconds in Full HD and record 4x, 5x slow motion videos. Due to the High-bit-rate XAVC S9 format users can shoot detailed 24p, 25p, 30p and 120p movies at bit rate of 100 Mbps and less compression noise.
IMAGE QUALITY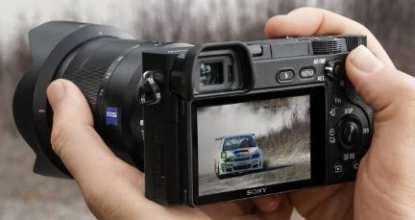 The Sony Alpha ILCE 6300 offers a native ISO range of 100 to 25,600 which can be expanded up to ISO 51,200. The Focal Length of 16 - 50 mm with a maximum aperture of 3.5 provides a wide angle of viewing and it can take up to 44 continuous shots at a time. The camera has a full range of shutter speed, shortest is 1/4000 and maximum is 30 seconds, so now you can capture any moving object with quick and ease.
You can conserve greatest moments by choosing the high-speed continuous shooting with auto-focus or after effects tracking up to 11fps or 8fps on live view presenting minimal display lag on the LCD screen to elucidate the final action. It has wide AF point coverage with a magnificent 425 focal plane phase-detection AF points positioned in a dense manner over the entire area of the image which ensures that no subject fails to get noticed. Its fastest autofocusing makes it highly durable for motion tracking.
BATTERY LIFE
One of the best parts of the camera is its improved battery life. The Sony Alpha ILCE 6300 comes with Rechargeable NP-FW50 Battery company claim that on a single charge, it can take up to 350 shots via viewfinder, which is 13% extra then A6000 and on LCD screen user can take approximately 400 shots which is also 11% extra then the previous model.
PROS AND CONS
WHAT WE LIKED
The Sony Alpha ILCE 6300 is capable of producing high-quality stills and videos.
Enhanced ISO performance lets you do detailed imaging in extreme low light conditions.
JPEG quality is better than the previous version.
Fastest autofocus makes it highly useful for motion tracking.
An awesome feature called real-time live view is included.
It has a solid build.
Amazing screen resolution in 4K videos.
WHAT CAN BE IMPROVED
It doesn't have a touch screen.
Doesn't support UHS -II.
Using Wi-Fi with it a bit complicated.