INTRODUCTION

While it is true that the Windows Mobile operating system is not too commonplace just yet, it is still an efficient option for many mobile needs. The Acer Liquid Jade Primo is one particular smartphone that works with the operating system. It is perfect for those who are looking for fine programs as it offers the support of many Windows-based programs in a smaller physical setup that is easy to use in a larger variety of spaces.
The Jade Primo was introduced late last year as a new choice for those looking for a better option for different connectivity needs. It is fast enough to run many applications and works with Windows Mobile to allow users to do more with it.
DESIGN AND DISPLAY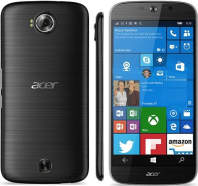 The build of the Acer Liquid Jade Primo is a popular point for people to look forward to using. It is a 5.5-inch model that has a 70.2 percent image to body ratio. It means that it should be good enough for most people who need a phone that runs well and effortlessly.
The 1080x1920 resolution with a 401ppi density offers a consistent full HD design for people to use. It is especially important as this works with the Adreno 418 GPU to create 3D images that are clear and easy to read. The LED touchscreen especially offers a better look that isn't too hard to see.
It is all arranged with an easy to read display setup. It should be strong enough for most people who want a better phone that is easy to run and use.
PERFORMANCE AND CONFIGURATION

The Windows Mobile operating system is the big marketing point of the Jade Primo to see. It works with a mobile version of Windows 10. It offers a familiar design that is easy to load up and especially looks great on the LED screen.
The OS runs smoothly and effortlessly. It runs with the Microsoft Edge web browser, an advanced and modern version of the Internet Explore operating system. It also uses many apps that are designed with Windows in mind. Microsoft supports many great apps for entertainment and productivity needs alike.
The phone mainly runs with Microsoft Office apps for all kinds of uses. It especially loads up many Office files for Word, Excel, and other programs quite well. It is very easy for people to edit the files that they read on the phone too.
The Qualcomm MSM8992 Snapdragon 808 dual-core 1.82GHz and quad-core 1.44GHz processor series helps keep the phone running effortlessly without creating too much energy or stress. It, in turn, offers a better design that is easy to follow and should be simple for most to work with when it comes to getting a phone running right.
It runs with 3 GB of RAM and 32 GB of internal memory. It can support a 256 GB microSD card in a dedicated sim card slot. The OneDrive system can also be accessed to get up to 15 GB of added cloud storage.
CAMERA AND MULTIMEDIA

The camera runs on a separate application supported by Windows Mobile. This camera app offers a better sense of control that is easy to follow. It uses a face detection feature that identifies details for focusing and especially uses a setup that records 2160p videos at 30fps.
The primary camera uses a 21-megapixel sensor. It also has a f/2.2 aperture for a wide view. The 8-megapixel secondary camera also uses the same software program and an identical aperture. It also records 30fps video, but it only does this at 1080p. Still, it offers clear HD recording.
It all runs with many traditional applications that are seen on the Windows operating system. The Windows Media Player app especially does well with playing back music and video files. The web browser also works with YouTube to create a better streaming video experience.
BATTERY AND CONNECTIVITY
The battery on the Acer Liquid Jade Primo smartphone is a 2800mAh phone. This Li-ion phone is a non-removable option that charges fast. However, Acer has not released details on the approximate length that the battery works with.
The phone has a series of connection options that suit all needs including 3G and 4G connections through a dual sim connection. The Wi-Fi signal support that this works with is easy to use.It also runs on a hotspot and a Wi-Fi Direct system to keep a connection running at all times. A Bluetooth 4.0 link can also be used when trying to run the phone with a car stereo or other item that supports Bluetooth signals.
PROS AND CONS
There are a few good and bad points about the Acer Liquid Jade Primo smartphone that people should be taking a closer look at. These are good features that show how well the phone may work for the needs one holds.
WHAT WE LIKED
The phone runs well with a great and easy to use design that should be familiar to those used to the Windows 10 operating system.
The camera is dense and displays images quite well to create a better total look.
The microphone has a noise cancellation feature that makes it efficient.
The apps used on the phone are very easy to use.
WHAT CAN BE IMPROVED
This does not work with any biometric features like a fingerprint scanner for added protection.
The screen does not have an LED backlight to make it easier for the user to adjust the screen's intensity.
The battery can run out fast if it uses too many apps at a given time.
There is not too much of a variety of apps for the phone to use at this time.
The Acer Liquid Jade Primo smartphone is a good choice for people to have when finding a stronger choice for all to look forward to using. It is a quality smartphone that will last for a while and also runs a great operating system that uses the Windows architecture to keep it effective and functional.