INTRODUCTION

Two years ago, an ideal smartphone with LTE capability would have cost you a fortune. Fortunately, the times have changed and since last year, we have seen many budget smartphones that support LTE. Acer Liquid Z330 is one of those smartphones which are endowed with average specifications and low price. Acer Liquid Z330 offers 4G support as well. This phone was launched in the last quarter of 2015 and despite having a plastic body, this phone has some decent specs. Other than supporting LTE, this phone features 5-megapixel cameras on both front and back. It comes in two variants. One has single SIM capability, and the other accepts dual SIM and has dual SIM standby. It also has a dedicated microSD card slot. As a result, you do not have to worry about sharing the slot with second SIM. It runs on Qualcomm MSM8909 Snapdragon 210, which seems quite old for this generation of smartphones, but works fine within Liquid Z330. The phone is backed by 1GB of RAM, which is just enough for the hardware used inside it. Let us now take a deeper look at Acer Liquid Z330.
DESIGN AND DISPLAY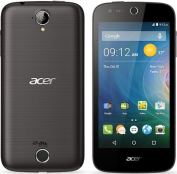 Acer tried their best to give this phone a unique and stylish design with a plastic body. They were able to make the plastic body look great and metallic. The phone is quite slim and feels good in the palm. The dimensions of Liquid Z330 are 136 x 66.5 x 9.6 mm (5.35 x 2.62 x 0.38 in) and weighs only 142 gm. There are no sharp edges on the body. The build of the phone is also good, although it is made out of plastic. The phone has only the volume rocker on its right. The power key is placed on the top left, which is quite different as nowadays, almost every phone features the power key on the left, and it is easier this way as well. The 3.5 mm is also placed on the top. At the bottom, there is the microUSB port for charging and data transfer. On the back, it has the primary camera positioned at the top center and a single LED flash just below it. Just beside the camera, there is the secondary mic for voice cancellation. On the front, there are no physical keys. The earpiece is at the top center, and it looks like a big circular hole. It has the secondary camera on its left and proximity sensor on the right. On the back, it has an odd looking disc on the bottom, which hides the speaker. Overall the design looks good and eye-catchy.
The Liquid Z330 has one of the best displays you can find in this range of smartphones despite having a low resolution of 854 x 480 pixels. The display used is 4.5 inch IPS LCD. The pixel density is 218 ppi. There is no protective glass over the display. The screen supports multi-touch up to two fingers only. It could be a problem while typing and navigating. Under the sun, the phone display visibility is very low. But for such a low price, this is better than the most what we have seen before Liquid Z330.
PERFORMANCE AND CONFIGURATION

The phone runs on Snapdragon 210 processor and is backed by 1GB of RAM. With these specs and the kind of display used, the performance of this phone is quite decent. The UI tweaked over Android KitKat is also pretty smooth and is easy to use. It looks great. One thing that bothered us was the amount of bloatware already installed on the phone. Most of them are of no use, and they ate about 5.37 GB of internal storage space out of 8 GB. And this signifies that there is very less memory for usage. The gaming aspect is just okay. You can play casual games easily, but while playing heavy games, the phone started to have some hiccups. Also, you can only play games which do not require more than two points of multi-touch. Overall, the performance is up to the mark with such specs.
The phone runs on Android 5.1 and is powered by quad-core Qualcomm Snapdragon 210 MSM8909 processor and it comes with 1GB of RAM. The phone packs 8GB of internal storage that can be expanded via a microSD card.
CAMERA AND MULTIMEDIA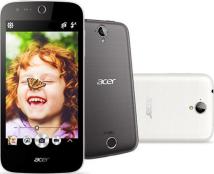 The primary camera and secondary camera, both are 5-megapixel cameras, and they performed quite well when we tested. The primary camera has a single LED flash to support. The camera app has tons of features and filters, which you can use to brighten the skin or picture, etc. The app also features voice commands and timer options. It has different scene modes as well like landscape, night mode, night portrait or portrait. The camera captures videos at 720p. The shutter speed is quite good as well. Overall, the camera is quite good.
BATTERY AND CONNECTIVITY
Despite having a 2000mAh battery, this phone's battery backup is quite impressive. On moderate usage including regular messaging, occasional calls and 2 hours of social media networking, it can last up to two days. There is also a battery saver inside which you can turn on to save some more battery. Under heavy usage as well, the performance was not so bad. We were able to squeeze 8 hours of usage out of it with LTE, Max brightness, GPS, etc.
The phone comes in single and dual-SIM models. Both models support LTE and have a separate microSD card slot. Other connectivity options are WLAN, Bluetooth 4.0, A2DP, GPS with A-GPS and microUSB v2.0.
PROS AND CONS
WHAT WE LIKED
Affordable Price
Android 5.1 Lollipop
WHAT CAN BE IMPROVED
Only 2 finger multi touch
Not enough storage left after pre-installed apps