INTRODUCTION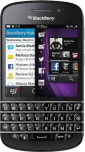 Blackberry is the best in class Canadian smart phone makers of the business range of smartphones, well known for its blackberry (BB) operating system. It was previously called as Research in Motion. This company has now decided to make its debut into the android range of smartphones against IOS and Android to provide a competition. Blackberry Q10 was announced in January 2013 and was launched in April 2013. This phone is available only in two colours ie. Black, White. It has single sim card slot that accepts micro sim supporting the 3G LTE technology for the internet usage and video calling. Blackberry Q10 mainly hits the business classes offering various features for the business persons. It mainly offers the business features like Document Viewer, Document Editor, Pushmail, Documents, Spreadsheets, Adobe Reader. There are many other phones in the row of Q series like Q10, Q5 etc.
DESIGN AND DISPLAY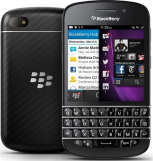 The display is designed a with a Super AMOLED capacitive touch screen, 16M colours. It provides a display touch screen size of 3.1 inches that has ~ 38.8 % screen to body ratio, it also has the typing option with a prebuilt qwerty keyboard allowing the user to both touch and type accordingly. It provides a good HD resolution of 720 x 720 pixels that equals ~328 pixels per inch (PPI) pixel density delivering good visuals and graphics. It also supports the multi-touch feature up to 5 fingers. Blackberry Q10 measures 119.60 mm on height, 66.80 mm in width, 10.35 mm in a thickness and weighs 139.00 grams. This is not a huge phone nor weighs too much, so one can carry easily in their pockets and handbags. The Q10 feels comfortable to hold. The design of Q10 is more sophisticated than previous Blackberry versions, eliminating features like trackpad and navigation buttons. The all new Blackberry Q10 is now more concerned with display and keyboard. With only two buttons, the power button on top and volume toggle/mute on right the Q10's design is a refined version of a familiar BlackBerry experience.
PERFORMANCE AND CONFIGURATION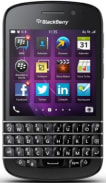 Blackberry Q10 is released in two versions LTE and Non-LTE. This phone works on a dual-core 1.5 GHz Krait 200 processor for LTE version and Cortex-A9 for Non-LTE version. It packs a chipset configuration of Snapdragon S4 for LTE version and TI OMAP 4470 for Non-LTE. It supports the CPU and has the graphics powered by Adreno 225 GPU for LTE and PowerVR SGX544 for Non-LTE which provides excellent graphics. This phone works with blackberry operating system of version 10 and is upgradable to later version 10.3.1. Blackberry Q10 packs the most powerful 2 GB RAM providing the fastest performance and hassle free handling and a flawless, smooth running. So, here is a Blackberry device that performs multitasking with good efficiency, thus delivering a complete smart phone experience. It has an internal storage of 16 GB for installing various apps and storing all the personal data. The storage is expandable up to 64 GB with the help of an external micro SD card that has to be inserted into the slot. It has an android compatible avatar which means many android similar apps will be running on this very phone.
CAMERA AND MULTIMEDIA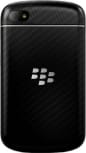 This device features an 8 MP rear-facing the camera with 5x digital zoom, f2.2, 31 mm aperture, auto focus and LED flash light technology. It also has some multiple features like Geo-tagging, touch focus, face detection, HDR, panorama, Sub Flush Camera Lens and Time Shift Mode. This rear camera has the ability to record HD videos with 1080 pixel quality at the rate of 30 frames per second (fps). Considering the front facing camera, it is built with 2 MP with 3x digital zoom that take moderate selfies and also posses the ability to record HD videos but in 720-pixel quality. The camera performances are up to the mark for their mere strengths. Q10 has the multi-media features like it has a good music player that supports mp3 and all other formats of music and an HD video player that player videos and movies.
BATTERY AND CONNECTIVITY

Blackberry Q10 has a good removable 2100 mAh Li-ion battery. It provides a stand by time up to 360 hrs on 3G , a powerful talk time of 10 hrs on 2G and 13 hrs 30 minutes on 3G. It has an SAR value of 1.16 w/kg at the head and 0.75 w/kg at the body in the USA and 1.41 w/kg at the head and 0.78 w/kg at the body in Europe. This phone has passed few tests like Contrast ratio: Infinite (nominal) / 2.856:1 (sunlight) for display, Voice 69dB / Noise 66dB / Ring 75dB for loud speaker, Noise -89.6dB / Crosstalk -82.7dB for audio quality and Endurance rating 56h for battery. It possesses some important apps like BlackBerry World, BlackBerry Balance, BlackBerry Hub, BlackBerry Remember and has some features like NFC 1Support, Micro HDMI, Calendar, BlackBerry Security, Active Frames, Games, Wide QWERTY, 3G Mobile Hotspot, BBM Video with Screen Share, Voice Input. It also has a wide range of sensors like Ambient Light Sensor, Gyroscope, Accelerometer, Magnetometer, Proximity Sensor. In addition, it has Bluetooth, A-GPS, Autonomous GPS, Simultaneous GPS, with BlackBerry Maps navigation technology, Wi-fi with hot spot connectivity, GPRS, and USB connectivity.
PROS AND CONS
This phone falls into the price group of 6/10. It has some advantages like simple and efficient work organization, quick, easy and secure email management, communication via BBM, Whatsapp, twitter and skype. It also has few disadvantages like smaller screen size that is unfit for videos and movies, the front camera is a big disadvantage and the gaming is not possible in this device, it is solely meant for the business purpose. It has a great keyboard and hence made easy for typing. The display is not bright enough and the interface doesn't work well on smaller screen.
If you wish to carry your work without a laptop, then Blackberry Q10 is the best option.