INTRODUCTION

HTC's Desire family of smartphones includes several choices that come with their particular features. The HTC Desire 825 is the newest option for people to buy. This brand new smartphone released in 2016 is designed to be right in between the Desire 820 and 830 models. It is an efficient option that will be easy for all users to enjoy. This phone is specially designed for today's modern smartphone users. It has a sturdy body that is easy to configure and simple for all to try out when it comes to finding an effective choice.
DESIGN AND DISPLAY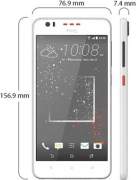 Desire 825 is built with a plastic body that has a good artistic design to it. It offers a clearly visible 5.5-inch 720p HD screen and is 7.4mm thick. It is 155g in weight so it should be easy to carry around without being much of a hassle on one's pocket.
This screen is not as strong as the 1080p screen on the Desire 830. Still, it does work with a Gorilla Glass covering to keep it from scratching or cracking apart. The display color personalization feature also allows the user to control how well the images are coming through on the phone to make it easy to read.
The grip is soft while a standout button is used at the top part. This button protrudes slightly from the top and is typically used for selfies and other quick functions. The button is rather responsive, but it helps to watch for how it stored in one's pocket. It is best to put the phone into a sleep mode before adding it in one's pocket to keep it from triggering the camera without knowing it.
PERFORMANCE AND CONFIGURATION

The HTC Desire 825 has a Qualcomm Snapdragon 400 quad-core 1.6GHz process. It is a 64-bit unit like with what many of the other smartphones in the Desire series has to offer. It is not an octa-core processor like what the Desire 830 has, but it still manages to run application quite well without causing any lagging or other delay problems.
It has 2 GB of RAM and 16 GB of internal memory. The most exciting part of the storage comes from how the phone can handle an ultra-high capacity microSD card. It can take in a microSD card of up to 2 TB in size. In other words, a user could potentially never have to worry about not having enough space for storing videos, photos or other items taken on the camera.
As for the operating system, Android 6.0 is used here. Android Marshmallow has been heralded for being a very stable option. Still, it does take in a bit of extra disk space. It would not be an issue when a microSD card is added onto the phone as that card can store more items quite well.
CAMERA AND MULTIMEDIA

In terms of the camera, the HTC Desire 825 has a 13-megapixel main camera with a BSI sensor, an autofocus feature, a f/2.2 aperture and a 27.97mm focal length. It offers a continuous shooting feature to take several pictures in just a matter of seconds.
The secondary camera is 5 megapixels in resolution and has a f/2.8 aperture with a 33.7mm focal length. It offers many selfie options including smile and still selfies features that let the user choose to record one's voice if desired. A selfie timer can last for up to ten seconds to give people enough time to prepare for getting their pictures taken. It can always link to different social media apps on the Android OS to allow selfies to connect online rather quickly.
Speaking of which, Android Marshmallow has a series of excellent and effective apps that play back media files and can work with YouTube videos. The user can also get added apps from third parties if desired.
The Sensor Hub is especially perfect as it will sense movements. It could link to different fitness apps like Google Fit.
BATTERY AND CONNECTIVITY
The 2700mAh battery runs with about six hours of HD video playback. It can also play back about 48 hours of audio on a single charge.
In terms of online usage, this can run on a Wi-Fi network for seven hours and offers up to 24 hours of talk time on a 3G network. For standby use, it will work for up to 28 days in standby mode. Two power saving modes are also used to allow the phone to work quickly.
The phone works on 2G, 3G, and 4G bands and can handle up to 150Mbps downloads and 50Mbps uploads. It also uses Bluetooth 4.1 signals and works on a majority of Wi-Fi bands. It should be effective enough for a majority of uses to make this work well as desired.
PROS AND CONS
There are several positive and negative sides of the smartphone for people to check out. These are good considerations that have to be seen when looking into what makes it tick.
WHAT WE LIKED
The potential for applications to lag or slow down while in operation on this phone is very minimal.
This will connect onto a majority of wireless networks rather quickly and effortlessly.
The memory on this phone is very efficient.
The microSD storage feature ensures that the user could have as much memory as one needs for a long time.
WHAT CAN BE IMPROVED
The display can be hard to see in some lights.
The button features protrude quite well and might be accidentally triggered depending on how the phone is stored in one's pocket.
This doesn't have as many cores in its processor as what other Desire models have.
The detail on the display is not as intense as what the Desire 830 has.
The HTC Desire 825 should be effective enough for most people who want to get quickly online and do more with their phones. It is a useful option for people to have as it makes it easier for people to take pictures while on the go and especially works with a massive amount of space for storage use.