INTRODUCTION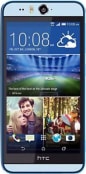 The world of smartphones is changing. Earlier, we used to love smartphones with a good primary camera. We were completely okay with VGA or 2 MP front cam. With the ever growing popularity of selfies, people are looking out for a smartphone with a better front cam. HTC Desire Eye is one such phone which offers 13 MP camera on the front, as well as on the back.
Many manufacturers are following the trend and improving their front facing cameras, but HTC has gone to the lengths no one else has ever thought about it. And it just not about the camera, this smartphone has various other endearing specifications. With Quad Core Snapdragon 801 processor and 2GB RAM, along with a 5.2 inch full HD IPS screen, this phone is a lot more than just a selfie phone. Let's discuss the HTC Desire EYE in detail.
DESIGN AND DISPLAY

Say goodbye to the metal body of its predecessor HTC One M8; this phone is all plastic. It might not sound so good, but HTC found a way to create two variants of plastic from just a single piece. The Desire Eye has a seamless design, and it gives the EYE a funky and fresh look. There's a slight soft-touch of polycarbonate on the back for grip.
The soft touch plastic frame does leave greasier finger marks than a metal body phone. But the plastic used is much better and harder than the one used in Nexus 5. The buttons are not much of a plus point. The power, camera button, and volume rocker feel flimsy and do not inspire confidence while pressing them. Except this build quality issue, rest of the phone is excellent.
MicroSD card and nano-Sim trays are on the left edge, and they feel more robust and easier to access. There's a rubber seal to keep them closed and hidden. The rubber seals aren't just there to improve the design. HTC Desire Eye is water resistant for up to 30 minutes, in 1m of water, which comes in handy if you decide to use this phone during rain. The microUSB and headphone jack (3.5mm) are water resistant. They do not require any cover.
There is a 5.2-inch screen which gives it a big phone look. The screen has a 1080p resolution, and it is protected by Corning Gorilla Glass 3. The display of Desire EYE is of top notch quality and has good legibility under direct sunlight.
PERFORMANCE AND CONFIGURATION
The Snapdragon 801 processor has been the chip of the choice in many smartphones of this range. It is not the latest Snapdragon, but it is the most popular one. This processor is backed up by 2.3 GHz, Quad-core CPUs, and 2GB RAM, which gives enough speed to the phone for playing latest HD games.
The OS used on HTC Desire EYE is Android KitKat 4.4.2, with HTC Sense 6 layered over it. HTC sense is a slick interface, and it gives HTC phones a sassy and bright look. It has one of the best Android interfaces than other smartphones.
CAMERA AND MULTIMEDIA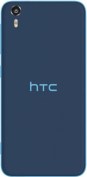 The camera is the foundation and the backbone of this phone. It is the key feature of HTC Desire EYE. Traditional sensors used in this phone, as opposed to low mp/large pixel ones who used in HTC One M8. Traditional sensors give more credibility and good pictures. There are two 13-megapixel cameras in this phone, which are similar but not at all identical. The difference between both cameras lies in the width of the lens. Front facing camera uses 22mm lens, whereas the primary camera has a 28mm lens. This difference in the width of the lens makes perfect sense. It provides a wider angle to get more people in your shots.
To make sure that there is enough light to click images in dark conditions, there's a dual-LED flash on the back, as well as with the front camera. LED flash on the front gives you awesome selfies. It is worth mentioning that without the flash, the selfie camera of Desire EYE works fine. But we advise using the flash always because taking selfies without a flash or any light behind you, darkens the facial features. There is no optical image stabilization for the rear camera, and hence, the images are of mediocre quality. The shots are little darker with the rear cam than the front one.
BATTERY AND CONNECTIVITY
The 2400mAh battery used in HTC Desire EYE is a little smaller than the one used in HTC One M8, and this is one of the negative points of this phone. For a bigger and brighter screen, a smaller battery is not a good sign. However, the stamina of the phone isn't bad. Most of the battery sucked up when the phone used for gaming. The battery feature is quite run-of-the-mill and is not a wonderful aspect of this phone.
There are tons of connectivity options available in this handset such as Bluetooth v4.0, Wi-Fi a/b/g/n and NFC, along with 4G connectivity support.
PROS AND CONS
HTC Desire EYE is a phone which is typically made for selfie lovers of this generation, but rest of the phone is surprising. Here are some of the positive and negative sides of Desire EYE.
WHAT WE LIKED
Great Front-facing Camera with Flash
Solid Performance
Respectable 1080p Screen
Water-resistant to 1m for 30 minutes
Well Priced
WHAT CAN BE IMPROVED
Flimsy Buttons
Big and Bulky Phone
Small Battery
The size of this phone is big, so if you're sure you can handle such a big phone, then go for it. It is a great smart gadget from HTC. It is not just a selfie phone. Desire EYE is much more than that. Cheers!