INTRODUCTION

Huawei has launched a new model Huawei MediaPad T3 BG2-U01 in August 2017. This tablet is a new model for the customers to buy and this would be available in the mid-price range considering the features that will be available in it. This model is mainly focussed on Android users who are willing to buy a tablet for an affordable price.
It has an internal memory of 16G and Ram of 2GB and many more new features are available in it. Let us talk about them in details.
DESIGN AND DISPLAY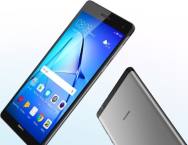 The Huawei MediaPad has a 7-inches display screen with IPS LCD screen type technology. The dimensions for this model are 4.08x7.39x0.34 inches and it weighs around 275g. Since the screen will be very broad and it will be quite useful during video calls and during taking wider pictures. Its image resolution is about 1024x600 pixels and it has pixel density of 169 ppi and the no. of display scales present in it is about 16.8M.
The power and volume buttons are on the right edge of the phone. The rear camera is located on the top left of the phone while the front camera is on the top right just above the screen.
PERFORMANCE AND CONFIGURATION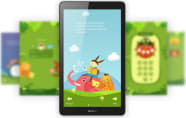 The Huawei MediaPad will have 32-bit quad-core processor that will help in working in different applications faster without any problem like the phone getting slow or lagged. The CPU Clock is 1300 MHz and CPU processor is MediaTek MT8127 and the graphical controller is of ARM Mali-450MP4. The operating system is supported by Android's latest version 7.0 (Nougat).
The internal memory for this model is about 16GB and it has LPDDR3 2GB ram and it has not been mentioned how much the external memory can be expanded.
CAMERA AND MULTIMEDIA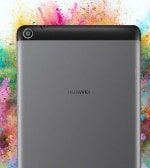 The camera specifications for the Huawei MediaPad comprise of a 2MP primary camera as well as a 2MP secondary camera. Both the lenses will have a CMOS image sensor; only catch will be the absence of a built-in flash for the primary camera and the secondary camera as well. The optical zooming for the front and rear lenses will be 1x time. The features for the camera include phase detection auto focus and touch to focus. These lenses will provide very good quality pictures.
The video recording quality for the rear camera will be very good and it is focusing at 30fps. The viewing quality will be in HD. The image resolution for the front camera is 640x480 pixels and will be recorded at 30fps. The image quality for the front camera during video calling will be very good and it will surely give customers a lot of satisfaction.
The multimedia features for this model include stereo speakers, 3.5mm headphone jack and microphone. The audio and video interfaces will remain absent in it. Nothing has been mentioned about the availability of a FM Radio in this model. It will have different alert types like WAV, vibration and MP3 songs. For audio it supports MPEG4 player.
BATTERY AND CONNECTIVITY
The Huawei MediaPad T3 will have a 4000 mAh powered Li-ion battery that will last for a long time before it runs out of charge and it is put back to charge again. The quick charging feature for this model is unavailable for now. It will support 2G and 3G network based SIM cards. The cellular networks supported by it are GSM850, GSM900, GSM1900, UMTS2100, UMTS1900 and UMTS900. The cellular data links supported are UMTS, HSUPA 5.8, and HSDPA. It comprises of Wi-Fi 802.11 a/b/g/n, Bluetooth, Micro-USB connector, USB Charging and USB 2.0 and it also has built-in accelerometer and geo-tagging for GPS.
PROS AND CONS
The Huawei MediaPad T3 will be a mid-priced ranged model because of some of the updated and new features that will be available in this tablet. This model has its own pros and cons.
WHAT WE LIKED
7-inch IPS LCD display
Latest Android OS (v7.0 Nougat)
Powerful Li-ion battery of 4000mAh capacity
WHAT CAN BE IMPROVED
Low memory compared to today's standards
No Flash on cameras
No 4G Support
No information on expansion option