INTRODUCTION

Huawei will be releasing its Nova smartphone in the early part of October 2016. This smartphone is a great landmark for the prominent tech company in that it will have one of the best processors plus special design.
DESIGN AND DISPLAY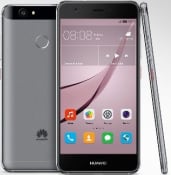 The design will use a 2.5D glass body and a series of small curves that allow the phone to be easy to carry around. The edges are slim and easy to use as well.
A 3D fingerprint sensor will also be included. It keeps the phone from being open into without a user's proper permission.
It will all be made with a 146g body that is 7.1 mm deep. The 5-inch screen appears to be easy to look at while 1920x1080 resolution is expected to work at 443 pixels per inch or ppi for immense detail.
PERFORMANCE AND CONFIGURATION
The great performance that is expected to come with the Huawei Nova will be different from anything people might expect. It will feature a 14nm processor that works with two days of common usage on a single charge. This will be a Snapdragon 625 processor with a 2.0 GHz octa-core design. The 3GB of RAM will also keep it running quickly.
This phone will use the Android 6.0 operating system and the Emotion 4.1 user interface. This overlay creates a stronger total appearance.
The 32GB of internal memory that is expected to be on the Huawei Nova will help to create a better approach for great shots. The 128GB microSD card support also helps the user.
CAMERA AND MULTIMEDIA
The camera on the Huawei Nova will support a low-light feature and 4K video support. It has a Beauty Mode feature that accentuates the face and creates a better light and focus feature.
The main camera will be a 12-megapixel rear camera. The front camera is expected to be an 8-megapixel unit. The main camera will have an autofocus feature while a fixed focus should work on the front camera.
The 3.5mm jack that will be included here will work with a noise cancellation setup. A dedicated microphone will be included nearby to create a better control for recording things.
BATTERY AND CONNECTIVITY
A 3020 mAh lithium polymer battery will be included here. This is expected to work for days on end before needing to be charged. Meanwhile, Wi-Fi, Bluetooth 4.1 and GPS support are all expected to be here with a Wi-Fi hotspot option available for one's use.
PROS AND CONS
WHAT WE LIKED
The design of the phone has a great feel to it.
The operating system will be very easy to control and utilize.
The Emotion UI has been one of the better options for use in the smartphone industry. The fact that Huawei will still use it here is certainly a plus.
The sounds picked up by the microphone will be crystal clear with little to no interference involved.
WHAT CAN BE IMPROVED
Only 22 GB of the 32 GB of internal memory will actually be available for use. This appears to be due to the extensive software that will be used on the phone.
The disparity between the focus features on the front and rear cameras could be improved upon or fixed.
The Huawei Nova will be a great evolution in the world of smartphones. This great new model will be released soon and will certainly make an impact as a phone with a powerful battery, a great display and handling feature and a strong processor.