INTRODUCTION
What and how many features can be stripped from mid-range and high-end devices by OEMs, so that they do not create a phone which is practically useless. And yes, it should also not damage the brand name. Halo is one such entry-level smartphone from the Dubai-based smartphone manufacturing company Innjoo. This smartphone's features are quite good for a smartphone, which has such a low price. Let us have a look at Innjoo Halo in depth.
5 to 10 years ago, mobile phones differed from one another as they manufactured by different manufacturers, had quirky designs, form factor, and different prices. When the smartphones came into the business, they were sold in order of budget phones, mid-range phones, and high-end phones, all based on price and their specifications. The budget or entry level phones belonged to a particular category of their own, and they were nothing but the "compromised devices". Principle of existence of these budget phones hinges on two points.
DESIGN AND DISPLAY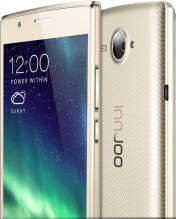 The Halo from Innjoo looks impressive regarding design, thanks to the rich champagne hue which can distract us from just how plastic and oblong curvy shaped this phone's body is. This curvy shape is quite a variation from the usual rectangular form factor which we often see on almost every smartphone. The dimensions of this smartphone are 145.6 mm x 72 mm x 9.6 mm. Halo is a phone which hits that sweet spot between the people who want to buy a 5-inch display device, but without necessarily going into the Phablet category. The grip of this phone enhanced by the subtle curves textured backplate and size. It also makes for a quite pleasant in-hand experience. At the front, there is no light sensor, which is most likely removed to save costs. The absence of light sensor signifies that there are no ambient light settings inside, and you will have to adjust the brightness level manually according to the environment. There is a proximity sensor, which is most probably built into the display or hidden under near the speaker. There are capacitive keys on the bottom bezel, and they aren't backlit. On the right, there is a power button and volume rocker, and both of them are plastic buttons which are easy to reach. The screen size is 5 inches, and the display is FWVGA IPS capacitive touchscreen display. It has a resolution of 480 x 854 pixels at 196 PPI. The pixel density is quite low. The display is quite decent, and Innjoo Company has tried to save some money by using this display screen.
PERFORMANCE AND CONFIGURATION
There is 8GB of internal memory, and the system data eats up about a quarter of it, so it is suggested and would be best if you choose to store your media onto the memory card or called expandable memory. Innjoo Halo comes with only 1GB of RAM, so you would always have to keep an eye on the apps running in the background. Otherwise, the performance of the phone gets affected if there are too many apps running in the background. The phone runs on 1.2 GHz quad-core ARMv7 processor, which is a VFPv4 NEON. It is unlike the usual budget phones that run on the MTK ones. The graphics processor is Mali-400 MP2. These two handle the performance of the phone and are average in it. If they are pushed a tad hard, then they tend to lag, and the apps start to get force-closed. The OS used is Android 4.4 KitKat, which is upgradable to Android 5.1 Lollipop. The phone does not heat up easily or quickly. The included game Asphalt Nitro runs quite well and without any stutter. The overall performance of Innjoo Halo is around average because this is a budget phone and you cannot expect much from a smartphone falling into this category. The core configuration also includes a microSD card slot (up to 32 GB), microUSB 2.0 for charging and data transfer, 3G WCDMA/GSM SIM slot, Wi-Fi 802.11 b/g/n, Bluetooth and GPS support.
CAMERA AND MULTIMEDIA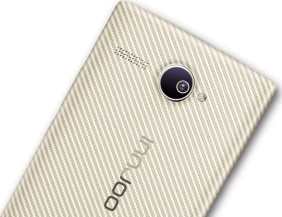 The primary camera is 5MP with LED flash and at the front, there is a 2MP selfie camera. The camera app is quite easy to use and includes modes like HDR, Panorama, and Burst mode. The primary camera and secondary camera, both perform terribly badly, and they manage to get a clear focus very few time. There is a lot of noise while taking indoor photos, even with flash. The camera quality is way below average in Halo.
BATTERY AND CONNECTIVITY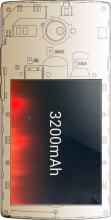 The battery used in Halo is a removable 3200mAh Li-polymer battery which is a lot for such an average phone. Still, this great battery gets eaten up by high brightness and if the antenna indulges in lots of network searches. There is no power management mode in Halo, so you will have to install a third party battery booster app. Despite having a powerhouse battery, it easily gets drained within 3 to 5 hours, all thanks to social media apps, gaming, videos, and browsing. Whatever is remaining on the battery after such tasks, is eaten up by background apps and software optimization. Overall, if the battery gets below 50%, use your phone lightly and if you are a heavy user, keep a charger handy at all times. It is a dual-SIM phone having one miniSIM slot and one microSIM slot. Both SIM slots support 2G and 3G/CDMA. You also get Wi-Fi 802.11 b/g/n, Bluetooth 2.1 and GPS support, along with a microUSB 2.0 for charging and data transfer.
PROS AND CONS
WHAT WE LIKED
Upgradable to OS 5.1 Lollipop
Large Battery 3200mAh
Decent Performance
Great Price
WHAT CAN BE IMPROVED
No LTE support
Battery performance is below average
Subpar display
No Type-C 1.0 reversible connector