INTRODUCTION

The Innjoo Max 2 Dual Sim is a thin and lightweight smartphone. It operates with a powerful battery and modern operating system while also using a powerful camera. This phone is for those who want to find a top-quality smartphone while also staying online with only the best possible connections available to make it work.
The Max 2 phone is the latest in the Max line of phones from Innjoo. It has a faster body and a greater set of features that make this phone a more advanced option. It is more functional and easier to use when compared with other phones on the market. It should make for a popular choice for all those who want to use a stronger smartphone for many demands that anyone might hold.
DESIGN AND DISPLAY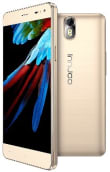 The thin body of the Innjoo Max 2 Dual Sim smartphone has a seamless border all around. It uses a vacuum electroplate process to keep the frame shiny and vigorous. It also has some smooth edges to create a more comfortable grip that a user should easily grasp.
The screen itself offers a 5-inch display. This 720x1280HD IPS screen has a solid look that adds a beautiful look for the user to handle. It provides a better viewing angle as the well-lit screen will include a bright tone that is easy to see. It will especially be ideal for evening use as the screen can light up with a brightness feature that is easy to configure and adjust as required.
PERFORMANCE AND CONFIGURATION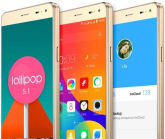 A 1.3GHz quad-core process is used to power up the phone. The Mediatek processor works with 1 GB RAM to keep the phone running more applications at a time. It offers fast rendering speeds without worrying about anything slowing down while the phone is in use.
The best part of the fast processor is that it works well with multimedia files. It can quickly play all sorts of high-definition video and audio files without lagging or overheating.
It has 16 GB of storage space as well. It can support up to 128 GB thanks to a microSD slot; that is enough for fitting a variety of media files. The microSD card can also be read rather quickly when data have taken from it. The card will also stay secure in its dedicated slot when installed and sealed up properly.
It includes the Android 5.1 OS. It comes with the InnUI system that customizes different functions to the user's liking. It operates with several different controls and commands with a built-in backup system, a fully functional calendar app and much more to make this phone work to its best capability. It can help any user get the most out of whatever one wants to do with a phone.
CAMERA AND MULTIMEDIA

The rear camera on the Innjoo Max 3 Dual Sim has a 13-megapixel resolution. It has a f/2.0 aperture to create a larger space for the camera to take pictures. Double flashes are included to make more spaces brighter and easier to see out of. An 88.6-degree wide angle is also included to allow the lens to take more shots the right way. It has the 8-megapixel front camera for personal use.
There are a few applications dedicated to media files on the smartphone. One particular app is devoted to YouTube video files and is very easy to navigate around and search through. It creates a stronger setup that will work wonders for one's requirements. Best of all, the programs should run well enough and can stream videos without any substantial delays or constant buffering problems.
BATTERY AND CONNECTIVITY

The 4000mAh battery on the Innjoo Max 2 Dual Sim smartphone keeps the phone working for as long as needed. This phone uses this battery to stay functional and ready for whatever the user does to it. The simple port at the bottom of the phone especially makes it easy for the phone to be charged up. The 5V/2A rapid charge system also allows the phone to charge up quickly. Overall, the phone offers about 410 hours of battery life on standby or 14 hours of music playback.
The dual sim design works with a simple port that houses two different cards to link the phone up to more networks. It supports 3G signals and Wi-Fi connections. The Bluetooth connection also makes it so the phone can transfer data wirelessly. However, this does not offer 4G support so it will not get access to the fastest current signals that it can reach.
PROS AND CONS
The Innjoo Max 2 Dual Sim smartphone should be good enough for most demands that people hold. There are a few positive and negative points to find on this phone, though. These are good considerations that deserve to be seen in terms of how the phone works.
WHAT WE LIKED
This phone has a comfortable feeling in the user's hand and is not overly rough.
It works with many wireless signals and can connect efficiently when both sim cards are used.
The camera is detailed enough to help take photos quickly.
The vibrant appearance of the screen creates the most detailed images in a compact body.
WHAT CAN BE IMPROVED
The microSD card has to be used in the second sim card slot for it to work.
It does not work with any 4G support.
The controls on the camera can be confusing and tough to use at times.
The lack of memory keeps this from running too many high-end products at the same time.
People who are looking for high-quality smartphones for their many demands should see how the Innjoo Max 2 Dual Sim smartphone works. It will keep a user connected online quite well thanks to its dual sim setup. It has a great processor to keep multimedia files running with ease. It doesn't take much time to charge up the long-lasting battery either, thus giving it a body that will work well for an extended amount of time.