INTRODUCTION

Innjoo releases its another phone in its Max line of Phablet, the Innjoo Maxx 3. The Max 2 made a huge impact in the market with its amazing design and lightning fast processor. However, Innjoo has said that its Max 3 will be bigger and faster than before. The Max 3 has one of the fastest fingerprint sensors, huge battery, and 2.5D curved diamond cut glass. Innjoo is trying hard to make a mark for itself in the smartphone market especially with competitors like Asus and OnePlus bringing out better and better phones every year. In this review, we check out the features and best price availability of the Max 3 in UAE.
DESIGN AND DISPLAY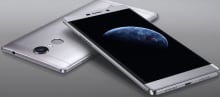 To start off, the Innjoo Max 3 has a gorgeous design. By taking the best out of the iPhone and Samsung phone designs, Innjoo has come up with a phone that will make any friend turn green with envy. The speakers are placed on the bottom of the phone with the charging jack in between them. The rear has a camera and a fingerprint sensor, which Innjoo is calling Lightning Unlock. The sensor can sense your finger and unlock your phone in less than 0.35s. It is an intelligent sensor which can read your print no matter in what direction you place your finger. Another feature is that you can also overlap different fingers to unlock your phone and it has a success rate of 99%!
The screen itself is a wonder of its own. The 6 inch 720p LCD screen has a resolution of 1920x1080. The screen is diamond cut and has a 2.5 D curved glass. The curve gives a better immersive viewing experience, and the swipes feel smoother.
PERFORMANCE AND CONFIGURATION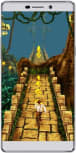 The phone runs on a quad-core Mediatek processor. In daily use, the processor handles all the work efficiently, and all apps run smoothly. A powerful graphics; Mali graphics card along with the curved glass means watching movies and playing games looks and feels fantastic.
There is an option between 1GB and 2GB RAM. Internal memory is 16 GB which can be expanded up to 128 GB.
CAMERA AND MULTIMEDIA

The phone has a 13 MP front camera and an 8 MP back camera. The camera has an improved design which gives it more image stability. It also has a wide angle of 78 degrees. Even the camera has intelligent technologies like noise reduction and added light. Colours are crisp and sharp and the images have realistic tone and a lot of clarity.
BATTERY AND CONNECTIVITY
Despite the Slim 8.3 inch body, Innjoo has managed to pack a 4000 mAh battery. The battery can run under normal usage for 2 days, and it can last for at least 1 day for more demanding users. You can get a maximum talk time of 19 hours and music playback of 8 hours. Innjoo is yet to confirm whether the phone will have fast charging or not.
In terms of connectivity, the phone will have all the standard connectivity options like Bluetooth, Wi-Fi, LTE, radio etc. The phone also has dual SIM card standby and it supports 4G and 3G. The slots hold a micro SIM and a Nano SIM.
PROS AND CONS
WHAT WE LIKED
The curved screen gives an amazing viewing experience.
The lightning fast processor allows you to get more work done in less time.
The huge 4000mAh battery will give you more time with the phone and less time charging.
WHAT CAN BE IMPROVED