INTRODUCTION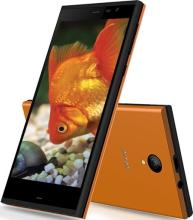 Intex released the Aqua Fish smartphone in December of this year. This smartphone has a good screen and a solid processor. It also runs on many different networks and can create a strong connection for all kinds of phone calls. People who are looking for smartphones will need to see what this phone has based on how well it can operate and stay functional for many needs.
One noteworthy part of this phone is that it uses a unique operating system, the Sailfish OS. It is different from what many people expect to get out of their phones, but it can certainly be effective enough for many of the requirements that people often hold for their phones.
DESIGN AND DISPLAY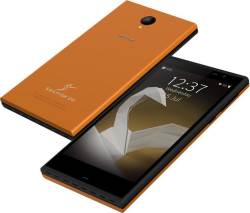 The slim and smooth design on the Intex Aqua Fish is the first thing to notice on this model. It has a few rough edges that might make it tough for some people to carry around. However, it does offer a good arrangement that isn't too hard to follow.
The 5-inch screen is surrounded by a series of borders on the top and bottom parts. These are used for the camera and speaker features as there are not all that many buttons around the borders.
In terms of the screen resolution, this is a 720x1280 model. It works with a crisp LCD to create a stronger appearance. It also has a multi-point touchscreen feature to make this work well for many goals that one might have.
PERFORMANCE AND CONFIGURATION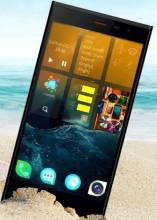 The Sailfish 2.0 OS is an important part of the phone's performance to see. It allows people to swipe from one app to the next and offers an advanced multi-tasking feature. It allows the phone to be used with many different items in mind to make it run well. It also provides full social media integration as it gets all of one's contacts, accounts and other features linked up together to create a more efficient and functional system for many uses.
It all works with a 1.3GHz quad-core processor to keep the files being loaded working well and effortlessly. It also, works with 2 GB of RAM to keep the phone running without worrying about lagging. The Sailfish OS itself makes it easier for the phone to load up quickly. It Operates with 16 GB of on-board storage for all sorts of different file needs. It could expand by 32 GB with a microSD card that fits into one of the two sim card slots.
CAMERA AND MULTIMEDIA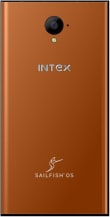 The camera on the Intex Aqua Fish is not all that strong, but it does offer a good setup that is easy for people to enjoy having when shooting pictures. This phone has an 8-megapixel camera that comes with its app on the OS for adjusting the camera's zoom features among other key points. It can be effective enough for most people who just want to take pictures.
The front camera is a 2-megapixel model. It works with a small lens on the top of the camera and has a light feature to allow for a flash effect.
The OS also has its dedicated media player. It should be good enough for a majority of different media files. It can play back high-end HD files, but it can take a bit for those files to load up, what with these files taking up more disk space than other items featured all around the phone.
BATTERY AND CONNECTIVITY

The 2500mAh battery is a non-removable one that lasts well enough for most uses although Intex has not been too specific in terms of how long it can last for on average. It is still effective for a majority of uses, particularly in cases where one is trying to call others on the phone.
The variety of connectivity options on the Intex Aqua Fish keeps this phone online quite well and makes it efficient for many uses. It has 3G and 4G support and uses a Wi-Fi link for a majority of different needs. It also uses a hotspot option.
In terms of other connections, the Intex Aqua Fish smartphone works with a GPS link and Bluetooth support to allow the phone to stay active. A proximity sensor is also used for when the phone has to be activated. An ambient light sensor is also included to adjust the LCD screen so it will be a little easier to see depending on the amount of light that might be in an area.
PROS AND CONS
The Intex Aqua Fish is a popular option for many different goals, but it is a good idea to look at the positive and negative points about this phone alike. Here's a closer look at the different points that this phone comes with.
WHAT WE LIKED
The battery lasts for a while and does not overheat quickly.
The operating system is very different from others but it is still easy to use and is very responsive.
The connectivity functions on the phone run well enough to support a variety of networks.
The processor runs quickly and should be easy to follow for when you need to load up new files.
WHAT CAN BE IMPROVED
The camera is rather weak and does not have too many unique features.
The lack of an LED light means that it is not all that easy for people to adjust the phone's brightness as necessary.
Not all types of networks are supported by each individual sim card slot.
The lens on the camera is rather small and may not be all that easy to work with. It may also become dirty if it is not maintained well enough.
Be sure to look at the Intex Aqua Fish when finding a smartphone that might work well for your requirements. It is a popular choice among smartphones thanks to how well it operates and what it can do for your connectivity needs. The unique operating system on this phone will especially do well for many of the goals that you might have.