INTRODUCTION

The Lenovo Phab 2 Pro is the world's first consumer Tango smartphone. Tango is a new technology from Google, which enables Augmented Reality (AR) gaming and other superior abilities. This smartphone is capable of rendering AR in real time, all thanks to the presence of a rear camera and a specialized tech inside the device. It is the very first smartphone from Lenovo to be launched in the US. It is one of those phones, which you will feel comfortable holding in two hands, rather than one.
The early speculations before the release of Phab 2 Pro were related to its big screen, which Google said that would have a 7-inch display. A 7-inch display would have meant a non-consumer phone because a consumer phone should not exceed the 6.5-inch screen size. Well, Google played by the rules and kept it under the consumer phone limit, just by a hair. Lenovo Phab 2 Pro is a 6.4-inch smart gadget. Still, it is not a small phone. It is still bigger than iPhone 6S Plus (5.5 inches), Samsung Galaxy Note 5 (5.7 inches) and Nexus 6 (5.96 inches), and it is not so comfortable to hold with one hand. But why is it so big? Let us find about that in our thoughtful write-up on 'Lenovo Phab 2 Pro,' which is expected to be released in September 2016.
DESIGN AND DISPLAY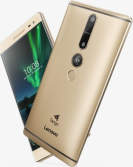 Lenovo Phab 2 Pro measures 179.8 x 88.6 x 10.7 mm (7.08 x 3.49 x 0.42 in), and weighs 259 gm, which undoubtedly means that it is a biggie. But Phab 2 Pro isn't big just because Lenovo wanted a big phone. All the Tango tech had to live somewhere, and it is one of the main reasons why Phab 2 Pro is so huge. It could have been bigger than 7.08 inches, thanks to Lenovo that managed to shrink the sensors which are used in Tango tablet. The Phab 2 Pro has an aluminium unibody. On the back, there is a 16-megapixel camera, along with depth and motion sensing cameras. The trio of lenses is an integral part of the whole Tango system. There is also the fingerprint scanner on the back. At the bottom, there is a microUSB port, which has speaker grilles on either side. At the top, there is the 3.5 mm audio jack. On the left, there is the volume rocker and power key. We guess, both the slots are on the back panel because they were nowhere to be seen around the sides. Overall, the phone seems big and promising. It looks very stylish with that aluminium unibody and 3 cameras on the back. The Lenovo Phab 2 Pro is available in two colours: Champagne Gold and Gunmetal Grey.
This device has 6.4-inch QHD display, which has a resolution of 1440 x 2560 pixels at 459 ppi pixel density. The display type is IPS capacitive touchscreen. The screen is protected by 2.5D curved glass. The display adapts to variable lightning conditions like light reflections and sunlight.
PERFORMANCE AND CONFIGURATION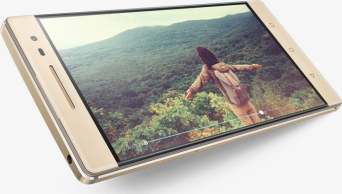 The phone runs on Qualcomm MSM8976 Snapdragon 653 processor, optimized for Tango. Four of the cores are Cortex A53 clocking max 1.4 GHz, and the remaining four cores are Cortex A72, which runs at max 1.8 GHz. The GPU used is Adreno 510, and 4 GB of RAM backs all this. Not to forget the internal memory on this device is a colossal 64 GB, and you can further increase it with a microSD card up to 256 GB. The configuration of the phone is completely new and optimized for Tango, which performs perfectly well. The performance of this phone is expected to be awesome. And yes, we cannot say much about it before the release.
CAMERA AND MULTIMEDIA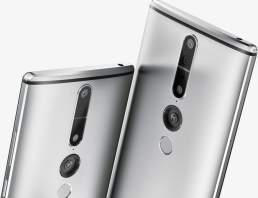 The use of primary camera here is not just to take photos and record videos. There are 3 cameras on the back, and they work together and form 3D images of the surroundings. They help Tango in letting the user interact with their surroundings, and they can also size up the contours of the rooms, and subsequently map building of interiors. Tango analyses and visualizes the surrounding objects with the help of these cameras and sensors. Other than that, you can also use the 13-megapixel primary camera with flash for clicking photos and recording 2160p videos at 30fps. The picture quality looks good. At the front, there is an 8-megapixel selfie camera with aperture f/2.2. It records videos at 1080p.
The Phab 2 Pro is equipped with Dolby Atmos speakers which produce wonderful sound quality. The phone also has Dolby 5.1 audio capture.
BATTERY AND CONNECTIVITY

There are so many cameras and a lot of tech under the hood, along with Tango's personal tech as well. And to leverage such great technology, you require a great battery. Lenovo has used a non-removable 4050mAh battery in Phab 2 Pro, and it seems reasonable. You cannot expect to have so many features in a phone with a 3000mAh battery. The performance and battery backup could review once the phone hits the global markets. We cannot, therefore, say much about its multitasking and high-octane performance.
The Phab 2 Pro is a dual SIM smartphone and accepts nano-SIMs only. The second SIM slot is hybrid and can be used for a microSD card as well. Other connectivity options include Wi-Fi 802.11 a/b/g/nac, dual-band, Wi-Fi Direct, Hotspot; Bluetooth v4.0, A2DP; FM Radio and microUSB v2.0 which supports 2.4x turbo charging. There are 3 mics used in the phone which provides 360 voice and noise cancellation.
PROS AND CONS
The Lenovo Phab 2 Pro is a first-of-its-kind phone, and it is also the first Tango device, which is the selling point of this device. But Tango is going to depend mostly on apps. It could take some time for Tango to make its strong presence in the smart-gadget niche. Not much could say before the release of Lenovo Phab 2 Pro.