INTRODUCTION

Lenovo has released the Vibe C2 Power as a basic smartphone that is also an upgrade over the original Vibe Power smartphone. The phone is best in its battery and memory among other key points. It should be rather easy to use thanks to its memory features and ability to last for a longer time without having to be recharged. It is very effective in terms of how it works and will run fast for all sorts of demands. It offers a better arrangement that works for a longer time. People who are interested in using a powerful smartphone should see what this has to offer.
DESIGN AND DISPLAY

The Vibe C2 Power has the same screen size as the original C2. This has a 5-inch 720p IPS screen and is exceptionally bright enough to see in a variety of spaces. The display is touchscreen with resolution of 720x1280 pixels. This is also 9.54mm thick, an increase from the 8.6mm of the original C2. The weight of the C2 Power is higher at 155g instead of the 139g on the original model. Much of this is due to the larger battery, a point that will be mentioned a little later. It is available in only white colour variant.
PERFORMANCE AND CONFIGURATION

The Vibe C2 Power has a 1GHz MediaTek MT6735P quad-core processor. It operates quickly and keeps issues relating to lagging from being a problem. While the Vibe C2 had 1GB of RAM, the Vibe C2 Power is a stronger smartphone with twice that total. The 2GB of RAM makes it capable of running more programs, particularly ones that are a little stronger.
Android 6.0 is the operating system used in this phone. It is a more advanced choice that runs faster than other Android versions. The phone also comes with 8 and 16 GB internal memory storage options. Either option can be expanded with a microSD card up to 32GB. This is enough to support most functions that people may hold.
CAMERA AND MULTIMEDIA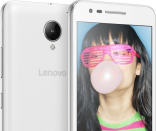 The Vibe C2 Power has a camera that is identical to what the original C2 has. It has the 8-megapixel rear camera with a LED feature plus a 5-megapixel front camera. The smartphone camera features advanced LED flash. The Android 6.0 operating system comes with all the necessary multimedia applications that users might want to work with. These are designed to be very easy to run and can quickly load up for all sorts of purposes. This is a great part of the phone that establishes a quicker run that isn't too hard to use.
BATTERY AND CONNECTIVITY
The 3500mAh battery on the Lenovo Vibe C2 Power is greater in capacity than the 2750mAh battery on the original C2. This is a prominent feature in that it offers the most significant amount of power for more uses. The connectivity points on this include a feature like 4G LTE support and Wi-Fi capability. It also has GPS and FM radio support. A 3.5mm audio jack is also included on the body to make it easier for the user to get this running right.
PROS AND CONS
WHAT WE LIKED
The battery lasts for a while and runs rather well.
It is easy to link to a variety of wireless networks through the simple menu interface on the phone.
An operating system is an advanced option that runs quickly and efficiently.
WHAT CAN BE IMPROVED
The screen isn't any bigger than what the original Vibe C2 has.
The processor could have been a little more powerful if only to take advantage of the added memory and battery features.