INTRODUCTION

The LG Electronics Company has announced that its new tablet type device LG G Pad X2 2.0 Plus will be launched very soon but the date of launch and price has not been announced yet. This multinational company was founded way back in the 1950s. This company is mainly known to sell products in the Electronics market and has been a tough competitor in that market for many years. This device includes a huge display screen, supports 4G LTE and it has massive external storage space. Hence, customers will be very interested to have this device in their possession as it carries many new and updated features to provide satisfaction.
DESIGN AND DISPLAY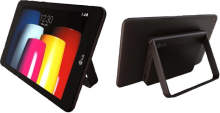 The LG G Pad X2 includes an 8 inches screen and it also comes with full HD display for customers to have better viewing. The dimensions for this model are 8.61x5.00x0.27 inches and this device will be a bit heavy as it will be weighing around 290g. The screen resolution for this device is 1920x1200 pixels and nothing much is known about its pixel density. Nothing has been mentioned about the availability of a fingerprint sensor. The volume level changing buttons and the power button will be located on the right side of the device. This device is expected to be available in only black color.
PERFORMANCE AND CONFIGURATION

The LG G Pad X2 will include a Qualcomm Snapdragon 1.4GHz Octa-core processor for the device to perform faster. Hence, customers will probably be free from problems like device getting slow or lagging.
It will be running on the MediaTek 8321 processor.
The operating system for this device will be Android's v7.0 Nougat. This LG tablet will have an internal memory of 32GB with 2GB ram and will be expandable by up to 2TB.
CAMERA AND MULTIMEDIA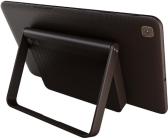 The camera specifications for the LG G Pad X2 include 5MP front camera and also a 5MP rear camera. The rear camera has LED flash beside it that will help in taking sharper and brighter pictures even in darker environment. The features for the camera include face detection, 4x digital zooming, touch to focus and phase detection. The front camera also has HDR feature for taking pictures of great quality.
The video quality for the front as well as the back camera lenses is good and will have clear viewing and clarity. Hence, customers will be attracted towards the good picture quality of this tablet and they will be interested in buying this model. The front camera will be good too as it will be used for video calling via Whatsapp or Messenger etc.
The multimedia features for the tablet includes a 3.5mm headphone jack, stereo speakers. It will support WAV, Vibration and different music of MP3 format. The tablet has not mentioned about the availability of a FM Radio. It will be supporting audio player for MP3 and audio player for MP4.
BATTERY AND CONNECTIVITY
The battery backup of the LG G Pad X2 is about 2900 mAh and in a Plus Pack that will be available with this device will have a battery backup of about 4400 mAh. Hence, customers will have more than 6000 mAh battery backup to work with for a long time. The tablet supports nano SIM cards for 2G/ 3G/ 4G networks. It also supports 4G Volte for better and rich calling experience. The other features for the device include Wi-Fi 802.11 a/b/g/n, Bluetooth v4.2, micro USB port. It will also have gyroscope, proximity sensor and many other features that will attract customers for buying this product.
PROS AND CONS
The LG G Pad X2 will be a good device for customers to buy. Though the price is unknown yet it can be expected to be available in the mid-range prices. This device has its own pros and cons, let us go through them in brief.
WHAT WE LIKED
8.0 inches full HD display
1.4 Ghz octa-core processor.
Android v7.0 Nougat OS.
Good camera specs
It will support 4G Volte.
WHAT CAN BE IMPROVED
More RAM/Storage needed by storage standards of 2017.
No Optical Image Stabilisation
Battery without the Plus Pack is poor.
Poor camera flash