INTRODUCTION

LG G5 SE is the latest addition to the G series of smartphones released by LG in 2012 as LG G Optimus. G5 SE was released in June and boasts of very wonderful features. Its predecessor LG G5 was released in February, and it didn't take much time for LG to come up with a new version of G5. As it was being predicted that LG will bring on a smaller version of G5 just like the way iPhone SE was launched, it was found out that G5SE is just a cheaper and underpowered version of G5. G5 was costly so to target the average level income families LG came up with this version of its smartphone.
DESIGN AND DISPLAY
The mobile is very light weighing only around 156g and comes in three colors namely pink, titanium and gold. The screen is 5.3 inches long same as G5 and is Corning Gorilla Glass 4. It has a capacitive touchscreen and has a good pixel density of 1440 x 2560 pixels. It has got the same metal body as G5 though there was a lot of controversy about it. It feels good in the hand, is light weighted but also somewhat slippery as well. The design though lacks edge and is not that fascinating. The looks are decent but not amusing.
PERFORMANCE AND CONFIGURATION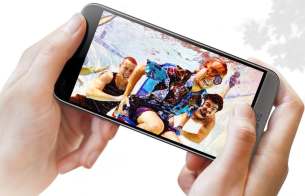 The LG G5 SE comes with Android OS, version 6.0.1 Marshmallow. It boasts of having a quad-core 1.8GHz processor and a good enough 3GB RAM. The internal storage provided is of 32Gb which is more than enough, and still, it comes with a feature of additional external card storage which is lacking in many phones nowadays. The memory is expandable up to 256 GB. It has a QualComm Snapdragon 652 processor which makes it fast working and won't lag while multitasking. The mobile has more than enough space and good performance with the Snapdragon processor. It has a decent gaming performance as well and may slightly slow down in the case of heavy games but still it is a worthy buy.
CAMERA AND MULTIMEDIA

Yes, we are talking about cameras and the multimedia applications. The camera is same as its predecessor and that is exquisite. It has a 16Mp main camera and 8Mp front cam with a LED flash and laser autofocus. A magnificent camera quality it has an inbuilt filters and other features are excellent as well. The multimedia apps like YouTube, music player, etc. work well. The sound quality is superb but maybe not that loud as it lacks Dolby Atmos feature which comes in almost every Lenovo phone. The display quality is really good with the HD display watching videos and movies is a great experience. Making videos with its camera is also good it has a excellent quality and clarity. The camera also has face detection and smile detection features as well.
BATTERY AND CONNECTIVITY

The battery quality is really good as well. It has a removable Li-ion 2800Mah battery and has up to 20 hours of talk time (3G) and 380h of standby time(3G). It also supports Wi-fi Direct, hotspot and supports Wi-fi 802.1.1. It also supports Bluetooth feature as well as well as GPS and NFC. The battery charging is fast reaching 83% in half an hour. It also supports FM radio and has two sim slots. The mobile doesn't support LTE or 4G feature only 3G is supported. One sim slot is for nano-sim while other is for the normal sim. There is 3.5mm jack which also has powerful noise removal trait with dedicated mic. USB on-the-go feature is also supported by the mobile.
PROS AND CONS
Some useful features include an excellent battery which lasts long and fast charging. Latest Android OS marshmallow with 1.8GHz processor Qualcomm Snapdragon 652 and a genuinely excellent display quality of this light weighted mobile. It has an excellent internal memory and option of external SD card with the dual sim. Cameras are great so are their clarity. An excellent picture quality and screen watching movies, videos are great. NFC feature is magnificent, and the value for money is excellent. Some cons include the screen is not that big most of the mobile boast of 5.5' inch screen, so this clearly falls short of that. Everyone want fast working internet, but this fails to provide us with 4G feature. The sound is not that loud so speakers may disappoint a music enthusiast. It is slippery, and the looks are poor as compared to other mobiles. It can't be used for heavy gaming purposes it may lag somewhat with them. It has a metal body, but there is a controversy about that. So all in all LG G5 has got decent features and is good for office use or for any normal person who isn't a gaming freak, the biggest setback is no 4G but the internal memory does somewhat make up for it, and 3G is fast enough as well.