INTRODUCTION

LG made the Nexus 5 16GB smartphone with support from Google. This smartphone released in 2013 as a part of the Nexus series of phones from the company. It was designed with the assistance from Google to work with the Android operating system, thus, OS that Google created. It was particularly used to make it easier for the phone to run well.
It runs with not only the newest versions of Android in mind but also with a fast processor. It ensures that the phone will quickly operate and can work with a large variety of different applications in mind. It is a popular choice for people to look for when finding different smartphones that can work for their general needs.
DESIGN AND DISPLAY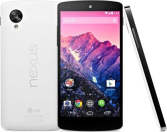 The phone offers a small body that is to handle. It has a high gloss body and a matte finish on the rear. The design has a strong metallic body to it that comes in a white or black tone. It has a comfortable feeling in the user's hand. Also, the screen has a good 4.95-inch display. It offers a 1920x1080 resolution for a vivid and beautiful display.
It's easy to bring around to different places with a 4.59-ounce body. It is also 0.34 inches thick so it will be comfortable to hold in most cases. It is a very efficient phone that can work wonders for all sorts of purposes that people hold when finding ways to stay online and to be connected properly.
PERFORMANCE AND CONFIGURATION

The phone works with the latest Android options and mainly operate with enough memory for multiple applications. The phone will run quickly while working with many apps at a time and is not at risk of lagging while being used. It in-turn results in an efficient model for one's use. Also, the phone is very responsive in terms of taking in the commands that the user has when getting this phone up and running.
CAMERA AND MULTIMEDIA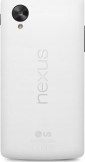 The camera on the LG Nexus 5 16GB has an 8-megapixel resolution level. It allows the user to take high-definition images quickly. It is a f/2.4 camera with a powerful autofocus feature. It also has an LED flash feature to keep the camera running well. It also comes with a 1.3-megapixel rear camera to help with taking selfies and other quick shots.
The phone uses a series of multimedia apps to make it easier for a user to play back different files of all sorts. The user can especially use this part of the phone to play back YouTube videos as needed, thus creating a more entertaining approach to using the phone. Again, the processor is sufficient enough to keep the phone from lagging while running many of these media apps.
BATTERY AND CONNECTIVITY
The 2300mAh Li-Po rechargeable battery can last for an extensive time. It can work for up to 300 hours on standby mode while on a 3G network. It can also handle about 17 hours of talk time on a 3G network.
One attractive feature on this smartphone relating to the battery is the wireless inductive charging back plate. It is an efficient feature that makes it easier for the user to power up the phone quickly without any wires. It could add onto a separately sold LG charging device to get the phone charged up quickly.
This phone works well with many Wi-Fi and 3G signals. It does not have any 4G support, though. The phone will work quickly to get to a wireless network depending on where it located.
PROS AND CONS
The LG Nexus 5 16GB is a smartphone that can be useful for many of the requirements that one has when trying to get online and to do more with a phone. This particular model will help people out with staying online and can handle many features. However, it helps to watch for some of the pitfalls that come with using this phone. Here is a look at some of the key pros and cons that associated with using this phone.
WHAT WE LIKED
This phone offers a bright display and is very easy to read from a variety of angles.
The Android operating system is very efficient and responsive. The Marshmallow OS is even better as it is secure and easier to load up.
The fast processor can handle 3D games and many other high-end apps.
The screen does a better job with handling HD displays than what most other smartphones can handle.
WHAT CAN BE IMPROVED
There are no microSD cards for use on this phone, thus meaning that the 16 GB drive is set in stone.
This does not work with a 4G signal.
While it is easy to get the battery charged up, it takes longer for it to work when a cord is used to power it up.
The battery works with less than ten hours of online time and even less when certain apps are being run on the phone. Users will have to be cautious.