INTRODUCTION

In this age of smartphone, specs getting better and better everyday. We often forget that there're still many people who just want a functional smartphone and nothing else. They often don't require high-resolution displays or another state of the art features. They just look forward to a smartphone experience that isn't outdated and works. LG L Bello, which was launched by the company in October 2014, is a smartphone that can provide such experience. Let's take a look at it in our review.
DESIGN AND DISPLAY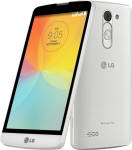 LG has not applied too much of innovative thinking in developing this phone. The device looks like company's another offering G3S with a few minor modifications here and there. Its overall build quality is excellent but have some minor issues. For example, you may listen a cracking sound while picking the phone like a protective pane of the display isn't as stiff as it should be. The liquid crystals of the display can also be seen moving here and there if you press on the screen.
The screen is a 5-inch one with 480x854 px resolution, which is certainly not a lot in this age of HD, Full-HD, and even QHD smartphones. However, color reproduction is good, and viewing angles are also wide enough. If you're not a user of HD smartphones, then you may not find any significant issues with the display, but if you're then it may fail to impress you.
PERFORMANCE AND CONFIGURATION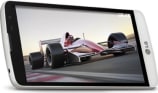 The phone packs a 1.3GHz Quad-Core MediaTek MT6582 processor coupled with 1GB of RAM. While it's not necessarily a performance powerhouse, it's more than enough for routine tasks and powerful enough to run the Android 4.4.2 KitKat OS that comes installed in this device. However, the problem is that this KitKat thing is upgradable to Android 5.0 Lollipop, which may require more processing power. But still I believe that it should be enough for daily use.
Mali 400 MP GPU is also fine enough for watching videos or playing some undemanding games. Now if you're expecting anything more from this device, then you'll be disappointed. You may also notice some stuttering in navigation, especially when you open any menu. You may also see occasional stuttering in navigation, especially when you open any menu, zoom into any webpage or load a web page with sophisticated effects.
The phone has 8GB of internal storage. There's 32GB of expandable storage too, so we can safely assume that storage won't be a problem.
CAMERA AND MULTIMEDIA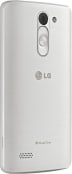 The 8MP primary camera with auto-focus and LED flash is good for capturing photos in daylight. However, if lighting conditions aren't good enough then you may get noise in the captured images. And don't expect the camera to brighten the photos automatically if you're not using flash. But besides these issues, it's an excellent camera. Front-facing camera of 1MP is, as you may expect, only for some occasional shots now and then.
Regarding multimedia, LG has not included some very amazing apps in the device. In fact, even for apps, it has installed it has kept the process of removing them quite easy. However, the phone comes with some multimedia apps pre-installed, the most notable of which is Hungama. The Hungama app installed in the phone can be used to download free audio and video content for 45 days since activation of the phone.
BATTERY AND CONNECTIVITY
There's a 2540 mAh non-removable battery in the device, which is good enough for making your phone last 9 – 12 hours of average use. Even if you keep browsing the web on Wi-Fi for all time, it can still last longer than 8 hours, which should be fine for most users.
Connectivity features include 3G, Wi-FI, GPS, Bluetooth 4.0 and USB 2.0. The absence of 4G is a big disappointment as it's the upcoming standard of mobile communications. Of course, if all you need to do is speedy web browsing then some of the disappointment can be minimized with Wi-Fi, but that thing is unlikely to give you the joy of streaming HD content or making buffer-free video calls.
PROS AND CONS
The good part about this smartphone is that it has got enough of everything. Despite having limited specs in almost every department, it just works because they're enough for providing a fine smartphone experience. From battery to display to camera quality, everything is enough for a smartphone user who doesn't want powerful devices.
The bad, however, is the fact that industry standards have shot through the roof, and when compared to those standards it looks like a toy. But still it can be considered a decent entry-level smartphone, especially for the first time smartphone users.
WHAT WE LIKED
Good Camera
Enough expandable memory
Decent build quality
Enough battery power
WHAT CAN BE IMPROVED
Limited capabilities of secondary camera
Average display resolution
No 4G
Average quality speaker
In the end, I'd like to say that if you don't need too much fancy stuff and want a smartphone that just works, then this one is a good option. If you want high specs in any department, then this may not be the phone you're looking.
Check the Comparison of
LG L Bello D335 vs LG G3 Beat
Check the Comparison of
LG L Bello D335 vs Samsung Galaxy Grand Prime