INTRODUCTION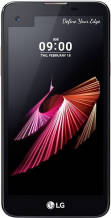 LG is a big player in the world of smartphones. The X Screen is one particular model that the company has recently released as an option that offers plenty of features for today's users to look forward. This phone deserves to be explored by those who want to find a solution that is easy to play along with and use for many purposes. The LG X Screen was released in March 2016 not long after it was first introduced. It has a powerful look with a small body that is very easy to play around. It is especially useful for those who want a fine model without being too complicated or otherwise hard to use. It particularly has a dynamic display that is easy to use and should not be too complicated or otherwise difficult for people to work with.
DESIGN AND DISPLAY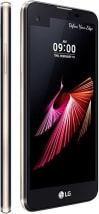 The LG X Screen has a screen that is noticeable for having a slight indentation on the top left. It is used to keep the camera lens easy to spot. The top margin on the screen could use for displaying information on the phone's battery, the time and other features. It is organized to be easy to read. It particularly has a 4.93-inch screen. It is 7.1mm thick and is very light in weight at only 120g. The screen also has a 720x1280 display while working with a multitouch feature. The secondary display at the top part is 1.76 inches in diagonal size. It is 80 by 520 pixels, so it will create a good display that is suitable for showing information on all sorts of items being used at a given time. The phone also comes with black, white and pink tones. These are designed with a sturdy plastic body on each one to create a better tone that is easy to use.
PERFORMANCE AND CONFIGURATION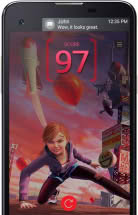 The processor here is a 1.2GHz quad-core unit. It uses the Adreno 306 GPU to display and create images. The phone responds well to most applications although it is not as strong as what people can find on many other popular options. Also, the phone has 2 GB of RAM. There is 16 GB of internal data storage included in the LG X Screen as well. A dedicated microSD card slot is included to offer up to 256 GB of additional storage space. The phone should be good for just about all applications, but it may not run as quickly when working with some more high-end 3D programs. Users should watch what they are doing when getting their apps open and ready for use. The Android 6.0 operating system included in this smartphone. The Marshmallow OS has become popular for how it manages battery storage well. It also supports more fast-charging functions to allow the phone to run quickly and effortlessly.
CAMERA AND MULTIMEDIA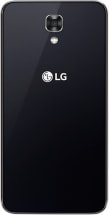 The camera on the LG X Screen is a 13-megapixel unit. It has an LED flash bulb and a f/2.2 aperture to take in enough space on a shot to create a better-looking picture. The touch focus and autofocus features are also ideal for all to use. It even records 1080p videos at 30fps. There is also an 8-megapixel secondary camera included at the front. It uses the same camera software to create a better-quality image. It can play H.265 and DivX files as well as many audio files. It also has a document viewer and a photo viewer and editor. There are many different apps included in the Android OS that make this all possible with the YouTube app being one of the most popular features on the phone.
BATTERY AND CONNECTIVITY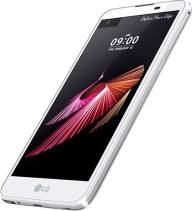 People using the LG X Screen phone will especially enjoy how it works with a powerful and efficient battery. It is a 2300mAh battery with a Li-ion design that discharges well and can be quickly charged up through a microUSB port. There is a substantial disparity in the battery life depending on the different type of network being used. The phone can handle up to fourteen hours of talk time on a 2G network or nine hours on a 3G network. Regarding network support, the phone offers access to not only 2G and 3G networks but also 4G with the help of Band 40 networks in different locations. It also has a Wi-Fi feature with a hotspot option available for all those looking to stay online as well as possible. The sensors also include a gyroscope and an accelerometer. An ambient light sensor will also identify view in an area and relay information to the phone to adjust the brightness as necessary on its LCD screen.
PROS AND CONS
The LG X Screen smartphone has a high series of features, but it has a few issues too. Here is a comparison of the advantages and cons that come with this phone.
WHAT WE LIKED
The unique display feature offers two separate spaces that display unique items.
The camera software is especially strong enough to make editing photos and controlling the focus easy.
The storage solutions are powerful enough to work with most items that people have to store.
The smartphone can easily adjust its brightness based on what its sensors read.
WHAT CAN BE IMPROVED
The battery only works with an average amount of power.
The battery is not as detailed as what comes with other phones though.
The processor is not as powerful as what people might find elsewhere.
There are no LED lighting features on this, thus keeping the user from being able to get a little extra control over how bright the screen is.
People who are looking for a smartphone should think about what the LG X Screen smartphone has to offer to them. It is a popular choice that is robust enough to last for a while and has a good processor and memory system that is easy to follow. When used well, it should create a good experience for all those who use it to enjoy.