INTRODUCTION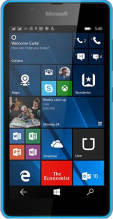 The Microsoft Lumia series was initially called the Nokia Lumia and is known for producing good quality smartphones. Even before venturing into the smartphone avenue Nokia was known for its highly durable and inexpensive basic mobile phones. Due to a long-term partnership between Nokia and Microsoft all the Lumia series phones use the Windows OS. One of the low budget smartphones from Microsoft Lumia series is the Microsoft Lumia 540. This smartphone was released on May 18th, 2015. Before the liberation of this model the other phones in this series were the Nokia Lumia 510, 520 and 530. These were a great hit amongst the customers. The best part about this phone is that it comes with the dual sim facility that its predecessors lacked. Now, let us see in depth about its various technical specifications and conclude its pros and cons in the following review.
DESIGN AND DISPLAY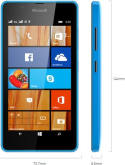 Just like all other Lumia smartphones, this too comes with a hard plastic and polycarbonate mixed outer shell which fits perfectly covering the entire back of the phone. This gives it a relay sleek appearance. The back casing of this phone has a slightly rough texture which provides more grip and prevents it from slipping. The length of this phone is 144 mm, and the breadth is 73.7 mm. The thickness is around 8.6 mm. The overall weight of this phone is 152 g. This smartphone comes with a screen of 5.0 inches. This makes it quite handy and easy to carry around. The display used here is of IPS LCD type. This display works with capacitive touch and has good multi-touch feature. The resolution of the display is 720 x 128 pixelcs. The unique feature for the clarity in this phone is the clear black screen. This smartphone comes in five solid colors. The five color variants are Black, White, Blue, Gray, and Orange.
PERFORMANCE AND CONFIGURATION
The OS used in this smartphone is the Microsoft Windows Phone 8.1 incorporated with Lumia Denim. The chipset used here is Qualcomm Snapdragon 200. The processing is carried out by Quad – core, Cortex – A7 processor. This mainly takes care of the central processing. The clock speed of this CPU is 1.2 GHz. The graphics interface used in this smartphone is Adreno 302. This smartphone comes with an internal storage capacity of 8GB. This is of course not enough for regular users. Hence, Microsoft provides the option of extending the storage capacity using a microSD card. The storage can be externally expanded up to a maximum of 128 GB. The RAM memory present in this smartphone is extremely low, it is only 1 GB. Hence, when this phone is used to play heavy games for long periods of time, considerable lag will be experienced.
CAMERA AND MULTIMEDIA

The main camera is 8 MP and the front facing camera is around 5MP. The main camera has a sensor of ¼ inches with an aperture of f/2.2. The focal length of the lens is around 28 mm. The minimum focus range is around 10 cm. It comes with an LED flash and digital zoom up to 2x. The additional enhancement features are autofocus, white balance, auto upload on One Drive and Back-illuminated sensor. The front camera has an aperture of f/2.4 and a lens with focal length of 24 mm. Both the cameras record amazing videos. Primary camera captures videos with a resolution of 848 x 480p at a rate of 30fps. The front camera records with a resolution of 848 x 480 too. The video streaming features include progressive video download using codecs like VC-1, H263, H.264, and MPEG-4. The audio in this smartphone is excellent. The recording codecs used here are AAC, LC, AMR-NB and GSM FR. The recording features include Mono and playback features contain Podcasts; Cloud Music play to name a few. It comes with a fully functional FM Radio feature.
BATTERY AND CONNECTIVITY

This smartphone comes with a user replaceable Li – Ion battery. It has a maximum capacity of 2200mAh and has a power rating of 3.85 V. Its maximum standby time with Dual sim is around 24 days. It has a maximum talk time of up to 26 h and 15 h on 2G and 3G mode respectively. It comes with a music playback time of 81 h and Wi-Fi browsing time of 10 h. This has two sims each of the micro sim type. Both the sims work only with GSM network. Both the sims are compatible with the 3G network. But none of them have compatibility with 4G. It also comes with the basic wireless connectivity features like Wi-Fi and Bluetooth.
PROS AND CONS
The major advantages of the Microsoft Lumia 540 are its overall look and feel, its build, amazing camera quality, and good battery life. The disadvantages though are the extremely low RAM memory and low video quality.