INTRODUCTION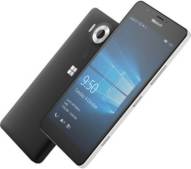 After taking over Nokia, Microsoft has made a number of upgrades and innovations to the smartphones. Instead of manufacturing low end hardware models like the previous Nokia Lumia smartphones, Microsoft targets at releasing flagship models. One such flagship model of the Microsoft series of smartphones is the Microsoft Lumia 950. This smartphone was first announced on October 6th, 2015. Later it went on to be released and be available for sale in the mobile market from November 17th, 2015. This product is the successor of the Nokia Lumia 930 smartphone which was released in 2014. This smartphone being one of Microsoft's flagship phones, proudly flaunts the high grade, Windows 10 OS. This smartphone is being a flagship device is priced on the higher end and hence targets the elite customer base mostly belonging to the upper middle class of the society. The key USP's of this smartphone are its amazing OS, good battery, quality display and good camera. Apart from these features let us dig in deep at its various technical specifications and thereby analyse its pros and cons.
DESIGN AND DISPLAY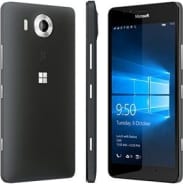 This smartphone comes with a polycarbonate unibody like the other Lumia smartphones. It has curved edges with a well blended screen. This design gives the entire phone a well furnished look. Hence, it feels premium while holding it. Due to its polycarbonate finish, this phone provides enough friction to ensure that the user has good grip while holding the phone. The easily removable polycarbonate casing enables users to change the colour of these shells as and when desired. The length and breadth of this smartphone are 145 mm x 73.2 mm respectively. This phone is reasonably bulky with a thickness of 8.2 mm. It is quite moderate with respect to weight, weighing around 150 g. So with respect to its thickness and weight, some improvement could have been done. This smartphone comes with an AMOLED IPS LCD capacitive display. The size of this screen is 5.2 inches with a resolution of 1440 x 2560 pixels. The screen is made with exclusive protection and enhanced touch quality. Corning Gorilla Glass 3 is used to give the extra protection. It comes with Clear Black display which elevates the display quality and contrast overall. It comes in two colour variants namely White and Black. Other colour shells are available which can be purchased separately.
PERFORMANCE AND CONFIGURATION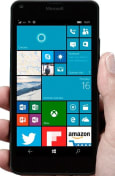 Just like the general Microsoft Lumia models, this smartphone also comes with the Windows OS. The best part about this phone is that it has the most updated version of Windows, Win 10 version. The chipset used is Qual comm MSM8992. The processing is supported by the Snapdragon 808 processor. The CPU used here is a pair where one is Dual – core Cortex A57 and the other is Quad – core Cortex – A53. The estimated processing speed of the CPU's is 1.82 and 1.44 GHz respectively. The graphics interfacing of Microsoft Lumia 950 is taken care by Adreno 418 GPU. This smartphone comes with an internal memory capacity of 32 GB. This is more than enough for any heavy user too. But just in case more storage is necessary it can be expanded up to a maximum of 200 GB. This can be achieved using a micro SD card. The other user data storage options are One Drive cloud and in device storage. The RAM storage is around 3GB.
CAMERA AND MULTIMEDIA

It has an exceptional back camera with a whooping 20 MP specification. The sensor size is 1/ (2.4) inches and its focal length is 26 mm. It comes with an aperture of f/1.9. The additional features available are auto focus, digital zoom, optical image stabilization, and natural flash. It also has a minimum clear focus range of 10 cm. The front camera though has only 5MP clarity with an aperture of f/2.4. The supporting features are still image capturing, video recording and calling. The various codecs supported are AAC, LC, AMR – NB, GSM FR. The various feature s are Lumia Rich backed by four microphones. Also audio playback is pretty good with Graphical equalizer and Virtualized loudspeaker listening. It has good, functional FM Radio accessible also through Mix Radio. Both main as well as front camera can be used to record good videos. The resolution with which this recording can be done is 4K Ultra HD 3840 x 2160 pixels with rear camera. And with the front camera videos with resolution of 1080 x 1920 pixels can be captures. The frame rate is 30 fps. The formats supported are MP4, VC – 1, Windows Video and H.264.
BATTERY AND CONNECTIVITY
This smartphone comes with user removable Li – Ion battery of 3000 mAh max capacity. The voltage specification of this battery is 3.85V. An enhancement feature which increases the speed of charging is the inbuilt wireless Qi charging standard. It has a max stand by time of 12 days and a talk time of 23 and 18 hrs for 2G and 3G modes respectively. Max music and video playback time is 67 and 10 hrs respectively. This smart device has dual sim feature with both sims of the nano – sim type. Both the sims are compatible with GSM connectivity. It supports 3G, 4G and 4G LTE. It also comes with the basic wireless connectivity features like Wi-Fi and Bluetooth v4.0.
PROS AND CONS
The advantageous features of this smartphone are its amazing look and feel, great back camera and good battery. The disadvantages though are its below average processor and high cost.