INTRODUCTION

Motorola made waves in 2009 with the Droid smartphone, a prominent option that runs the Android operating system. Motorola continues to make the phone in this line with the Droid Maxx2 being the latest option for people to check out when finding a better phone for many uses. It is a new phone from Motorola that is prominent for how it's always available for a variety of requirements. It uses a battery that lasts for a longer period and also recharges rather quickly. It is an efficient option for people to find when it comes to using a good smartphone that is easy to use.
DESIGN AND DISPLAY

The plastic body of the Droid Maxx 2 has an excellent design that features a comfortable texture that is easy for people to hold. This option has a comfortable border that doesn't stick out too much and should be very easy to carry around. It offers a 5.5-inch 1080p full HD screen with 403 ppi density. It uses Corning Gorilla Glass 3 protection to keep the screen from being at risk of bearing with significant cracks or other assorted damages. The body also made with a nano-coating system that keeps the phone from being damaged by water. It is for protection against spills and light rain, though. It is not a phone that the user should try and fully submerge in water to see what might happen to it. A small 0.4-inch curve also used on the screen that allows to see it from more angles. The borders are slim as the phone is just 5.8 inches in height.
PERFORMANCE AND CONFIGURATION

The phone performs remarkably well for some uses. The Qualcomm Snapdragon processor is an attractive part of the phone to check out. It works with an extended battery life and boosts the speed of the phone when it needs it while running more apps. It prevents lagging from occurring. In terms of its specifics, the Motorola Droid Maxx 2 has a 1.7GHz octa-core processor with an Adreno 405 550Mhz GPU and natural language processor. It uses 2 GB of RAM to run more programs too. The 16 GB hard drive also stores enough data. A microSD card may be added to extend the memory by 128 GB.
CAMERA AND MULTIMEDIA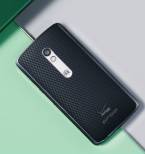 Those who are looking for a smartphone with efficient camera will love the Motorola Droid Maxx 2. The 21-megapixel camera with a f/2.0 aperture has an auto-focus feature and supports 1080p 30fps recording functions. The video stabilization feature also makes it easier for the phone to record videos. It is all paired with a 5-megapixel camera. This phone will play back all kinds of HD audio and video files. It especially works well for those who have detailed photo features among other particular points through the Android 5.1.1 OS, particularly the dedicated YouTube app on the OS. The OS runs quite well and should not be too hard to use in most cases as it will generate enough power and support for a variety of requirements that people might hold on a phone.
BATTERY AND CONNECTIVITY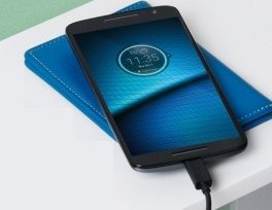 The battery is a popular part of the Motorola Droid Maxx 2 to see. This 3630mAh battery supports a variety of great programs and can run for about 48 hours with a variety of uses. It works best when lighter apps used but it will still run long enough to where it won't take up too much battery power. The TurboPower 15 charger that comes with the phone is an especially popular feature that makes it stand out. This charger will provide the phone with about eight hours of power after being charged for just a few minutes. It is suitable for those who need enough power for a typical trip or occasion without being too hard to use. The connections, supported by the phone make this phone a good choice for many uses. The nano-sim card used here works with any 4G LTE networks and also runs on a Wi-Fi system. It can run on a dual band network for Wi-Fi connections to make it easier for the phone to run fast and efficiently. The GPS location services and the NFC link for mobile payments on the phone make this efficient and useful for all to look for.
PROS AND CONS
It is exciting to see how well the Motorola Droid Maxx 2 works for some different uses. However, it is important to take a closer look at a few of the pros and cons associated with using this particular phone.
WHAT WE LIKED
The battery operates very fast and is very easy to follow.
The apps on this phone will not slow down under and occasion. This will run programs fast and efficiently without being overly complicated or tough to handle.
The phone will resist many difficult forms of water.
This phone handles very well and is easy to see in a variety of situations to make it easier for people to use the phone.
WHAT CAN BE IMPROVED
This phone can use its battery power a little faster if the apps being used are a little more detailed or otherwise complicated.
The phone works best when running some older apps or ones that might be compatible with older editions of the Android OS.
This is not going to survive in some watery conditions like when the phone is doused in a big pool.
There are times when the phone might start to heat up.
People looking for great smartphones should see what the Motorola Droid Maxx 2 has to offer. It is a good option that will certainly be attractive and useful for all sorts of different demands. The battery is very efficient, and it offers a robust design that is not too complicated or otherwise hard to follow or use. You might be surprised at what this will do for the demands that you hold when getting a good phone running.