INTRODUCTION
Motorola Moto E (1st Gen) was Motorola's popular budget phone and Moto E (2nd Gen) 4G is an updated version of its predecessor. Motorola has made some noteworthy improvements in this version of Moto E. Starting from the design to larger screen to 4G LTE connectivity, Moto E has been changed completely by Motorola.
Moto E (2nd Gen) 4G is a fantastic low budget phone. With this version of Moto E, you get a stylish and robust smartphone, which has borrowed some key features from Motorola's high-end devices, along with an outstanding battery life. This smartphone runs on Android 5.0 and has an impressive 2390 mAh battery, which ensures you enough battery to watch videos on 4G connectivity. There are several cheap Android phones available in the market but, the updated version of Moto E ensures that it remains one of the most loved budget and affordable phone.
DESIGN AND DISPLAY

Unlike other smartphone companies that make bold and flashy statements, Moto E doesn't shout about its design and looks. It firmly invites you to take in your palm and feel it. And it feels great in the hands. The body of Moto E is very smooth and is made of durable matte plastic. But this is not the best part of its design. The optional Grip Shells and Motorola Bands fit around the edges and they lend the some flair to the design of this smartphone. Motorola colour bands are available in Turquoise, Red, Blue, Raspberry, Purple and Golden Yellow. And the Grip Shells are available in Charcoal, Golden Yellow, Blue, Turquoise and Raspberry. These Grip Shells look beautiful and can be used to stick photos or graphics between back of the phone and their clear surfaces. They really help in giving a personal handset touch. Moto E is available in two colours, White and Black.
The screen of this phone is 4.5 inch, 245PPI (pixels per inch). This phone is slightly wider and taller than its predecessor. Although with 12.33 mm thickness at its thickest point, this phone gives a chunkier look but the curves and rubberised band cover it up and make it easy to handle. The screen of Moto E is protected by Gorilla Glass 3.
PERFORMANCE AND CONFIGURATION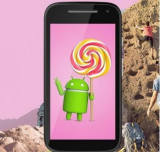 Motorola has created and used a pure UI with a very little bloatware hindering the Android Lollipop 5.0 experience. It is a very positive approach from Motorola. The old dual core chip is replaced in this version with the 1.2 GHz quad-core Qualcomm Snapdragon 410 processor. The internal storage is 8GB and you can further extend it up to 32GB using an external microSD card.
The 400 MHz Adreno 306 graphic processor is used, which ensures that this phone can handle the graphically intensive and the fast paced Asphalt 8: Airborne with ease. Though some lags were noticed in the game menu and loading sometimes can be sluggish for the people who are accustomed to the higher end phones, you shall not see a smartphone faster than Moto E at this price. Moto E is just as smooth and slick as many high end expensive smartphones.
CAMERA AND MULTIMEDIA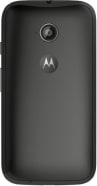 The main camera of Moto E Gen 2 is same as the one used in Moto E Gen 1. Motorola has used the same 5 megapixel camera at the back, but the new thing is the front camera. There is a front camera in this phone, which is 0.3 megapixel VGA camera. The front camera is not anything which we can call a great one, but it can handle selfies in good light environment. Shoot camera has some advanced features. You can adjust the exposure and focus by dragging the focussing bracket on the screen. The main camera of Moto E takes decent clicks considering the basic specifications it has.
The weakness of the camera is the tendency to under and overexposed images. It is worth mentioning that the below par dynamic range of pictures clicked is solved using its auto HDR mode. It combines multiple number of images taken at different exposures and creates a single image which has improved highlight and shadow details. Everything else which doesn't look good enough can be corrected using filters.
Regardless of 5MP camera, this phone can capture 720p HD videos at 30fps. Even the screen used in this phone is not 720p. These 720p videos captures from this phone can be viewed on any other screen capable of displaying 720p. The camera also features Burst mode and Panorama mode along with quick capture, which are quite useful.
BATTERY AND CONNECTIVITY
The previous version of Moto E featured a battery of 1980 mAh, which used to last for around a day and half if used regularly and consistently. In this version, Motorola has used a much larger 2390 mAh battery without making it any heavier or larger in size, which is simply amazing. With this large battery, Snapdragon 410 and Android 5.0, the battery on this phone goes a bit further than that of its predecessor smartphone. Moto E Gen 2 works fine for two and a half days of regular use, including occasional games being played on it and music being listened, which makes the battery backup almost double which was offered in the last version.
The connectivity section of Moto E has received an awesome update and was one of the main reasons why this model launched. Moto E Gen 2 has 4G connectivity. It is one of the cheapest phones which offers 4G. Though there is no NFC; there are other connectivity options such as WiFi 802.11 b/g/n, FM Radio and Bluetooth 4.0 included.
PROS AND CONS
It is one of the cheapest phones that have 4G connectivity option along with several other great features. However, it has some cons.
WHAT WE LIKED
Superb Battery Life
Fun, Customisable Design
Good Build Quality
Bloatware-Free and Fast.
WHAT CAN BE IMPROVED
Average Cameras
Screen could have been better