INTRODUCTION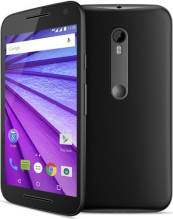 Better specs sheets are almost always considered a guarantee of performance among smartphone buyers. There's a reasoning behind it: if specs are impressive, they can inevitably transform into performance and better user experience. And while this reasoning may be true in many cases, it doesn't always work like that. There are smartphones with very powerful hardware in the budget segment that provide the crap user experience.
Fortunately, there is at least one brand in complete contrast with manufacturers of such smartphones: Motorola. Their Moto G smartphones have historically provided a flawless and fluid user experience, and Moto G 3rd Gen is no different. Let's have an in-depth look at it in our review.
DESIGN AND DISPLAY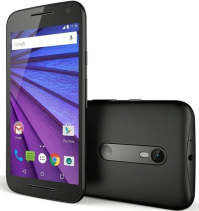 The design of phone is similar to what we've seen in its previous generations. All the curves and edges are in the same places, and the back is textured to provide solid grip on the phone. In short, Motorola didn't bother to change anything about design because there wasn't anything broken. One notable change is the disappearance of notification LED, which has been replaced with Moto Display to show you tiny notification icons on your screen below time and date as soon as you pick the smartphone in your hand. Plus, this time, it's water resistant, which is a nice addition.
The display of this phone is a 5-inch HD display with an awesome screen to body ratio, which has kept the smartphone quite handy. It's protected by Gorilla Glass 3, and it has got awesome viewing angles and sunlight legibility.
PERFORMANCE AND CONFIGURATION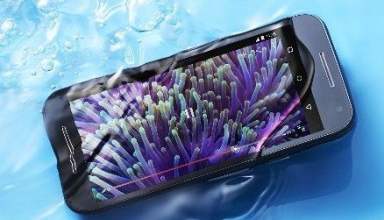 In a world that goes crazy behind octa-core processors, this phone is a pleasant surprise. Thanks to its near-stock Android operating system, it stays ahead of rivals in terms of performance. It shows that it doesn't take 8 CPU cores and multiple gigs of RAM to provide a smooth user experience. With a 1.4GHz Quad-Core Snapdragon 410 processor and 1GB/2GB of RAM, it manages to deliver a smooth user experience for most tasks. Plus, its near-stock formula has also allowed it to provide OS updates faster than Google's own Nexus devices even, which again contributes to improvement in stability and performance.
The phone comes in two configuration options: first is an 8GB internal memory version which comes with 1GB of RAM, and another is 16GB version with 2GB of RAM. And both of them manage to perform most tasks in a smooth manner.
CAMERA AND MULTIMEDIA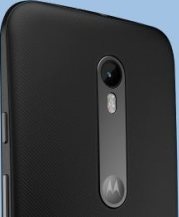 Just like with its stock Android formula, Motorola didn't bother to change a lot in camera department as well, but it has still managed to provide a smartphone whose cameras are leaps ahead of their previous generation siblings. Photos from 13MP primary shooter of the phone come with more natural colors and an ample amount of light, and they also look brighter than they used to look in earlier Moto G phones. And although its 5MP secondary camera isn't as exciting as people may want it to be, it's still fine for most selfies and video calling.
Motorola hasn't flooded it with a lot of apps and stuff. As a result, it comes with Google's own multimedia apps only, which are Google Photos, YouTube, and Play Music. The HD display of the device is good enough for most multimedia consumption.
BATTERY AND CONNECTIVITY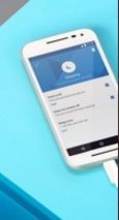 The 2470 mAh battery of this phone is removable, but it has been sealed off for the purpose of water resistance, so you can't remove it. It can easily last for 10 – 12 hrs on average use. It can also provide video watching time (from SD card) up to 10 hrs and similar backup for Wi-Fi based web browsing and downloads. This time may be a little less if you use your phone heavily on 3G or 4G networks, but if you're not a heavy user, then you may get similar figures on those networks as well.
The phone is 4G compatible, though it supports only one band (2300 MHz) deployed by some network operators in India. Other connectivity options include 802.1 b/g/n Wi-Fi, Bluetooth 4.0 and microUSB 2.0, the usual standards of modern smartphones.
PROS AND CONS
Motorola has tried to play it safe by improving the same formula of previous generation Moto G smartphones. However, the improvements are decent enough to justify an upgrade. In fact, some of them are also worth appreciating, like water resistance. Plus, you've another reason to go for this simple-yet-powerful device if you prefer receiving OS updates as soon as they're released.
WHAT WE LIKED
Smooth user experience with stock android
Quick system updates
Decent camera
4G LTE
Water resistant
WHAT CAN BE IMPROVED
The camera struggles under low light
Secondary camera is average
1GB of RAM in base model
Overall this is a solid phone for anyone who prefers experience over a powerful specs-sheet. If you like to impress your friends by telling them about powerful hardware in your device, then you'll be disappointed, but the everyday experience won't disappoint you for sure. Plus, the waterproof bit can also make you look cool sometimes.