INTRODUCTION

Moto X Style smartphone is a flagship device of the Motorola Mobility smartphones manufacturer. This phone falls under the Motorola's Moto series of smartphones. This smartphone belongs to the third generation of Moto X phones which initially branded as Moto X Pure in the US. This smartphone first announced in a Press Meet held at New York City along with two other Motorola smartphones. It was first announced in 2015, July. Later it was released for sale from 2nd September 2015 onwards.
Living up to Motorola's slogan, ' Beautiful Inside and Out ' this smartphone has amazing style in both its performance as well as its looks. The predecessor to this smartphone is the Moto X, which released in 2014, Importantly Motorola phones are known for their superior audio quality and durability. Along with these general USP's this smartphone comes with an exceptional build and display too. It gives this smartphone the stylish tint in its performance overall. Apart from these USP's, let us also look at its various technical specifications and analyze its pros and cons.
DESIGN AND DISPLAY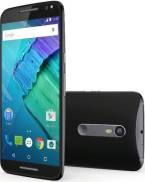 Like most of Motorola smartphones, this smartphone too comes with curved back casing and the concave exterior design. The entire body of this smartphone is made up of aluminum. There are options wherein customers can customize the outer casing from a set of choices on paying more. The length of this smartphone is around 153.9 mm, and its breadth is around 76.2 mm. It has a thickness of 11.1 mm. It makes the smartphone look bulky and thick. Due to the lack of sleekness, this smartphone does not feel premium in hand. The metal casing makes this phone quite slippery too. This smartphone weighs a good 179 g making it heavy to hold. Also, this makes the phone uncomfortable while traveling. The display in this smartphone is an IPS LCD capacitive display. The screen size is 5.7 inches with a resolution of 1440 x 2560 pixels. It also has 10 fingers multitouch feature. This smartphone comes with extensive protection. It comes with a display made of Corning Gorilla Glass 3. This smartphone comes in two design variations. One is a version which has Black Lens, Black Soft Inlay, and Dark Gray Frame. The other is an entirely White Lens with a Silver Frame and Bamboo Inlay.
PERFORMANCE AND CONFIGURATION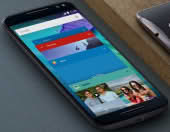 Running on the Android OS v 5.1 (Lollipop), this smartphone can also upgrade the OS to v 6.0 (Marshmallow) later. The chipset used here is Qualcomm MSM8992. The processor type used here is Snapdragon 808. The central processing and control are taken care of by a pair of processors. One of the processors is a Dual – core, Cortex – A57 and the other one is a Quad – core processor too, but it is Cortex – A53. The clock speeds of each of these processors are 1.8 and 1.44 GHz respectively. The Adreno 418 GUI control the graphics interface of the smartphone. Due these dual processors, there is almost no lag found in the performance. The internal storage space available in this smart is 16 or 32 or 64 GB. Even though this capacity is quite enough, it also comes with the option of externally expanding the memory using a microSD card up to 128 GB max. The RAM space available in this smartphone is a good 3 GB.
CAMERA AND MULTIMEDIA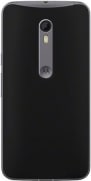 It has a primary camera of an exceptional 21 MP, which has a lens aperture focal length of f/2.0. The wide angle of focus is around 27 mm. It comes with a dual LED flash to provide ample lighting in cases of lack of natural light. The size of the sensor used is 1/ 2.4 inches with a pixel size of 1.1 micrometers. Other supportive features available are the auto focus, geo-tagging, face detection, HDR, and panorama. The secondary or front camera comes with a mere 5 MP and an aperture focal length of f/ 2.0. The pixel size available for this camera is 1.4 micrometer. The primary camera records videos at two different settings. One is with a resolution of 2160p at the rate of 30fps and one more with a resolution of 1080 at a rate of 30fps. The audio in this smart is above average with good stereo speakers and clear alert tones. One disadvantage though is that it lacks a functional FM Radio.
BATTERY AND CONNECTIVITY

The battery in this smartphone is the non-removable type. It is a Li – Po battery with a capacity of 3000 mAh. The average standby time is up to 560 h in 2G mode and 610 h in 3G mode. It comes with a talk time of up to 12 h in 2G mode and up to 17 h on 3G mode. During music playback, it lasts up to 97 h. This smartphone comes only with a dual sim. The sim type compatible with this smartphone is Nano – sim. Hence, both the sims are of nano sim type. This sim works only on GSM network. Also, it is compatible with 2G, 3G, and 4G modes. It also comes with the basic wireless connectivity features like Wi-Fi and Bluetooth.
PROS AND CONS
Motorola Moto X Style has a few advantageous features like lots of RAM memory, sound processor, fantastic primary camera and the decent battery. The cons though are its poor build, below the average front camera and bulkiness.