INTRODUCTION

Nokia 105 is a very budget friendly phone which has almost all the basic features of a button phone. Its release was announced in February 2015. Since then it has been anticipated to be really good, especially with respect to its battery life. Finally, it was launched and was made available in the market in April 2015. Nokia phones were generally known for their strong durable body and exceptionally long lasting battery life. This basic model Nokia 105 is an upgraded version of its predecessor which was released sometime in 2013. This phone targets the lower-middle class of the developing countries who cannot afford very expensive phones. For those people who are first time users and those who just need a phone to make calls, send messages and use it for such very basic operations, this is a very well suited choice. The 2013 model was released under Nokia's name. But, Microsoft has purchased Nokia and hence the current 2015 model is under the name of Microsoft. The best upgrade of this latest version on Nokia 105 is its improved call quality, and it's amazing to talk time as compared to its predecessor. Now, let us discuss its other technical features in the review below.
DESIGN AND DISPLAY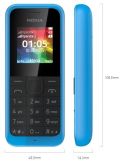 Nokia phones are famous for their excellent build quality. This phone too keeps up its name and has pretty decent build quality overall. Made out of the hard plastic outer casing, the texture of this casing ensures that the users have a proper grip on the phone. This casing is environment-friendly too as it does not contain BFR, PVC, and Nickel. It does not feel premium but is decent for its cost. The blunt curved edges give it a fuller look and finish. It comes with a length of 108.5 mm. It has a breadth of 45.5 mm and a thickness of 14.1 mm. The overall weight of this phone is 69.8 g. This phone comes in three colour variants namely Cyan, Black and White. The display size of this phone is 1.4 inches with a display resolution of 128 x 128 pixels. The screen technology used here is LCD Transmissive (TFT) technology. The USP (Unique Selling Proposition) of this phone like any other basic model Nokia phone is its superior build.
PERFORMANCE AND CONFIGURATION

Nokia 105 functions with the aid of the Series 30 + software. This is an upgrade from its 2013 version which used the Series 30 software for the overall processing in the phone. This phone comes with a basic built-in memory and a RAM of 4 MB. For the cost of this phone, this storage specification is reasonable. This phone does not come with externally expandable memory option. This phone does have the option of downloadable apps like the touch phones. Hence, not much problem with respect to lags and delays. It comes with two preinstalled games, Snake Xenzia and Bubble Bash 2. Also, it can store up to 2000 contacts in total.
CAMERA AND MULTIMEDIA

This phone has no camera in it. Hence, this cannot be used to take pictures or record videos. However, it comes with good audio options. The audio in this version of Nokia 105 is 20% better than its predecessor model. The audio is louder, and it has a 3.5 mm headphones jack. It also has a built-in FM Radio to listen to some channels, live sports commentary, and news. It also has vibrating alert tones by default in it. It comes with enhanced call features like Conference call, call waiting, call forwarding and integrated hands-free speakers.
BATTERY AND CONNECTIVITY

Nokia 105 comes with a battery having a capacity of 800 mAh. This battery is of removable type by the users themselves. The voltage rating of this battery is 3.7 V. It comes with a maximum standby time of 25 days. It has a maximum talk time up to 15 h while in the 2 G mode. The best part about this phone is its dual sim option. This is a welcoming upgrade as Nokia phone at this cost do not provide this facility. This dual sim also provides dual standby option too. This phone is compatible only with GSM network. The GSM network specification with which it works well is 900 MHz and 1800 MHz. This phone also comes with the general security option like PIN. Only 2G network is compatible with this model. It lacks 3G, 4G and 4G (LTE) functionality.
PROS AND CONS
Nokia 105 released in 2015 is overall a well upgraded, user-friendly phone which is available at extremely low cost. Hence, even that part of the society which belongs to the lower middle class can now own a phone of their own. The most highlighted part of this phone is its good battery life and dual sim feature. The advantages of this phone are its light weight, Long battery Talk time, FM Radio feature and it is louder audio. The disadvantages though are its thickness, bulkiness, lack of external memory card option and small screen.