INTRODUCTION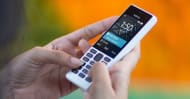 NOKIA, founded in the year 1865, is a multinational company that produces information technology related products. Started as a mill of pulp which now focuses in the sector of large-scale infrastructures of telecommunications and development of technology and licensing, the company possesses an overall growth record that serves a more than 151 years duration. Nokia is popularly known to us as a mobile manufacturing company. The firm has also a contribution towards LTE and GSM development fields. It was also recorded as the largest mobile phones vendor once. Nokia entered the smartphone world with the platform of Symbian but could not stand after the launch of Android. In the year 2011, Nokia joined hands with the Microsoft and launched Windows platform as a base in its new smartphones. The Nokia 150 which is rumored to be launched in March 2017 is the next best product from the company.
DESIGN AND DISPLAY

The Nokia 150 will have 118 x 50.2 x 13.5 mm (4.65 x x1.98 x 0.53 inches) dimensions and weighs just 81g. It is expected to come with a TFT display with a color scheme of 65000 colors and the screen size will be 2.4 inches with a screen to body ratio of 30:1. The TFT screen will have a display resolution of 240x320 pixels, and a pixel density of 167 per inch. Since it will be a service phone, the touch screen will be absent, and a rather traditional keypad is most likely to be installed. The color of the phone will be either Black or White.
PERFORMANCE AND CONFIGURATION

The phone is expected to support by Series 30 which is a normal processor. Nokia 150 is expected to have microSD card slot using which its memory can be expanded up to 32GB. Though much cannot be accomplished despite of such big storage space other than having basic multimedia.
CAMERA AND MULTIMEDIA
The Nokia 150 will come with a VGA camera having LED flash. It will be, although not much of a camera phone but the fact of it, not getting launched as a smartphone serves and justifies the purpose. It is not likely to have a huge variety of multimedia option. Basic multimedia options like music player, image capture, and viewer and a set of earpiece with 3.5 mm jack and a loudspeaker are expected with the phone.
BATTERY AND CONNECTIVITY

The Nokia 150 serving the purpose of a smartphone will most like to have a very promising battery life as the usage is restricted to a minimum level. The battery will most likely to be measured with a capacity of 1020 mAh with Lithium-ion as its core. The battery is likely to provide a stunning standby capacity of 744 hours, talk time limit of 22 hours and music and multimedia time limit of 40 hours. The connectivity features that the phone is expected to have are Bluetooth v 3.0, micro USB connectivity and a dual GSM slot supporting the 2G network. Internet connectivity is most likely to be present, but since JAVA is rumored to be absent, the users will have to access the internet with the default browser that comes within.
PROS AND CONS
Nokia 150 though to a certain extent resembles the features of a smartphone, but it is actually a service phone with a keypad and not a touchscreen.
WHAT WE LIKED
Dual GSM SIM with 2G connectivity.
Screen resolution of 240x320 pixels and Screen density of 167 pixels per inches for improved display features
TFT, 65K color display for improved images and texts
2.4 inches of display with 30:1 as the screen to body ratio
Expandable memory slot up to 32 GB
VGA camera and LED flash will be present for quality pictures from camera
3.5 mm audio jack with loudspeaker are also provided
Bluetooth 3.0, micro USB for better connectivity
WHAT CAN BE IMPROVED
Does not have Android operating system
Has only VGA camera and not mega pixel one.
No dual memory slot
The processor does not support all Multimedia options
Does not provide access to 3G/4G, LTE, VoLTE
Light sensor, proximity sensor, gravity sensor, fingerprint scanner, Multi touch will be absent