INTRODUCTION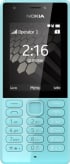 In his final speech as the CEO of Nokia, Stephen Elop said, "We didn't do anything wrong, but somehow, we lost". Ever since its inception, Nokia has always been a reputable company. Nokia's refusal to change with the evolving market dynamics has indeed led to their demise. To secure Nokia's future, Microsoft extended a helping hand. However, Nokia still couldn't recover from the disaster. The selling point of Nokia has always been their budget phones, which were so durable that in some cases, they even managed to stop a bullet. Soon, Nokia will be launching phones under their name. This is an indication that they will be back with long lasting mobiles.
Actually, a new phone has been already launched by them - Nokia 216. It is not some flagship smartphone, but it is a budget friendly device which intends to target people who like use just the basic functions. But it doesn't mean that it will be a phone with a black and white screen. Nokia 216 features a 2.4-inch screen, which is a QVGA display. This device runs on Series 30+. And that's not it. This phone features rear and front cameras, with flash. The flash has been provided on the front as well. Also, you can store over 2000 contacts in this phone. This phone was released in October 2016. We have a lot to talk about this most affordable internet ready phone, let us have a look at it –
DESIGN AND DISPLAY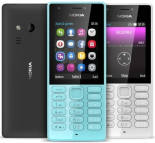 The phone has bright plastic exterior, with a sleek design. The dimensions of the phone are 118 mm x 50.2 mm x 13.5 mm (4.65 in x 1.98 in x 0.53 in), and it weighs only 82.6 gm. The phone has round edges and reflects the epitome of simplicity. Below the display, there's the keypad with Call key, Power/End key, Options key and Back key. There's also a four-way navigational key. Above the display, there is a 0.3-megapixel front camera. Alongside the front cam, there are the earpiece and the selfie flash. The right and left-hand sides of the phone are completely blank. There is no dedicated camera button either. The micro SIM slot is located under the back panel, along with SIM card slots.
At the back, the rear camera is featured at the top centre, and it is supported by a single LED flash alongside it. The speaker is positioned just below the LED flash. The micro USB 1.1 is placed at the top, where the 3.5 mm audio jack is also located. The device is available in three colours - turquoise, grey and black. The display is 2.4 inches in size, which is a QVGA display. The screen carries a resolution of 240 x 320 pixels, with a pixel density of 167 ppi pixel. The screen looks sharp and does its job pretty well.
PERFORMANCE AND CONFIGURATION

The phone runs on Nokia's own OS Series 30+. The RAM used in the device is 16 MB. The phone also accepts memory cards. The microSD card slot can be used to expand the memory up to 32 GB. There is no internal memory, so, using a memory card is a must.
The device is Internet ready. In other words, you can browse the internet by using Opera Mini Browser, along with social networking app Facebook. Microsoft will also provide one Gameloft game every month.
CAMERA AND MULTIMEDIA

This is the most affordable device in the market, which has LED flash at back and front both. The primary camera used in this phone is a 0.3-megapixel camera. The camera focus type is fixed focus. You can record videos with this camera at 15 fps, along with clicking pictures. The 2x zoom is also made available. The front facing camera is also a 0.3 megapixel VGA camera. This camera can be used to take selfies, and a Selfie Flash is provided alongside it to take pictures in the dark as well. The front camera video resolution is QVGA.
BATTERY AND CONNECTIVITY
The battery used in this device is a Li-ion 1020 mAh battery, which is removable. It gives up to 18 hours of talk time and up to 47 hours of music play. The phone is available in both single and dual-SIM variants. Remaining connectivity options are Bluetooth 3.0, HS; and microUSB 1.1 for data transfer and charging.
PROS AND CONS
WHAT WE LIKED
Budget friendly device
Rear and Front flash
Long lasting battery
WHAT CAN BE IMPROVED
No internal memory
No Wi-Fi