INTRODUCTION
The size of the Oppo N1 Mini might be small, but it is still a choice that stands out in today's smartphone world. This phone especially has become famous for offering a camera with a swiveling head that can work as a rear or front camera. The Oppo N1 Mini designed as a more compact option among different phones available from the market. It was released in the middle of 2014 as a popular choice for those who want a smaller smartphone that still offers a brilliant series of high-end tech features to make it stand out.
DESIGN AND DISPLAY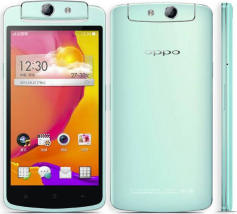 The build of the Oppo N1 Mini designed with a solid metal body. It comes with a series of curves on the ends to create a grip that is easy to handle. It does not have too much of special feeling, but it makes it easier for the design to work well and be easy for anyone to utilize. The 150g weight and 9.2mm thickness of the phone especially make it portable. It should be suitable for most people who want to find a phone that isn't too bulky or complicated. The swivel feature on the camera doesn't add much to the weight or thickness either. The 5-inch display features a 720x1280 resolution with the Color OS 1.4 system to generate images with enough pixels to create a detailed screen. This LCD capacitive touchscreen works with sixteen million colors to create a brighter look that will certainly work wonders for anyone's use.
PERFORMANCE AND CONFIGURATION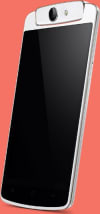 The Qualcomm Snapdragon 400 1.6GHz quad-core processor has an attractive feature that makes it easier for the phone to keep on working. The Adreno 305 GPU is also included to create only the best and most detailed 3D images possible. It, in turn, establishes an impressive look that will stand out and look its strongest. The phone also uses 2 GB RAM to help with running more applications at a time. It is good enough to work in most situations and should not be too hard for anyone to use. The Android 4.3 Jelly Bean operating system is also featured here. The OS is organized to be very easy to run. It loads up fast and is very efficient when making it work. It has 16 GB of the internal member. It should work for most people, but this does not have a microSD slot that lets the user expand its memory. The OS will not take too much data on the hard drive, though.
CAMERA AND MULTIMEDIA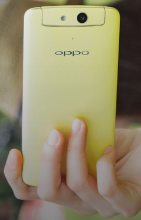 The camera is the most prominent part that people want to look in the Oppo N1 Mini phone. This section of the phone offers a powerful 13-megapixel lens. The Pure Image Engine will create impressive photos as it focuses on the right targets and works with more focus points at a time. It also restores colors to be as detailed and unique as possible. The blue glass optical filters also help to keep light moving through properly. The f/2.0 aperture will also increase the light that comes in to create a brighter image without being too cloudy or otherwise harder to use than necessary. A slow shutter mode may also be used to expand upon the exposure time to let in enough light, thus making a scene even brighter or to generate amazing night shots. It also uses PI 2.0 technology to find particular parts of six images to create one 24-megapixel image. It adds to the supreme quality of the images that generated here. The most prominent feature of this phone comes from the swiveling setup on the camera. It allows the lens to move forward or backward. In other words, the camera can work as a front or rear camera depending on how the lens positioned. It operates with several media players, photo editors and document readers. Since this works with the Android OS, the user can easily download different multimedia applications depending on what the user wants to utilize.
BATTERY AND CONNECTIVITY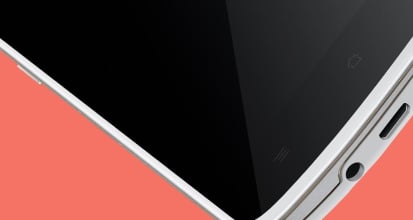 The battery on the Oppo N1 Mini is a 2140mAh non-removable Li-ion battery. Oppo has not released details on the typical lifespan of the battery although this can be linked to a microUSB 2.0 connection to get it charged up quickly. Other connections include 3G and 4G support. A Bluetooth 4.0 connection can also be established on this phone to make it work fast. Wi-Fi, OTG, and NFC support also included. A Wi-Fi hotspot could establish to keep this working online as quickly and effortlessly a possible.
PROS AND CONS
The Oppo N1 Mini has highly publicized for offering an effective camera with a sharp resolution. It also has a good design that is comfortable to hold. Still, there are a few problems that come with the phone that all prospective users should take a look at just as well. These are all good considerations to review when finding out if this phone is right for one's demands.
WHAT WE LIKED
The swivel feature on the camera works well and will not impact how the camera takes pictures.
This is small enough to where anyone can quickly carry it around to different spots.
The display looks impressive and bright.
This should run more than enough programs at once to keep it functional and ready.
WHAT CAN BE IMPROVED
The operating system is not as advanced as some of the most modern Android options out there.
This phone doesn't support microUSB cards to expand the capacity of the phone.
It can take a while for the camera to load up at times.
The rear touch panel is not always responsive.
The Oppo N1 Mini is a popular option for those who need a quality smartphone. It should be useful enough for most people who want to enjoy taking pictures while on the go. The big camera is very effective as well as the processor. It all comes with a convenient body that is very easy to use and is not too complicated.