INTRODUCTION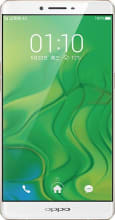 When Oppo was about to launch its R7 Plus smartphone last year, and some of its images had leaked, the rumor mill was going crazy to see the launch of a bezel-less smartphone. However, when it finally came out, it became clear that the phone wasn't as bezel-less as people wanted it to be. That was the first major disappointment. Are there more of them? Let's figure out in our detailed review.
DESIGN AND DISPLAY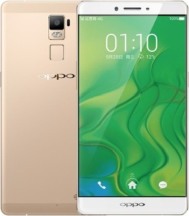 While Oppo has remained partially successful in giving a bezel-less look to the phone, that illusion lasts only until you keep the display turned off. The minute you turn on the lights, the illusion goes away. There's plenty to like in the design of this phone. It's a large smartphone with 6-inch display and an all-metal body that curves on the sides to meet the chamfered edges. For such a massive smartphone it helps to be thin, and this phone has done that with a thickness of 7.8mm only, but still it's not a smartphone that you'll be able to use with one hand.
The 6-inch display of this phone has got Full-HD resolution, which results in pixel density of 367ppi. While it's certainly not one of the densest smartphone screens out in the market, it's still good enough for you to read texts and consume all your multimedia content.
PERFORMANCE AND CONFIGURATION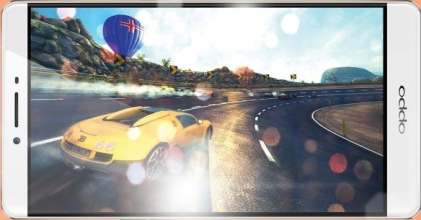 The Snapdragon 615 has become a popular choice for mid-range smartphones, and that's for a good reason. Everything runs perfectly fine on the back of this octa-core chipset from multitasking to gaming. So Oppo also decided to use it for R7 Plus along with 3GB of RAM. And the results of that choice are astonishing: the phone performs way better than any other Snapdragon 615 based handset out in the market. At least benchmarks say so.
However, the performance of this phone isn't a result of hardware alone. Company's Color OS 2.1 ROM based on Android 5.1 Lollipop also plays a major in it. While it's a heavy ROM in itself, it manages the RAM in a highly efficient manner. As a result, booting the phone, switching between apps and gaming all work smoothly.
The phone comes with 32GB of internal storage and a microSD card slot. It is the only option, but it's a pretty good choice, as internal storage is sufficient and still there's an expansion slot. There's also a fingerprint sensor on the back, which is fast, accurate and reliable.
CAMERA AND MULTIMEDIA
R7 Plus comes with a 13MP f/2.2 aperture primary camera and 8MP secondary camera. The rear camera is also equipped with some fancy things like Schneider-Kreuznach optics and laser autofocus. But how well does it perform? Very well actually. You'll find hardly anything to complain about the images captured under daylight and even normal light. You may notice some slowness in shuttering under low light, but the end results still look pretty good. The interface of the camera app is also clean – while there's no shortage of features, they've not been allowed to make the app cluttered. When you open the app, it only allows you to switch between photo and video shooting modes. Other options like beautify, HDR, Panorama, UltraHD, live filters and GIFs, etc. are hidden inside a tiny icon in an organized manner.
BATTERY AND CONNECTIVITY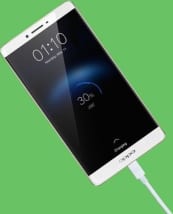 A phone as massive as R7 Plus also requires a "plus-sized" battery to last for a whole day. And that plus-sized battery also requires some technique for faster charging, or else it may take a decade to fill up. Fortunately, Oppo has provided the best of both these things in this smartphone. There's a 4100 mAh non-removable battery under the hood, and guys; it's a tough deal to make it last less than 24 hrs. Seriously. And when it runs out of juice, it has also got you covered with its VOOC Flash Charging technology, which according to the company can provide you more than 2 hrs of talk time on 5 minutes of charging.
The dual-SIM R7 Plus supports 4G LTE, dual-band Wi-Fi, Wi-Fi Direct and Bluetooth 4.0. However, in second SIM slot, you can either put a SIM card or a memory card.
PROS AND CONS
WHAT WE LIKED
Great design
Superb performance
Awesome camera setup
Massive battery with rapid charging technology
Accurate fingerprint sensor
Enough storage capabilities
WHAT CAN BE IMPROVED
Shared second SIM and MicroSD card slot
Not for single-handed use
Lack of NFC
So what if it doesn't have pixels packed all the way to the edges? Oppo R7 Plus scores a big win in every other major department. Whether it's design, display, performance, photography or battery life – it has got the stuff that can win you over in every important department. There are minor disappointments here and there, as you can see above, but they don't matter much. Overall we can say that it is an excellent smartphone in its price segment.