INTRODUCTION
Panasonic, one of the world's top names in the field of consumer electronics, released the Eluga S as a new smartphone in 2014. This phone is designed with a slim and lightweight body but has lots of power to run a large variety of applications. It is perfect for all those who want to stay online and connected while on the go. This phone is a relatively new option in the Eluga series of smartphones. It focuses on offering powerful processors without taking up too much physical space.This phone will keep users online while running programs efficiently and without any problems.
DESIGN AND DISPLAY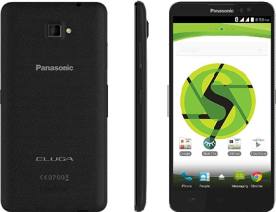 The Panasonic Eluga S has a 5-inch design in a small package. It is only 139g in weight and is also about 7.9mm thick, thus creating a better and more comfortable body that is easy to hold. The IPS LCD capacitive touchscreen works with sixteen million colors on its display to create the most realistic and beautiful images around. The 720x1280 resolution mainly creates an attention to detail. The body of the smartphone has a solid border. It is also curved well enough to create a beautiful appearance that looks interesting and adds a good look for all to try out. The striking black body of the phone also adds a good appearance that people are bound to enjoy while using. This phone uses a display that especially does well when playing videos. The phone has a great video setup that allows for images to look robust and attractive. However, this does not have any LED features, thus meaning that it will not be too easy to adjust the brightness like what can come out of a different phone.
PERFORMANCE AND CONFIGURATION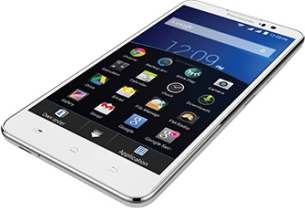 The Panasonic Eluga S has a 1.4GHz octa-core processor. It is one of the most powerful options around as it offers more support for running a larger variety of applications. It divides enough power out to make it easier for many files to load up properly. It also runs the Android 4.4.2 KitKat operating system. It is an attractive option that is stable and loads up quickly without taking up far too many data. It works with 8 GB of internal memory. It does not have any expansion features, but the operating system will not take up too much disk space on the phone. 1 GB of RAM also added to the phone. It allows running fast while making it efficient for more demands that people hold when running the computer.
CAMERA AND MULTIMEDIA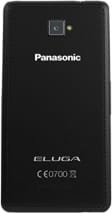 The main camera is an 8-megapixel model. It uses an autofocus feature and also works with an LED flash feature to bright up any space. It has a simple interface that allows the user to adjust the settings on the camera with ease. The camera features could find on the top middle part of the phone's body. It creates an even and easy to use a setup that is not too complicated or hard to follow. The camera can also record video files. It records 1080p video at 30fps. Also, there is a separate front camera with a 5-megapixel resolution that always works quickly for fast images. For multimedia use, this phone has a video and music player. A document viewer and a photo editor are also included to make the files on the phone easier to adjust and use. The HTML5 browser also works well for keeping users online.
BATTERY AND CONNECTIVITY
The 2100mAh non-removable battery is included to keep the phone running fast. The plug on the bottom of the phone especially helps make it easier for the phone to charge up as required. Regarding connections, this does not support 4G signals, but it does offer a link to a variety of different wireless networks. It uses a Wi-Fi setup and can generate its hotspot as needed. It keeps the phone running effectively enough. Bluetooth 4.0 signals are also supported to allow the phone to link up to other items without wires. A GPS signal could reach through the phone. It can work wonders when paired with the map application that already installed on the phone. The phone will run this feature quite well to make it easier for the phone to run and stay efficient.
PROS AND CONS
People who are looking for a quality smartphone should see what the Panasonic Eluga S has to offer. However, there are a few issues that can be found with this as well. Here is a closer look at the many different points that could see when using this phone.
WHAT WE LIKED
The small body of the phone makes it easier for you to carry it anywhere you want to go.
The processor is very responsive and should do well when trying to load up different files.
The screen has a beautiful look that will display images quite well.
The wireless connections supported by the phone are very easy to load up and use.
WHAT CAN BE IMPROVED
The lack of data storage or a microSD slot means that you'd have to be cautious with how you are using data.
It can be a challenge to run too many high-end apps at a given time.
There are no LED screen features on this phone, thus making it harder for the brightness on the screen to be properly adjusted.
This does not work with 4G signals.
The Panasonic Eluga S will certainly be perfect for all those who want to find different phones that are suitable for many uses. It is not the most powerful phone in the world, but it will certainly do well for all those who want to stay online and do things while on the go. It is especially portable as its small body is good enough to help with running a variety of applications without being too hard to bring around.