INTRODUCTION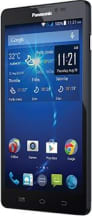 When sizes of smartphone displays started increasing, it had not known that this trend would lead to the advent of a new category of smart devices known as "phablets." But it happened, and phablets gained enough popularity among people that every major and minor smartphone manufacturer started making them. Panasonic also decided to throw its hat in the phablet game with P55 around 2 years ago. Is their phablet still good to buy? Let's figure out.
DESIGN AND DISPLAY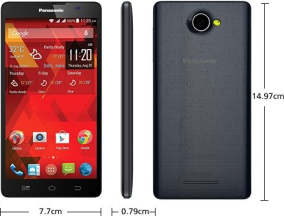 For a company that is not too much into smartphones, Panasonic has done a great job with the design of this phone. At 7.9 mm it is a very thin device, just 0.3 mm thicker than iPhone. The back cover of the phone is made of plastic, and the company has given it a unique look with a tiled texture. A metal rim runs along the side of the phone, and Gorilla Glass protects the display. All these things give a unique look to the phone that is hard to ignore.
The HD resolution for a 5.5-inch display may seem a bit low as it results in a density of 267ppi only but, still it is fine for most tasks. The viewing angles are wide enough, and sunlight legibility is impressive, and the phone is available in two color choices, namely Black and Pearl White.
PERFORMANCE AND CONFIGURATION
Panasonic has loaded a 1.2GHz quad-core Snapdragon 400 CPU along with 1GB of RAM in this smartphone. The hardware packed inside is certainly not as impressive as being offered by other in the same price range but still, this phone is capable of performing all your day-to-day tasks without any hiccups. It also allows you to play some lightweight games, which sums up the level of performance that you can expect from it.
The internal storage in this device is 4GB, which is again much lower than the storage being offered by competing smartphones. Fortunately, there is an expansion slot that supports up to 32GB but still, the internal memory makes a critical component of any phone because many apps (including all of Google Apps) don't allow you to move them to external storage.
The phones run an outdated Android 4.4.2 KitKat out of the box, and there is not any news regarding updates as of now, which is yet another disappointment.
CAMERA AND MULTIMEDIA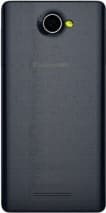 P55 comes with an 8MP primary and 2MP secondary camera. The rear-camera is capable of FHD video recording, and it also works well for daylight photography. However, as soon as you move into low-light conditions the photos may appear blurry and lacking in detail. The selfie camera on front produces images just fine in nature, as good as can be expected from a 2MP shooter. You can't expect any more than "fine" from it.
Overall, the phone is good for multimedia consumption as its sound quality is good and display quality is also fine at least, if not too good. For that reason Panasonic has also provided a video player named POP-i Player, which plays the videos in a popup, thus allowing you to do any other tasks in the meantime.
BATTERY AND CONNECTIVITY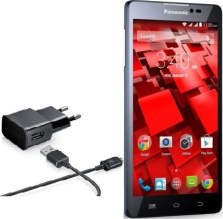 This phone is powered by a 2500mAh battery, which according to the company can provide up to 2 days of battery life. In our tests, we found that like other smartphones, it could provide backup of 10–12 hrs on average use, but heavy usage (i.e. gaming, video streaming on data connection, etc.) for long hours can drain the battery faster than that. Another issue in this department is that charging time of phone is long. Due to its large size, the battery of this phone requires a long time to fill up, and unfortunately Panasonic didn't do anything to fix it.
Connectivity features provided in the phone are standard: 802.11 b/g/n Wi-Fi, Wi-Fi Direct, Bluetooth 4.0 with A2DP and 3G. It is not a 4G phone.
PROS AND CONS
When we look at the details given above, the shortcomings in virtually every department make it obvious that this smartphone is not a good buy anymore. However, if you are still interested, here is a quick look at the information furnished above:
WHAT WE LIKED
Unique design
Decent sound quality
Smooth user experience
WHAT CAN BE IMPROVED
Average camera quality
Average hardware configuration
Average display
Long battery charging time
No 4G
While good looking in design, Panasonic P55 is filled with many shortcomings. It has some unique stuff up to its sleeves, like smart gesture controls, double-tap to wake up feature, Pop-i Player and Music Cafe; but all of them are not so unique actually and can be enjoyed on other smartphones too with the help of 3rd party applications. The shortcomings in important departments, on the other hand, have no quick fix and availability of better options around similar or lower price points leaves little reasoning to justify its purchase. So it is good to have a look at other options before buying this smartphone.