INTRODUCTION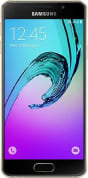 When it comes to the range of mobile devices, no one can rival Samsung. The South Korean giant is well known for its endless stream of mobile devices, many of which often target the same price brackets with little difference in specs. However, even Samsung has established some distinction between its lineups. By now it has created four clear product lines that target different sections of the market: The Galaxy J and Galaxy On series for the budget segment, Galaxy S Series for high-end segment and Galaxy A series for mid-range segment. Galaxy A3, the device we're going to talk about in this article, is the entry-level smartphone of Galaxy A series. However, last year's A3 was awful in many aspects. Now the company has re-released it in 2016 with some notable improvements. Is it good enough now? We try to find out in our review.
DESIGN AND DISPLAY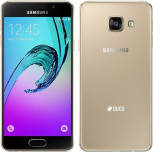 Samsung has been incorporating a lot of glass in its smartphones lately, and this device also follows the same philosophy. While mirror-finish on both front and rear sides of the phone look stunning, it also translates into more fingerprints and a slippery device. Fortunately, the sides of the phone are made of sturdy aluminum to provide some grip.
The position of the speaker has improved – it's now located on the bottom edge. Its predecessor had a speaker on the backside near the camera, which not only looked awkward but also used to be meaningless when the phone was put down.
The device comes with a Super AMOLED display. And though it's HD only (1,280 x 720 pixels), it's fantastic for most use cases because of its 4.7-inch size that translates into pixel density to 312 ppi. It has got excellent viewing angles, decent brightness-contrast ratio and it's protected with Gorilla Glass 4.
PERFORMANCE AND CONFIGURATION
Samsung decided to ditch Snapdragon 410 it had installed in last year's A3 and decided to go with its Exynos 7578 processor instead for this new phone. Then it combined its 1.5GHz quad-core SoC with 1.5 gigs of RAM. Both decisions turned out to be fine because the performance of this device is far more superior than its previous versions. In terms of graphical performance, it provides frame rates better than its previous version Galaxy A5 even. But then again, it's not because of Exynos alone – the combination of HD resolution and smaller display size is at work in this department too. The graphical performance is just excellent for watching videos or playing some not-so-resource-hungry video games.
But the thing is that Samsung hasn't made this device to compete with its own other devices. And to compete effectively with others, the stuff packed inside this phone is clearly not enough. The performance of phone lags behind that of other similarly priced phones (i.e. OnePlus X, Moto X Play and Xperia M4 Aqua), simply because all of them (except for Moto G 3rd Gen) have much more powerful hardware at work.
CAMERA AND MULTIMEDIA
Samsung has launched three Galaxy A smartphones this year, and it seems like their engineers didn't bother to formulate a different camera setup for each of them. Just like its other siblings Galaxy A3 also packs the same 13 MP rear and 5MP front camera. Both shooters have got f/1.9 aperture, but there's one difference that separates them from the cameras of A5 and A7 – the lack of Optical Image Stabilization. Yep – for unknown reasons Samsung decided to devoid it's otherwise excellent Galaxy A3 cameras of this important feature. You need to keep your hand steady to prevent blurred photos.
The quality of photos under difficult lighting conditions is another disappointment. The noise increases and auto-focus become sluggish. Under daylight, however, both cameras work fine: sharp details, excellent color reproduction and little (if anything) to complain about. Both of them are also capable of recording Full-HD videos at 30fps.
BATTERY AND CONNECTIVITY

A bigger 2,300 mAh battery powers this device in comparison to 1900mAh one found in last year's model. It has more than enough juice to keep your device powered for a full day of average use. Heck, you can push it to two days even on little usage. But unfortunately, it's non-removable. Other noteworthy disappointments in this department include unavailability of Fast Charging and wireless charging technologies, which means you'll have to keep your phone plugged into a wall socket for hours if it's almost entirely discharged. In those conditions, I'd suggest that you charge it at night when there's plenty of time to do so.
In terms of connectivity Galaxy, A3 2016 has got pretty much everything that its rivals have: 4G LTE, Bluetooth 4.1, 802.11n Wi-Fi, GPS and even NFC, which is missing from a large number of phones in the mid-range segment.
PROS AND CONS
The biggest thing for Galaxy A3 2016 is its design, which is a lot better than last year's model. But the phone could be much better if Samsung would've added more to it besides design. The Decent display could count as a second advantage, but die-hard fans of Full-HD won't consider it so. Other pros include a good camera setup (for daylight photography), up to 128GB of expandable memory, long battery life and of course, the brand name of Samsung.
As for cons, there's an equally long list. There's no fingerprint sensor in the device, the battery is non-removable, the camera struggles under low lighting, and image stabilization is missing. Performance is also sub-par if you put the graphical performance aside.
WHAT WE LIKED
Premium design
Decent display
Good camera setup
High expandable memory
Long battery life
Reliable brand
WHAT CAN BE IMPROVED
No fingerprint sensor
No image stabilization
Camera struggles under difficult lighting
Average performance
Non-removable battery
Lack of fast/wireless charging
Has Samsung been more careful in these departments, this phone could indeed have become a flagship killer. But since it couldn't, let's consider some alternatives here. If you need a phone with performance power, go for OnePlus X. If you want a mid-range smartphone with excellent camera, go for Moto G 3rd Gen. And in the end, if all you need are premium looks, a long established brand name and a phone that just works, go for Samsung Galaxy A3 2016.