INTRODUCTION

The Samsung Galaxy A8 is the latest version of the popular Galaxy smartphone that the company has been working on for years. Designed for customers who are looking for quality phones, that is the eighth edition of the A series of Galaxy smartphones from the company. This model has become very popular among a variety of smartphone users thanks to how it is a significant evolution in the world of smartphones.
The Samsung Galaxy A8 is currently on sale right now. The product is now targeting the general smartphone market as an option that is convenient and easy for all people to use for a variety of purposes. The camera can especially do well for when people are looking to get more items adjusted as required.
DESIGN AND DISPLAY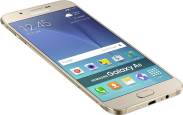 The design of the Samsung Galaxy A8 is appealing in that it has a nice metal body. This metal phone has a firm grip that is comfortable to hold on. It offers a series of small grooves on the sides to make it easier for the phone to hold.
At 5.9mm in thickness, this phone is easy to hold in one's hand. The touchscreen bar feature also makes it easier for the phone screen to be adjusted as required.
The display offers a 5.7-inch screen with a 1920x1080 resolution. The Super AMOLED display is easy to see in any light. It provides support for sixteen million colors to make it all work well. It can certainly make for a great option for all those who want something beautiful to look.
PERFORMANCE AND CONFIGURATION
The Samsung Galaxy A8 does rather well with regards to how it performs. It offers a 1.8GHz octa-core processor to help with running more applications at a time. It contributes to managing multiple processes at once to keep lagging from being a serious threat on the phone. It especially does well with 2GB of RAM to maintain the phone running as quickly as possible.
It comes with 32GB of storage space with 25.16 GB of that data available. It means that the software needed to keep the phone running is not going to take up as much data as what one might expect.
Meanwhile, a microSD card can be applied to the phone to expand upon the memory that it has. It can work with up to an additional 128GB of data at a given time. It Should provide the user with enough support for more applications or to store video and audio files that might take with the camera and other features on this phone.
CAMERA AND MULTIMEDIA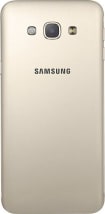 The primary camera offers a 16-megapixel resolution and has a flash and autofocus feature. These keep the camera running quickly and effortlessly. The secondary camera also has a 5-megapixel resolution level for other use.
The main camera can record video at up to 1920x1080 in resolution. It works at 30 frames per second for the best quality possible.
It also uses a series of different video and audio programs that are straightforward and easy to follow. These allow the user to zoom in, adjust the volume and even create camera filters. A YouTube application is also included to make it easier for people to upload items to YouTube with ease. It allows people to share quickly whatever they might record with the rest of the world.
BATTERY AND CONNECTIVITY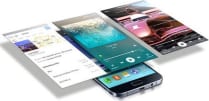 The 3050 mAh battery works well for a variety of usage needs. This battery particularly works with up to ten hours of online use on a 3G network. It can also playback up to 50 hours of audio on a charge and can handle about 17 hours of talk time on a 3G network. The battery is not removable.
This phone can handle an assortment of different connections. It works with various LTE, 3G, and Wi-Fi connections but it does not have any 4G support features. It is good enough to work with a variety of global demands for getting anyone to get quickly online. It should be enough for most connection needs.
PROS AND CONS
This phone offers a great series of features that make it easier for people to stay online and active. It provides a simple camera with a convenient interface that is easy to follow. It also offers a great series of connections that work all around to keep people active and ready for when they need to get on a network.
The small design of the phone makes it easy to carry around all over the place. Users can quickly use this phone in many situations and get it to work with different signals. It is also easy to add a microSD card or a nano SIM card into the side of the phone just as well.
However, this is a phone that does not have a removable battery. Also, while this does indeed work with plenty of memory to run more programs, it might be a challenge to see some of the images because of the small size of the screen. Still, it will not lag when running most apps.
The Samsung Galaxy A8 will certainly be perfect for those who are looking for top-rate smartphones for all kinds of needs. This great smartphone will help people to stay online and to keep their phones running well and with ease. It can certainly be ideal for anyone who wants to latest technology and to have it in one's hands at any time of day.