INTRODUCTION
The original phablet line, the Samsung Galaxy Note series has had more impact on the display norms of the smartphone industry than perhaps any other cell phone series. Samsung made a quick jump to a screen size of 5.3 inches in the days where it was producing anything and everything under the Galaxy name to expand its portfolio. This experiment of increasing the screen size was greatly met well by the consumers and before we all could realize, display sizes of Atlas 5 inches became the norm in the smartphone industry.The Samsung Galaxy Note series is known for some serious productivity assets, price and technological firsts, such as a multi-window display and a capacitive stylus or the 'S Pen.'Let's have a look at the features of Galaxy Note 7 and based on that below we discuss about the reviews of Note 7. Recently it is released in UAE with its best price and is very much in demand among the users.
DESIGN AND DISPLAY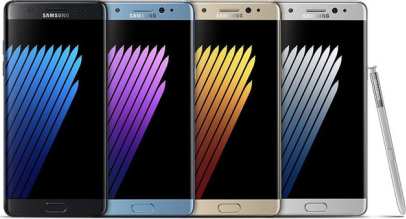 Samsung has made some long strides in moving away from the perceived cheap plastic construction for its cell phones (at least the flagship ones) and towards using high-end materials such as glass and metal. The Galaxy Note 7, has 5.8 inches display as found on the Note 5 and use the same glass and aluminum build that its siblings employ. The remarkable thing is the presence of a dual curved display as was found in the Galaxy Note Edge, a phone that will most likely not see a successor this year, adding to the streamlining of Samsung's products- a shift from their earlier strategy of flooding the market with countless models and limited differentiation. The curved display comes along with the same features that were included in the S7 Edge although it remains to be seen if Samsung can use the curved display for anything else other than gimmicks meant to differentiate its flagships
PERFORMANCE AND CONFIGURATION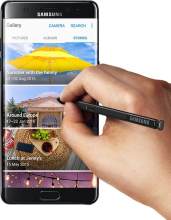 Being a member of the Note series means that the phone should have top of the line specs. The Galaxy Note 7 will most likely employ Qualcomm's Snapdragon 820 alongside its homegrown Exynos 8893 processor, both processing beasts that will ensure a lag free experience. 4 GB of RAM is in the phone alongside its processing capabilities. 64 GB of ROM and micro-sd card support exist as well. All of this will run the Android Marshmallow on top of the new Grace UX, developed by Samsung.
CAMERA AND MULTIMEDIA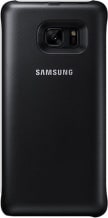 A leader in imaging technology the latest Samsung Note 7 use a primary camera with a resolution of 20 MP and a front facing 15 MP shooter.The biggest wow feature of this year's Note model will be the presence of an iris scanner that will provide a faster alternative to fingerprints for unlocking one's phone by scanning the iris of the human eye. Now, this feature is not one to have made its debut with the Note 7.
BATTERY AND CONNECTIVITY
The Samsung Galaxy Note 7 comes with a Non-removable Li-Ion 4600 mAh battery. Products of Li-Ion are famous for their low maintenance and high efficiency. A 4600 mAh battery lasts easily for long hours, which would be more than enough for most of the users, and it could use as a power bank to recharge regular cell phone batteries when required. Almost every new smartphone is coming with non-removable batteries now so it couldn't consider as a drawback of this phone. But one thing, it's true that a high battery takes extra time to recharge and makes the phone heavier. The Wi-Fi association can likewise be utilized to exchange video, over another Samsung standard. It has been around for a considerable length of time and interfaces a wide range of Samsung items including TVs, Blu-beam player, tablets, and smartphones. It's entirely more than a marked form of the DLNA spilling standard, there to make the tech somewhat more straightforward for nontech-heads to utilize. With it, you can share, recordings, pictures, and music.
Another change to this year's model is the use of the USB Type-C port instead of the standard micro-USB port that equipped with all Android smartphones that Samsung has ever produced. The USB Type-C port is fast replacing micro-USB ports in Android phones (and even notebooks- looking at you, Apple Macbook) because of their reversible capabilities and the ability to have fast transfers. Samsung however, has had its reservations against using this technology for the simple reason that the Type-C port is a nascent technology still, and fast charging, a feature that will soon be a norm is not entirely supporting, still. Regardless, Samsung may finally have given in to industry pressure and went ahead with the Type-C port. All in all, the Galaxy Note 7 has a promising bit of specifications that will have geeks, enthusiasts and regular consumers raving alike.Smartphone wars are always heating up, and with the Note 7, Samsung does seem to have a winner on its hands.
PROS AND CONS
WHAT WE LIKED
4GB RAM
5.7 inch screen
Iris scanner and fingerprint sensor
Capture decent pictures with the rear and front camera
WHAT CAN BE IMPROVED
No FM
Non-Removable battery