INTRODUCTION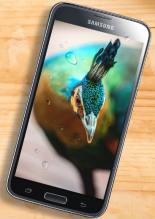 Samsung seems to be going for evolution instead of revolution! And it has shown fruitful results. This handset is another add-on to the super hit S series of Samsung smartphones. It launched in 2014 and soon had the paparazzi going crazy over it. Compared to its predecessor Samsung Galaxy S4, it had some minor but noticeable changes and was popular in the market. But with newly introduced smartphones with the best of technologies and updates, even this handset got an Android update. With this phone, the focus was to make the phone more usable in your day-to-day life. Having said that, contracts for this phone are difficult to buy as it has completed 2 years but not impossible. But are the new features enough? Does Samsung Galaxy S5 have it in itself to engage the buyers? Let's unfold in the review below:
DESIGN AND DISPLAY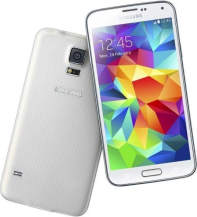 Just like the forerunner S4, Galaxy S5 is just a refinement. The design is not obnoxious, but it is not great either. Samsung has played it safe with this one. The Galaxy S5 has bolder curves slightly compared to Galaxy S4. Its dimensions are 142mm x 72.5mm x 8.1mm. The main addition is that the handset is WATERPROOF! It claims to be water resistant under 1 meter of water for 30 minutes. The power and volume button are on the right and left, respectively. The IR blaster situated at the top left side and the 3.5mm headphone jack on the right. There is a capacitive fingerprint sensor near the home button. The biggest change is on the back side where Samsung has installed heart rate monitor that integrates with the LED flash. It is just underneath the rear camera. The dimpled rubberized back cover gives it a classy look and is removable. The phone is all plastic, same as Galaxy S4 but somewhat better in design that weighs only 145 grams. The phone has 5.1 inch 1080p HD AMOLED display. It gives it a resolution of 1080X1920 pixels. The screen is crisp and beautiful, with lush background and high contrast. Its pixel per inch density is 432ppi. The S5 is much brighter than S4, even in direct sunlight. The viewing angles have also improved, and so has the colour saturation. Plus, it has a Gorilla Glass coating, protecting your phone from any damage.
PERFORMANCE AND CONFIGURATION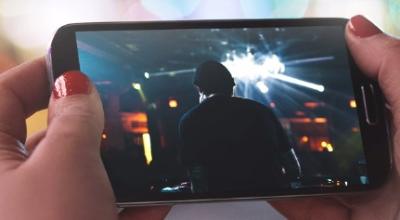 The storage area doesn't disappoint at all. Samsung Galaxy S5 is available in 16GB and 32GB. Both support 2GB RAM with a microSD card slot that is expandable up to 256 GB. Now that is real fun. So you can store all your movies and series in one phone and enjoy it whenever you want. There is no dual sim in it. Compared to the Snapdragon 800 chipset used in S4, the Galaxy S5 uses Qualcomm's latest during that time, Snapdragon 801 chipset. With a 2.5GHz quad-core processor powered by a 578 MHz Adreno 330 GPU, Samsung Galaxy S5 is very powerful. It has a faster clock speed than the HTC One M8. However, some transitions take longer, and apps take a time to load. Games like Asphalt 8 and Dead Space would run smoothly. So you can open apps, switch between games and play HD videos together without experiencing any slowdown. Fascinating, isn't it?
CAMERA AND MULTIMEDIA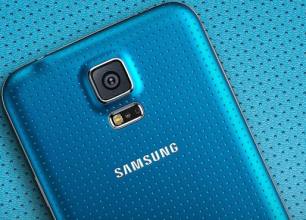 Though Samsung has a reputation for creating smartphones with great cameras, the competition is increasing, and even phones like Oppo are doing a great job. With Samsung Galaxy S5, there are some pros and cons. The camera has thoroughly improved, and the results have been convincing. The handset has a rear camera of 16MP with new 'ISOCELL' technology. This feature enhances the performance of the camera in low-light, increases the sharpness and colour accuracy. The cell phone's top resolution uses a 16:9 ratio for widescreen images. It includes the same f/2.2 aperture with phase detection and auto focus. Features like geo-tagging and panorama are exciting. But HDR is the best of the lot. Also, there are a lot of editing features that'll make you forget Photoshop for once. The only disappointment is the front camera; that is just 2MP. The Samsung Galaxy S5 runs on Android OS, v4.2.2 KitKat. One great thing is that it is upgradable to v6.0, i.e. Marshmallow. Coming to software, TouchWiz gets a fresh look, and most core apps have been redesigned to give them an appealing look. The Galaxy S5 also features an app called "Ultra Power Saving Mode" which conserves power when your battery is low. The fingerprint scanner is an add-on feature, but it might not work sometimes. The best recognizable feature is the Heart Rate Scanner. Just put your finger over the sensor and stay still. But be careful on where you put the finger as it is exactly beneath the camera lens. Also, the Audio in this handset isn't satisfying as it is not that loud. The other things that the phone offers are accelerometer, Wi-Fi Direct, Hotspot and Wi-Fi 802.11
BATTERY AND CONNECTIVITY

The battery life of Galaxy S5 is better when compared to its predecessor, but not good enough to beat One M8. Powered by a removable Li-Ion 2800mAh battery, it has a standby time of 390 hours, with talk time of 21 hours. So it is enough to last one full day with a little heavy usage. And if you're running out of power, then "Ultra Power Saving Mode" can be your savior as it disables all non-essential services. Overall, you'll be happy with the Samsung Galaxy S5 if you buy it. Though it is not the most visually appealing device, it makes up for that with its camera and other features.
PROS AND CONS
WHAT WE LIKED
Great Display with good viewing experience
Dust and water resistant
Good battery life
16MP rear camera
WHAT CAN BE IMPROVED
Design – Nothing much added
Fingerprint scanner might not work
Heart rate monitor is not accurate
Disappointing 2MP front camera