INTRODUCTION

Not everyone has a need for a smartphone with a massive screen. Something that is smaller in size and yet still packs a punch is always worthwhile. The Sony Xperia J1 Compact is one such phone that especially fits the bill. It is a smaller smartphone that is easy to carry around. It is a more powerful phone than what most people might expect to see out of such a model. The Sony Xperia J1 Compact will do well for people aiming to get more out of a great smartphone. It is a smaller smartphone than most of other smartphones in the same price, but it is stronger than what most people might expect to find.
DESIGN AND DISPLAY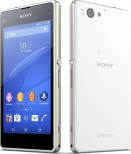 The small design of the Sony Xperia J1 Compact is its main selling point. It has a 4.3-inch screen that is surrounded by a few simple button controls and spaces for the camera and other essential parts of the phone. It has a responsive capacitive touch screen that offers more interactive experience. It uses a 720x1280 resolution so it will clearly display some detailed images that are thrilling and attractive to find. The Images and videos will look amazing on this sharp and clear screen. The text will be easier to read. It is only 128mm or 5.03 inches in height and is just 138g in weight so it will not take up more space in one's pocket than necessary. This design is made to be slim enough to carry anywhere.
PERFORMANCE AND CONFIGURATION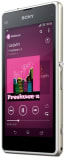 The quad-core Qualcomm Snapdragon 800 processor is an important part of the phone to see. The number of cores results in better parallelism that is more tasks can be performed in parallel without slowing down the performance of User Interface. This is a 2.2GHz unit that uses 2GB of RAM. This is a very powerful processor that prevents lagging and other problems that are often found in some larger smartphones that focus on a bigger screen over keeping apps running fast. It also ha 16GB of internal memory. Ist works with many microSD cards and can handle microSDXC cards through its own dedicated space inside the phone.
CAMERA AND MULTIMEDIA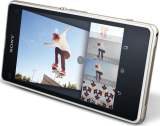 The camera is more powerful than what anyone could expect out of this phone. The Sony Xperia J1 Compact has a 20.7-megapixel sensor. It supports 30fps video recording and can take photos of up to 1920x1080 pixels in resolution. This is a powerful point although it helps to connect this to a larger computer when looking to load up different photos to see how well they look. The Android 4.4.2 operating system offers support for a vast variety of multimedia files. It includes its own apps for loading up videos and photos and even has its own dedicated YouTube app. It creates a better approach to make the phone work well.
BATTERY AND CONNECTIVITY
The 2300mAh Li-ion battery will last for a long time and will link to a microUSB connector to get it charged up. This battery does not add much weight to the phone, thus allowing it to charge up well without adding more bulk to the unit. This uses Wi-Fi Direct and hotspot features as well. GPS and Bluetooth 4.0 connections are also included with those antennas being powerful enough to take in signals in many situations.
PROS AND CONS
WHAT WE LIKED
The phone has a good display that is clear even with its small size.
The camera runs quickly for something that is as powerful as it is.
The RAM works very well to get more programs running at a time without the risk of serious lag problems.
WHAT CAN BE IMPROVED
It takes a bit for the phone to take in a microSD card. It can also be a challenge actually to get such a card added into the phone.
The screen doesn't do too well when trying to display some pictures after they are taken. It may be due to some pictures having a higher resolution total than what the phone can support.