INTRODUCTION

The Videocon Graphite V45DB popularized itself as a smartphone for nature lovers, with its oak wood finish body and an outdoorsy vibe to it. With 4.5 inches of display, it is perhaps a bit small as compared to most of the other smartphones that have released in the market recently, but it does pack in quite a few standard features at the price that it comes for. It has the usual elements needed in a smartphone for personal and professional purposes, along with a few extra ones such as an extendable memory and FM radio (which are not available in some of the other phones of this range).
DESIGN AND DISPLAY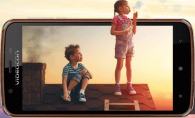 One of the features of this phone that make it look less like a smartphone is the 11mm thickness. Most smartphones in this category settle for the average of 9mm or lesser, focusing more looking slim and chic. Plus, the oak wood finish is a little unexpected for a smartphone, given the wave of phones from different manufacturers these days specializing in metal unibody designs. Nevertheless, it looks clean and smart.
The screen size of Videocon Graphite V45DB is 4.5 inches while the screen resolution is 480 x 854 pixels with a pixel density of 218 ppi. The display technology used is WUXGA IPS Capacitive Touchscreen, something that is common to a lot of phones in this price bracket.
The weight of the phone is 134 grams, which is similar to the weight of most smartphones in this category; it is not too bulky unless you take into account the thickness more than the weight.
PERFORMANCE AND CONFIGURATION
The RAM of the Videocon Graphite V45DB is 512 MB (pretty low as compared to close competitors in the market), while the processor is Quad Core and a 1.20 GHz CPU. The chipset is Spreadtrum SC7731. Overall the configuration is decent enough to make it a smooth running phone that does not give the problem of lags or hang-ups.
The internal memory of the phone is 8GB, extendable up to 32GB. It is good for those who like to store extra music or videos with them at all times. However, others may prefer a better internal memory to avoid getting separate memory cards and installing them.
The Videocon Graphite V45DB does not have a Fingerprint sensor, but it has Proximity and Accelerometer sensors. The Fingerprint sensor usually guarantees an extra layer of protection on the phone and is quite popular these days with buyers and users.
The OS on Videocon Graphite V45DB is Android v4.4. KitKat. While most phones have upgraded to a higher OS, one can't deny the fact that KitKat was considered to be one of the most popular Android OS at the time of the launch.
CAMERA AND MULTIMEDIA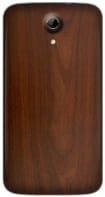 There are two cameras on the Videocon Graphite V45DB, which is probably an attempt to make it look more like a smartphone, given some of the other ordinary features. The main camera is 5MP, while the front or the secondary camera is 2MP. Both of these cameras have a pretty low resolution and are not exactly a treat for photography lovers, especially selfie lovers. The main camera has LED flash; the front camera has none. Other features include Digital Zoom, Face Detection, Panorama, Geo Tagging and Auto Focus.
The phone also includes options for video recording and HDR, something that is considered to be a given in most smartphones these days. However, since the resolutions are not very good, one can't expect great results.
The pre-loaded applications in the Videocon Graphite V45DB include V-Safe, V-Secure, Gameloft Games, Opera Mini and FunOnGo. The file formats for audio and video that can be played on this phone includes MP3, AAC, WMA, AMR and 3GP, MP4, WMV, FLV, etc. There is an audio jack of 3.5mm and the facility for FM Radio.
BATTERY AND CONNECTIVITY
The network support on the Videocon Graphite V45DB is 3G and 2G. It has a 1600mAh Li-ion battery; giving up to 6 hours talk time on 2G. It is not a excellent thing for people using 3G networks or heavy users of the device, as they'd have to keep charging the phone again and again. Most of the smartphones these days have a 3600mAh battery that works for longer hours and also charge pretty fast.
Dual SIM capabilities on the Videocon Graphite V45DB allow for 2 GSM SIM cards along with other facilities such as that of Wi-Fi, Bluetooth, and microUSB 2.0. Most of the connectivity features on this phone are designed to keep in mind the professional and personal uses both of a user.
PROS AND CONS
The price for Videocon Graphite V45DB is one of the most attractive features of the phone, making it pocket-friendly. However, for someone looking at a lot of smartphone features in this price to handle personal and professional uses both, there may be some disappointments in store.
WHAT WE LIKED
It has an expandable memory up to 32GB.
It has FM Radio
It is a Dual SIM phone.
Quad Core processor ensures that there are no lags and the phone functions smoothly.
WHAT CAN BE IMPROVED
Works on Android v4.4. KitKat, whereas most smartphones have upgraded to a higher OS in this same range.
The front camera does not have flash; not good for selfie lovers.
Both the camera resolutions (main and front) are pretty low.
There is no Fingerprint Sensor
Most immediate competitors to the Videocon Graphite V45DB have better features in terms of configuration and display. The cameras, especially, are a lot better in most of the other phones in the market. Even when it comes to looks, while Videocon Graphite V45DB may have tried for a cool oak wood finish to segregate it from the rest, it fails to meet the demands of those who like their smartphone chic and classy with metal finish. The lack of color options in this phone also makes it less popular with buyers.